10 Cool New Windows 11 Features in 2022!
Windows 11 has been getting a lot of cool new features in the past few updates. In fact, most of you guys might not be aware of the cool new Windows 11 features we'll be talking about. So we'll start with the big features first and then we'll go down to the really cool tricks in the latest Windows 11 updates.
When Microsoft initially released Windows 11 to the general public, it lacked several common features that were available in Windows 10. However, Microsoft is now gradually adding those features to Windows 11, be it Taskbar or Start menu related or other improvements.
SEE ALSO: 8 Cool Computer Tricks that You Don't Want to Miss.
10 Cool New Features in the Latest Windows 11 Updates
Now, we will talk about the best features in the recent updates of Windows 11. So, let's begin.
1. File Explorer Tabs
So, the first new Windows 11 feature we want to talk about is tabs in File Explorer. We've been wanting it for a long time and it's finally here (sort of). However, currently, the tabs in File Explorer are not enabled by default. So, you will have to enable them first.
After you've turned the tabs on, you will see the plus (+) button in the File Explorer to open a new tab. You can also right-click on a folder and open it in a new tab. Besides that, you can also rearrange the tabs or drag and drop files between tabs. But this is a hidden (preview builds) feature in Windows 11. So, it's clearly coming to the stable Windows 11 build soon along with other features.

---
2. Pin File or Folder to Quick Access
The File Explorer also has another new feature that we found interesting. This feature is an enhancement to the existing Quick Access feature in File Explorer.
This feature adds a 'pinned files' section to the Quick Access page. So, now you can just right-click on a file or folder and pin it to Quick Access. Now, you can easily pin your favorite files and folders to Quick Access and have it handy there.
---
3. Voice Typing (One of the coolest Windows 11 features)
Now, let's talk about one of the most underrated new Windows 11 features. That's right, Voice Typing is quite an underrated but useful feature in Windows 11.
It's quite easy to use as well. For example, open the notepad and press the keyboard shortcut (Windows + H). This will bring up the voice typing UI with the mic button. Just press the mic button (only on the first launch) to start speaking and look how flawlessly it turns the voice into text.
It works really well. For example, you can also enable auto punctuation to automatically add punctuation to the text. Besides that, you can also enable the checkbox for the Voice typing launcher. so that the voice typing overlay appears whenever you click on a text field anywhere.
---
4. Snap Open Windows in Different Layouts
The window snap is one of our favorite Windows 11 features. With the last few updates, Windows 11 has made it even better and more seamless. You can still move open windows into the sides or the corners to snap them. Besides that, you can also pause at the maximize button to get these snapping options.
But now, you can just start moving an open window and there's a bar at the top that shows you all the possible snapping layouts. You can easily use this feature. It's quite seamless and smooth to use.
---
5. TouchPad Gestures
When comes to the best Windows 11 features, you can't skip Windows 11 gestures. You guys probably already know all about the Windows 11 gestures. But did you guys know that you can customize the three-finger and the four-finger gestures in Windows 11?
Just go to the touchpad settings page and there you will see the advanced gestures option. Now, you can configure each of the three-finger and four-finger gestures' taps and swipes to one of the available options or use a custom shortcut. We have set the three-finger tap to minimize all the windows.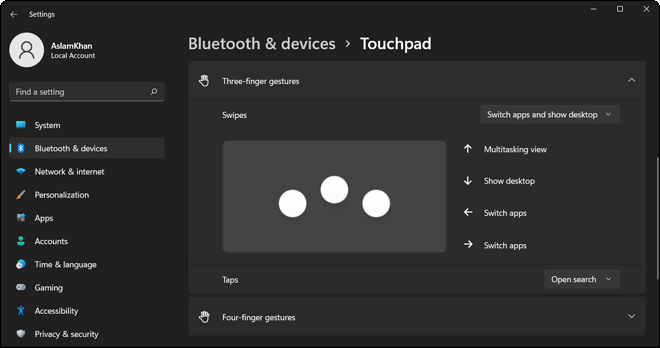 ---
6. Live Captions (One of the best Windows 11 Features)
Windows 11 also has a cool new live captions feature that captions whatever is playing on your screen. So, if you are playing one of your videos, just press the Windows + CTRL + I shortcut and this will bring the live captions bar to the top with the live captions.
This is a cool feature, right? The live captions feature might not be very accurate with all accents but works best in the US right now. Besides that, you can also change the position of the captions bar, include mic audio, and also change the caption style.
---
7. Notepad (with Dark Theme)
Let's face it. The notepad app is something we have all used on Windows and Microsoft recently updated the notepad app to make it look modern and nice. So here's the new notepad app and you can see that it looks modern. It has rounded corners, translucent effects, new context menus, and dark mode – all in line with the new Windows 11 UI.
It looks very cool. There are also a couple of new features like multi-level undo and redo added to Notepad in the latest Windows 11 update. So, you can undo any mistakes easily.
---
8. Updated Task Manager
The good old Task Manager app has also been revamped in the latest Windows 11 updates. It now looks great to the eyes. In the new Task Manager, all the tabs including Processes, Performance, etc. have been moved to the left menu. There's also a new settings button that lets you change the default start page, change real-time update speed, and more.
Besides these, the new task manager also supports the dark theme and it looks great in the dark mode. There are a couple more new features that have been added to Task Manager in recent Windows 11 updates. First, the run new task brings up the command bar to launch processes quickly. Second, there's an Efficiency mode that lets you select an app or process and limit its system usage for better battery performance.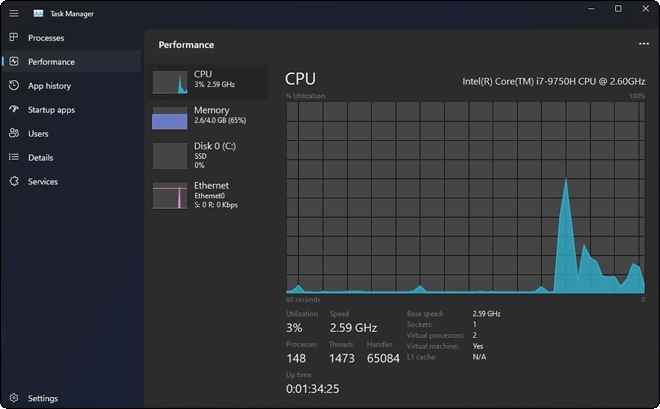 ---
9. New Start Menu Features in Windows 11
The Windows 11 start menu has been subject to a lot of love-hate. And users hate it because it's not very customizable. But that's been changing in the last few updates.
So, with the new Windows 11 preview, the Start menu now has support for app folders. Creating the folders is easy, just drag and drop an app onto another and it's done. You can also rearrange the apps in a folder by moving them around but there's no option to name a folder. However, Microsoft has promised that it is coming later.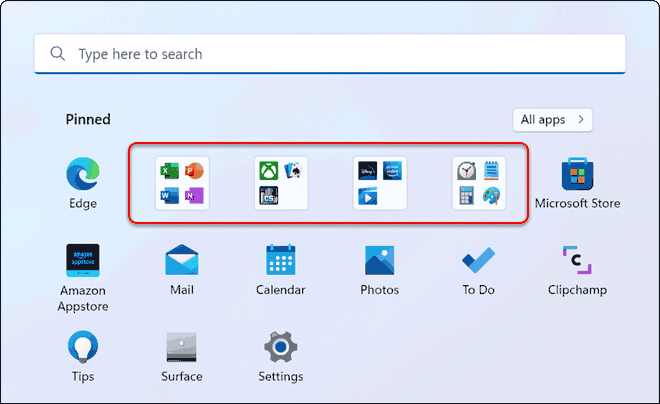 ---
10. Taskbar Updates
The Windows 11 taskbar has also gotten better with the new Windows 11 updates. First of all, the taskbar is now better optimized for tablets and you can finally drag apps from the Start menu to the taskbar.
Another feature everyone has been wanting is the clock on secondary monitors and the new Windows 11 builds show a clock on multi-monitor setups. The new Windows 11 versions also have a taskbar with the weather icon on the left end. It shows you the temperature and clicking on it opens up the widgets page.
---
Top 10 Cool Windows 11 Features in 2022
Besides the features discussed above, there are a number of cool new nifty features in Windows 11. Let us talk about them really quickly. First up, the Bluetooth menu in the Quick Settings now shows you the battery percentage of your earphones which is pretty handy.
Another cool new trick is the ability to change the volume level by just going to the volume icon on the taskbar and just scrolling up and down. However, it only works with the mouse but yeah this is nice. Windows 11's emoji picker is normally streamlined with tabs for emojis, kamojis, symbols, and even gifs.
There's also an option called the title bar window shake which lets you shake a window to minimize everything else. Hope you would love these new Windows 11 features. Do let us know which one is your favorite. Also, make sure to subscribe to our newsletter to get the latest tutorials by email.