8 Tips to Get the Most Out of Windows 10
We have been using Windows 10 for years now. Microsoft has been regularly updating Windows 10 which really enhanced the user experience. And you just need to change a few settings to get the most out of your Windows 10 PC.
So, we are going to discuss 8 cool tips that will help you enhance performance in Windows 10. Please note that some of these features and options might be limited to the latest Windows 10 builds and they might not be available on your PC or laptop. So, we suggest you update your Windows 10 to the latest available version.
SEE ALSO: Change these Facebook Settings to protect your Privacy.
Change These 8 Settings to Make the Most out of Windows 10
These 8 tips or settings we are going to talk about are available in Windows 10 already but disabled by default. So, we will show you how to enable these settings to enjoy the improved performance in Windows 10.
1. Enable Clipboard History
Windows 10's clipboard feature is one of our favorite features. But thanks to Microsoft, the clipboard is disabled by default. Anyway, all you need to do is, go to the Settings > System > Clipboard in your Windows 10 and enable Clipboard history.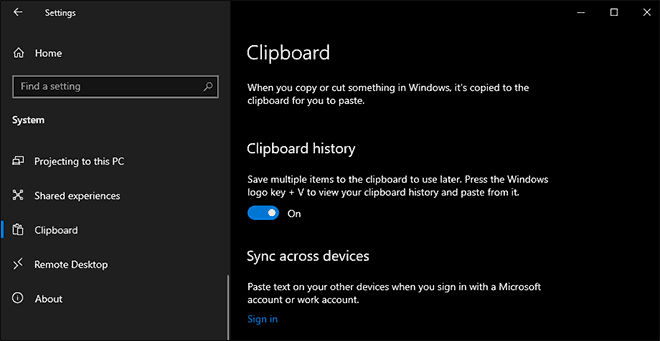 If you want to sync your clipboard history across devices, just sign in with the same Microsoft account on all devices. Now, you can just use the keyboard shortcut Windows + V to open up the clipboard anytime anywhere. In the clipboard, you can check out everything you've copied and paste it with ease.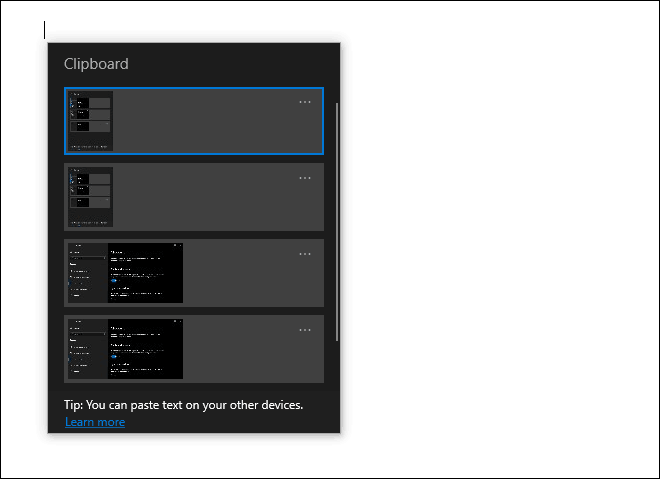 SEE ALSO: How to Enable Clipboard History in Chromebook?
---
2. Use the New Screenshot tool to take Screenshots
Microsoft has introduced a new Screenshot Tool to Windows 10 and it's great. But to use it, you have to use the keyboard shortcut Windows + Shift + S which is not easy to remember.
Well, Microsoft understood that and now you can use the good old Print Screen button to open up the new screenshot tool. So, let's see how to enable it.
Go to Settings > Ease of Access > Keyboard settings on your PC. Here, scroll down a bit and you'll find the Print Screen shortcut, simply enable it.
Now, you can just press the Print Screen key on your keyboard to open up the Screenshot Tool. Using the new screenshot tool, you can take a rectangular screenshot, freeform screenshot, or a full screenshot. Once you've taken a screenshot, you can quickly edit it and doodle on it.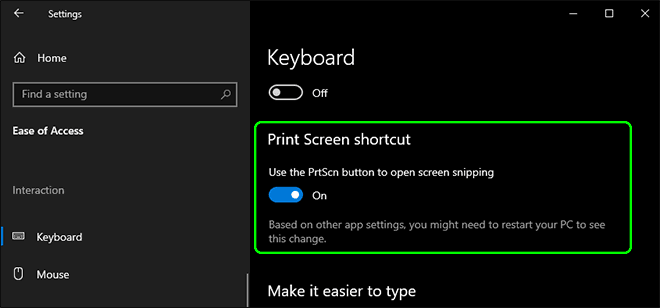 SEE ALSO: How to Restore Old Snipping Tool in Windows 11 after Upgrade?
---
3. Use Nearby Sharing to Share Files between Windows 10 Devices
We've always wanted an Airdrop-like file sharing feature in Windows, right? Well, Windows 10 already has a similar feature called Nearby Sharing. It uses Wi-Fi and Bluetooth to let people share files with other Windows 10 PCs with ease.
Enabling Nearby Sharing is also very easy. Simply, open up the Action Center and click on the Nearby Sharing tile to enable it.
Now you can just right-click on a file and click on the Share option. This will open up a sharing dialog box like the one shown below. Here you'll see all the nearby Windows 10 devices. Just click the PC you want to share the file with and you're done.
NOTE: Please note that the receiver also needs to have the Nearby Sharing feature turned ON.
SEE ALSO: How to Enable and Use Nearby Sharing on Android?
---
4. Link your Phone with Windows 10 and Text from PC
Sometimes you may need to send a picture from your phone to your PC for editing, right? Well, Windows 10 has a really great feature for that. We are talking about the Your Phone feature.
Go to the Settings page and click on the Phone option to add your phone. Follow the instructions to link your phone which includes signing in with Microsoft account on both phone and PC. Once everything's set up, you'll see all the Photos and Messages from your phone in the Your Phone app on your PC.
Now, when you take a photo on your phone, it shows up instantly on your PC. So, that's pretty great. Besides photos and messages, you can also use the Your Phone app for making calls via your phone.
---
5. Use Focus Assist to have Distraction Free Presentations
Notifications from applications on your phone and your PC are really distracting. Sometimes notifications can make you distracted from your valuable work. Anyway, Focus Assist is something that helps you with exactly that.
Focus Assist lets you choose which notifications you'd like to see while the rest of them go directly to the Action Center. You can find the Focus Assist settings in the System Settings. Here, you can set notifications to Priority Only or Alarms Only.
There are also some rules that you can customize. So, if you want only important notifications during work hours, you can easily set that. You can even set things up for when you are at home. It's pretty handy and it's a pretty underrated feature, to be honest.
SEE ALSO: How to enable and use Focus Assist in Windows 10?
---
6. Protect your PC against Ransomware via Controlled Folder Access
Ransomware like WannaCry and Petya made people 'wanna cry' and affected a lot of Windows devices. Well, not many people know but Windows 10 has a built-in feature called Controlled Folder Access to protect you against a ransomware attack.
You can find the option on the Settings > Update & Security > Windows Security > Virus & Threat Protection page. Here, scroll a bit down and click on Manage Ransomware Protection under Ransomware Protection. Now, you can just turn on Controlled Folder Access here.
Next, check the folders that are protected and add folders that you want to protect, like folders that have your personal and sensitive data. Now, what Control Folder Access does is, recognize malware and not let such apps and software make any changes in the protected folders. So, even if there's a ransomware attack on your PC, these folders should be safe theoretically.
---
7. Configure Privacy Settings for your PC
We all know the privacy issues in Windows 10 and the fact is that the platform collects a lot of user data. But the good thing is, you can always control your privacy with various settings. Yes, on the Settings page there's a dedicated Privacy option that lets you change General Privacy options.
You can simply turn off privacy options and also turn off the voice recognition permission. You can disable voice recognition permission if you don't want Microsoft to collect your voice data. Although that will disable Cortana if you don't use Cortana, you can disable it.
You should also disable the inking and typing permissions as well so that Microsoft does not use your typing history. Then there's the Activity History Permission which powers the cool new Windows Timeline Feature. You should disable this if you don't want Microsoft to record your activities. Scroll down further on this page and you can also see all the other unnecessary permissions any apps might be taking and disable them easily.
As you can see, Microsoft and a lot of other apps on Windows 10 do collect a lot of data. So, we really think you should disable these permissions if your privacy is important to you.
---
SEE ALSO: How to View the Saved Wi-Fi Passwords in Windows 10 and 11?
8. Enhance Gaming Performance using Game Mode
There are a few different ways to improve gaming performance on a Windows 10 PC. Windows 10 includes a couple of native options to improve or smooth in-game performance. First is, Game Mode which you can enable from Settings > Gaming.
Once enabled, Game Mode prioritizes your PC's resources especially when you have other apps open in the background to make sure the gaming performance is smooth. However, we did not notice any major difference with Game Mode turned off or on but if you want to play some games while using another app or maybe chat with the teammates, this can be really handy.
There's also a new Graphics Settings in the Display Settings, which lets you customize graphics performance for specific apps. So, you can set your gaming app here and select High-Performance from options to get a smoother performance on your Windows 10 PC.
In our testing, this option didn't really make any huge difference but we did notice a slight improvement in the overall smoothness of the game. So, it's definitely doing something.
---
SEE ALSO: How to Speed up your Windows 11 and 10 in 8 simple Steps?
---
8 Quick Tricks for your Windows 10 PC
These were the 8 Windows 10 settings that you should be changing right away to make the most out of your Windows 10 PC. Some of the new options and settings are pretty cool and make your work easier. We suggest you try out these tricks at least once.
So, which Windows 10 settings did you like the most? Let us know in the comment section below. Don't forget to subscribe to our newsletter and get the latest tutorials directly into your inbox.