How to Bypass Recycle Bin Permanently in Windows 10 and 11
One of the best feature most of the operating systems have is Recycle Bin. Specially, it has been an integral part of Windows forever. It helps you recover the files you have deleted (unless deleted permanently). But files stored in Recycle Bin keep occupying space in your HDD. Plus, Recycle Bin makes it a two step process to delete a file permanently. However, if you want the files to get deleted immediately when you press Delete button, you can disable or bypass Recycle Bin in Windows 10 or Windows 11.
After you have set your Windows 10 or 11 to bypass Recycle Bin, all deleted files will skip Recycle Bin and get deleted permanently. But keep in mind, disabling Recycle Bin increases the chances of accidently deleting important files causing data loss.
SEE ALSO: How to Empty Recycle Bin Automatically on Windows 10?
Set Windows 10 and 11 to Skip or Bypass Recycle Bin and Delete Files Permanently
The quickest and easiest way to permanently delete files is to press the Shift + Delete keys together. Doing this will immediately delete your file and bypass the Recycle Bin. But you will have to press Shift key every time you delete a file. So, if you want to change this behavior permanently, follow these steps.
Step 1: Open Recycle Bin Properties
First of all, right-click on Recycle Bin icon on your Desktop and select Properties.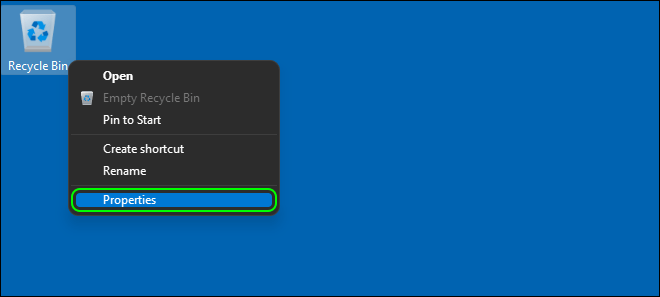 ---
Step 2: Disable or Bypass Recycle Bin for All Disk Drives
In Recycle Bin Properties window, you will see the list of available disk drives. Select a disk drive and choose the "Don't move files to the Recycle Bin. Remove files immediately when deleted" option.
You have to do the same for all other drives as well. Because Windows creates separate Recycle Bin folders for every disk drive. Choosing this option will disable Recycle Bin function for selected drive in Windows 10 and Windows 11.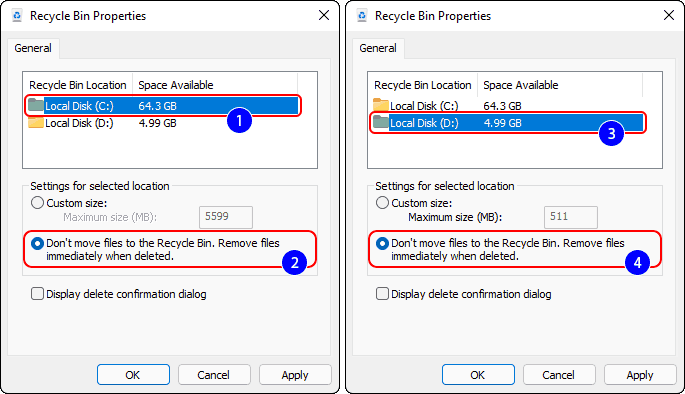 ---
Step 3: Display Confirmation Prompt Before Deleting Files Permanently
Now, when you delete a file, it will be deleted permanently without any prompt. But that can cause problems as you might delete some useful files unknowingly. You can avoid this by enabling "Display delete confirmation dialog" option.
After that, Windows will alert you before deleting files permanently. So, check the box next to "Display delete confirmation dialog" to enable the prompt. Finally, click OK to save the changes to disable Recycle Bin in Windows 10 and 11.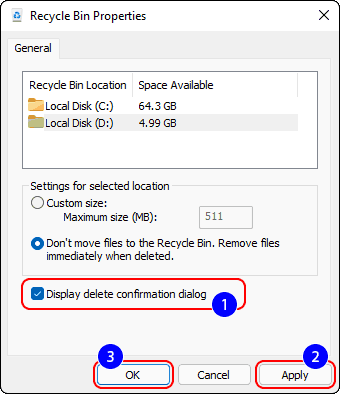 ---
Step 4: Test the New Settings
We are done with Recycle Bin settings. Going forward, deleted files won't be stored in Recycle Bin anymore. And whenever you delete a file or folder, it will show you confirmation dialog, before deleting the them permanently.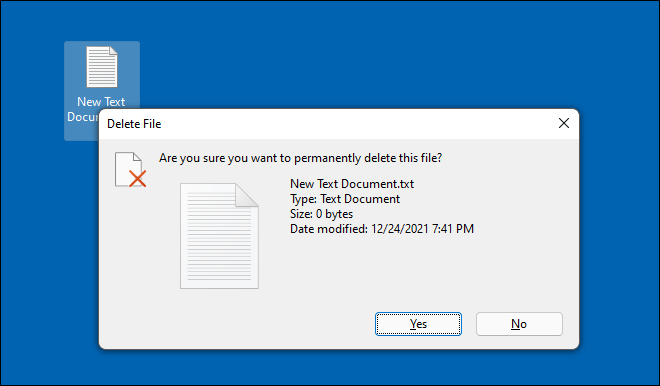 ---
SEE ALSO: How to Bypass TPM 2.0 and CPU Requirements for Windows 11 Upgrade?
Bypass or Disable Recycle Bin in Windows 10 and Windows 11
We have successfully configured Windows to skip Recycle Bin and delete files permanently without sending them to Recycle Bin first. So, now deleted files won't go to Recycle Bin and won't occupy space. However, we still recommend using the keyboard shortcut (Shift + Delete) to permanently delete files. But you can use this method as permanent fix. It will save you some time and also actually free up some space.
Hope you liked this tutorial. You can also check the best Windows 10 tips and tricks. And in case, you accidentally deleted an important file, you can check Windows File Recovery Tool to recover deleted files. Feel free to drop your queries and suggestions in comment section down below. You can also follow us on Facebook.