Change These 5 Facebook Settings to Protect Your Privacy
The Cambridge Analytica scandal in the past left a lot of people worried about their Facebook accounts. The way company shared user data with advertisers and third-parties is certainly cause of concern. Some people even deleted their Facebook profiles in the process. While deleting your Facebook profile makes little or no sense, there are few settings that you can change to reduce the data you are giving to Facebook and protect your privacy.
So, today we are going to tell you about some Facebook settings you should change right now to make sure that the company does not violate your privacy. First things first, there are a couple of things you should check regularly. This includes, the apps and services have access to your Facebook data and limiting the way Facebook shares your data with websites and apps.
SEE ALSO: How to Protect Your Privacy Online while using Google Chrome?
5 Facebook Settings that might Invade your Privacy
So, if you are really concerned about your privacy on Facebook, we recommend you to go through following checklist. This is basic privacy checklist that makes sure Facebook doesn't violate your privacy.
1. Check Apps and Websites Connected to your Facebook Account
You'll be surprised to see the sheer number of apps and services you have connected to your Facebook account over the time. It's important to clear this up to make sure that your data is safe. In your Facebook account head over to Settings and then click on Apps and Websites.
Here you can see the apps and services connected to your Facebook account. This is one of the Facebook settings that you should change regularly to protect your privacy. So, go through the list and remove the ones you don't use anymore.
When you remove an app you will be shown a pop-up that says that the app may retain data that it has already collected. That sucks but at least it won't be able to collect more data as you keep using Facebook over time.
Honestly, though this is something that's very important because a large part of how Cambridge Analytica collected data was in the form of apps and services disguised as personality quizzes and more.
---
2. Turn Off Apps and Website Access to Protect your Privacy
As mentioned above, third-party apps and websites get a lot of data from your Facebook profile. So, if you are not sure about which apps you might give permissions in future unwillingly, its better idea to disable this access permanently. You can do that from Facebook website or Facebook app in your phone.
In Facebook app on your phone, go to following setting –
Menu > Settings and Privacy > Settings > Apps and Websites
Here, tap on Turn Off button in Apps, websites and games preferences.
Now onwards, no app or website will be able to request data from your Facebook profile. But remember, you also won't be able to login to websites using your Facebook account. Let's see other Facebook settings that you should change in order to protect your privacy.
---
SEE ALSO: How to Remove Ads and Bloatware in MIUI?
3. Manage Facebook and Messenger App's Permissions
Facebook also does this really tricky thing where it asks you for a butt load of permissions when you install its apps on your mobile, probably something that most people don't pay attention to. Fortunately, this is also something you can fix, at least for the future.
In the Facebook app make sure you don't give Contacts, Microphone, SMS and Telephone permissions to the app. If you have already given these permissions, you can head over to App information and revoke them. The app may need Storage permissions if you upload things from your phone and Camera permissions if you use Facebook stories or use the camera within the app to upload pictures or something. If you don't use these (Uploading pictures and Taking pictures using camera in Facebook app), change these settings as well to protect your privacy.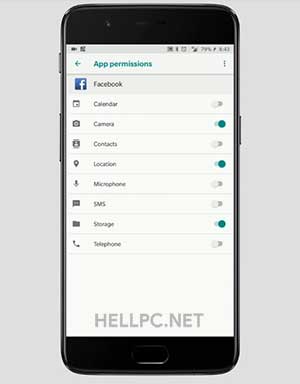 Similarly, in the Messenger app when you're installing it, don't turn on text anyone in your phone. Besides that, don't add your phone number to the messenger and don't turn on send and receive SMS in Messenger.
If you've already installed Messenger, you can simply uninstall the app and reinstall it to opt out of these features. These permissions are why a lot of people are noticing that Facebook has their call histories, message histories and more all saved on its servers. These permissions are how Facebook gets that data. So, just don't give it those permissions at all.
---
4. Change Facebook Ads Settings to Protect your Privacy
Facebook survives on ads and it uses your personal data to target ads at you. Well, that is not something you can exactly stop but you can limit it to an extent which is better than not limiting it at all.
In our opinion, in Facebook ad preferences, you can control the kind of data advertisers can target you with. You can also remove yourself from categories you don't want to be targeted with. For example, you can remove your birthday month if you don't want to get shopping deals around that time and spend all your money buying stuff.
Another really annoying thing is when your friends see a sponsored page with the line you (Your Name) like this. Well, we don't like that and fortunately it is yet another thing you can opt out from. In Facebook ad references, you can simply set Ads with your social actions to Only Me and you are all set.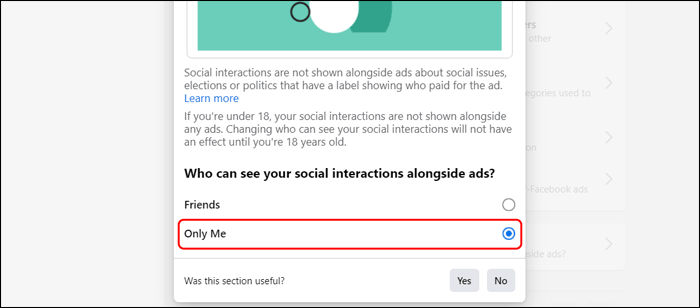 While you're in your Facebook Ad preferences Settings, let's change few other settings to protect your privacy. For instance, turn off ads based on your use of websites and apps which Facebook serves by basically stalking you around the internet.
Also turn off ads on apps and websites off the Facebook companies to prevent apps that use Facebook scan tools from using your data to target ads at you.
SEE ALSO: How to Disable Popups and Spam Notifications on Android?
---
5. Few More Things to Try
There are some other things you can do to ensure that you share the least amount of data with Facebook about your activities on the internet. Fortunately, they are very simple to do as well.
A) Do Not Login with Facebook Account on Third-Party Sites
Firstly DON'T LOGIN WITH YOUR FACEBOOK ACCOUNT ON THIRD-PARTY WEBSITES. If you do login on a third party website, instant games or app with Facebook, make sure you check the data it is taking.
B) Delete Contacts Uploaded to Facebook
YOU CAN ALSO DELETE YOUR UPLOADED CONTACTS FROM FACEBOOK. If you've ever used Messenger and allowed it access to your contacts, you will find your entire contact list on Facebook. You can click this link and see all of your uploaded contacts. Fortunately, Facebook lets you delete this as well in just two clicks, click on Delete All, Confirm it and you're done.
C) Download your Facebook Data
The point is Facebook has a lot of a personal data. It's basically a history of your life ever since you joined the social media platform. But don't take our word for it; you can even download a copy of your Facebook data from your Account Settings. But be warned, it will scare you, it scared us as well.
Besides, just downloading your Facebook data, you can also transfer your Photos and Videos from Facebook to Google Photos.
---
Protect Your Privacy By Changing Facebook Settings
Anyway, if you've been concerned with the kind of data you sharing with Facebook and how the company is using that data, following steps shown above should definitely ensure that you share a lot less data with the company. So, go ahead and change the settings on your Facebook account right now to protect your privacy.
We also suggest you to share this with your friends because this thing is really important. Be safe on social media and protect your data. If you are considering deleting your Facebook profile, make sure to check this help article.