How to Change Your TikTok Username
The short video-sharing platform, TikTok has become quite famous around the world in a very short time. Many people have become TikTok stars overnight by uploading their videos. And after you become famous, there may be situations, when you would like to change your TikTok username. Maybe you would want a fancy or simple but nice username that suites your stardom.
Does TikTok allow you to change your username? The answer is yes. But you can only use letters, numbers, periods, and underscores in your TikTok username. Also, there is a limit on how frequently you can change your username. TikTok allows you to change it only once in 30 days. We also suggest you notify your followers about your username change to avoid confusion.
SEE ALSO: 5 Tips to Get More Followers on Instagram using Reels.
Change Your TikTok Username in Easy Steps
Though changing the username is quite easy but you should think twice before changing it. It may or may not be very helpful for your TikTok journey. However, a good-looking and easy-to-remember username is always a plus point. So, here is how you can change your TikTok username.
INFO: The screenshots we have used, are taken from TikTok on iPhone but the steps are similar for Android also.
Step 1: Open TikTok Profile
First of all, open the TikTok app on your phone. Now, tap on the Me icon at the bottom right corner as shown in the screenshot below.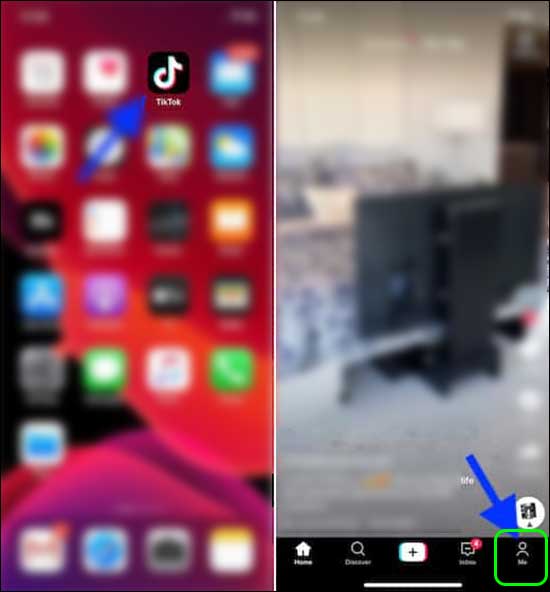 ---
Step 2: Edit TikTok Profile
You will see your TikTok profile. Here, tap on Edit Profile under your profile picture. And on the next page, you will see your account details like your Name, Username, Bio, etc. Tap on your Username to change your TikTok username.
---
SEE ALSO: How to Change your Username in Windows 11?
Step 3: Change your TikTok Username
Now, you can type in your new username and tap on the Save button at the top right corner to save it. Please take care of the following things while choosing a new username.
As already mentioned, you can only use letters, numbers, periods and underscores in your username.
If the typed username is not available, you will see a warning, "This username isn't available. Try a suggested username or enter a new one." Suggested usernames appear right above the keypad.
You will see a green tick next to the username if it is available.
So, as soon as you get an available username, simply tap on the Save button to change your TikTok username.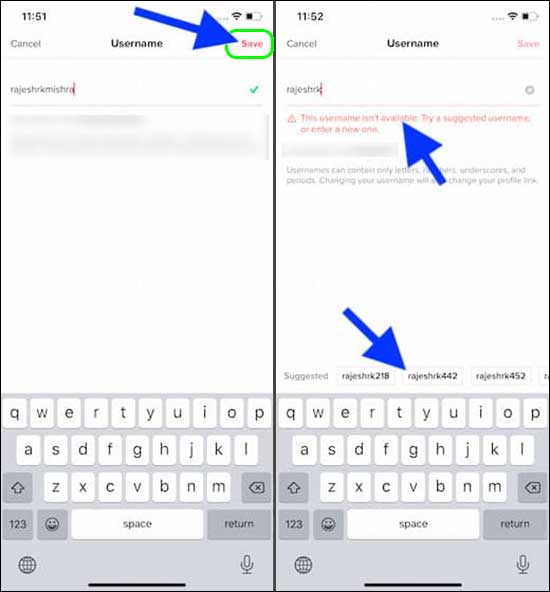 ---
SEE ALSO: How to get Verified Account Badge on TikTok?
Get a Premium TikTok Username
The above tutorial explained how you can change your TikTok account's username. The process is quite simple and straightforward. The only problem you might face is, selecting a suitable username for your TikTok account. The screenshots we have used are taken from iPhone. However, the steps are similar for Android as well. In case you also use Instagram, check out our complete guide on how to master Instagram Reels.
Hope you liked the above tutorial. In case you are having trouble changing your username, you can write it down in the comment section down below. Make sure to subscribe to our newsletter below for getting the latest tutorials right into your inbox.