How to Clear RAM on iPhone 12, Pro and Pro Max
Apple's iPhones launched after 2019 are powered by A13 or A14 Bionic processors (including iPhone 11 and 12). That makes them around 20% faster than previous iPhones. But still they get slower with the time. And if you are a heavy user and play heavy games on your iPhone 12, you may face intermittent lags. Though you can clear RAM on your iPhone 12, Pro and Pro Max frequently to avoid these issues.
iPhone 12 variants come with 4 GB and 6 GB RAM which is quite enough for most of your daily activities. But if you are a power user, your iPhone 12 may get slow after rough and tough usage of few days. One of the best and easiest way to make your iPhone 12 run smooth again is to flush the RAM and clear the temporary files.
SEE ALSO: 10 Best Camera Tips for iPhone 11, Pro and Pro Max
Clear RAM and Speed-up your iPhone 12, Pro and Pro Max
The process of clearing RAM on iPhone 12 is not very straightforward. Since, there is no physical Home button on iPhone 12. So, first of all, you will have to enable AssistiveTouch on your iPhone 12 if not enabled already. Then we will use virtual Home button to clear the RAM. Let's check the process in details.
Step 1: Open Accessibility Settings
First of all, launch the Settings app on your iPhone 12. Next, select Accessibility and there tap on Touch under PHYSICAL AND MOTOR section.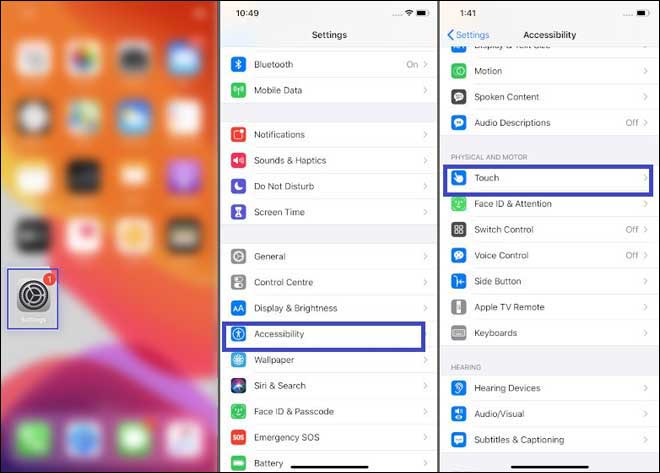 NOTE: If you are running the older versions of iOS, you would find AssistiveTouch option inside: Settings > General > Accessibility.
---
Step 2: Enable AssistiveTouch
In Touch settings, you will see AssistiveTouch turned off by default. Tap on it and then turn on the toggle to enable AssistiveTouch on your iPhone 12. After that you will see a small circled AssistiveTouch icon on your iPhone 12's screen. You can easily drag and reposition it as per your convenience.

---
SEE ALSO: How to Increase RAM in BlueStacks to Make it Faster?
Step 3: Go to Settings > General > Shutdown
After enabling AssistiveTouch on your iPhone 12, tap on the back button until you reach the main Settings page. In Settings, tap on General > Shut Down. You will need to scroll down the General settings page to find Shutdown option.
---
Step 4: Clear RAM using Virtual Home Button
When you see slide to power off screen, tap on the AssistiveTouch button. You will see multiple options in AssistiveTouch menu, tap and hold the virtual Home button until the screen flashes.
Within few seconds after flashing of screen, you will be taken to Home screen. That's it! You have successfully cleared the RAM on your iPhone 12, Pro or Pro Max.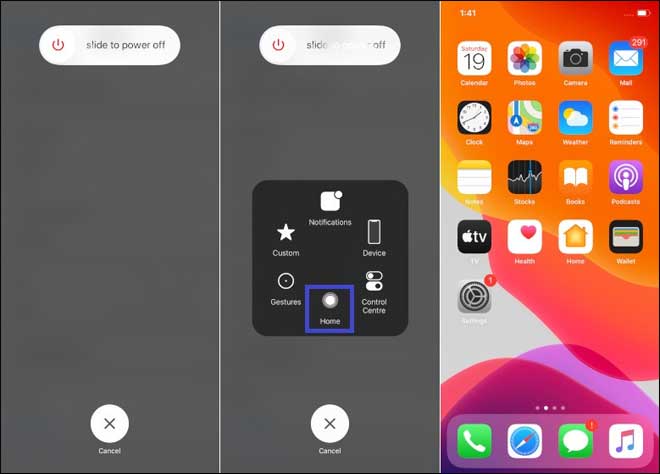 SEE ALSO: How to Allow Untrusted Shortcuts in Your Library on iOS 13 and iPadOS 13
---
Clear RAM and Speed-up your iPhone 12 Device
A sluggish device is really hard to cope with. Clearing the RAM on your iPhone 12 will help your device get back it's speed. Above tutorial also works with latest version of iPhone i.e. iPhone 12 and on older iPhones running latest version of iOS. Hope you got this trick working for you. In case you have any queries or suggestions, please let us know in the comment section down below. You may also want to subscribe to our newsletter to get latest