How to Create and Use ESET SysRescue Disk for Emergency Scan
It is very common to get your PC infected with malwares/viruses if you are not careful. And sometimes, viruses or malwares can make your PC completely un-usable. Emergency System Scan disks come to rescue at such times. So, using ESET SysRescue disk, you can scan your PC in emergency and remove malwares/viruses.
Like most of the other Emergency scanning disks, ESET SysRescue disk is a bootable disk. So, you can boot from it and scan your PC for viruses in emergency conditions. Almost all antivirus companies provide this facility for free.
Create Bootable ESET System Rescue Disk and Scan your PC using it
In this tutorial, we are going to show you how to create a bootable ESET SysRescue Disk (USB Drive) using Rufus. After that we will show you how to scan your PC in emergency using this bootable disk. So, let's start with first part.
A) Make Bootable ESET SysRescue Disk
Before scanning your PC in emergency, you need to create bootable ESET SysRescue disk. You will need ESET SysRescue ISO file, Rufus utility and another PC to create the disk. You will also need a USB disk with 2 GB or bigger size. Download ISO file, Rufus utility on another PC. Once you are ready, follow these steps.
NOTE: Please note that ESET System Rescue Disk only supports booting into Legacy BIOS. If your system doesn't support Legacy BIOS, you won't be able to use it. So, make sure to configure your PC to boot from Legacy USB disks.
Step 1: Launch Rufus and Browse for ESET SysRescue ISO
First of all, run Rufus utility. Now, select your USB drive from Device drop-down. After that click on disk drive icon to browse for ESET System Rescue ISO file.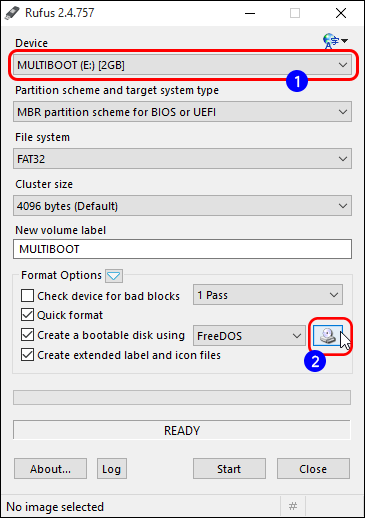 Now, browse to the location of downloaded ESET SysRescue ISO file. Select the ISO file and click OPEN.
---
SEE ALSO: How to make Bootable USB using Rufus?
---
Step 2: Make Bootable ESET SysRescue USB Disk
Now, you are ready to create ESET SysRescue disk. Click Start to start the creating emergency disk. This process will format your USB Drive. If you have any important data on USB, first take the backup of your data. Click OK when you see warning message.
Rufus will format your USB drive, copy ISO files to your USB drive. After process is complete, click Close to exit Rufus utility.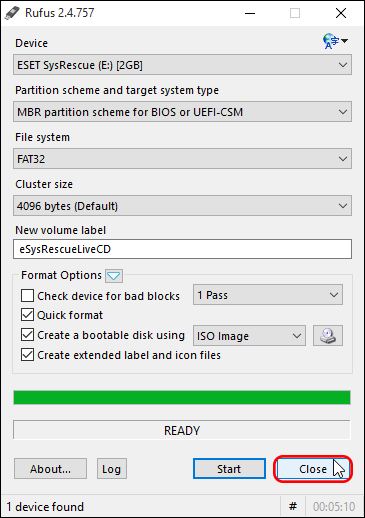 ---
SEE ALSO: How to Create Multiboot USB disk using YUMI?
---
B) Scan your PC using ESET SysRescue Disk in Emergency
Now, System Rescue Disk is ready. It is time to scan your infected PC using ESET SysRescue disk. But before that, make sure to setup your PC to boot from USB disk. When you are ready, follow these steps.
Step 1: Boot from Rescue Disk and Start Utility
First of all, insert bootable ESET SysRescue disk into your PC and restart your PC. If you have setup your PC correctly, it will boot from ESET System Rescue disk. Now, select Run ESET SysRescue and press Enter to launch emergency scanning utility.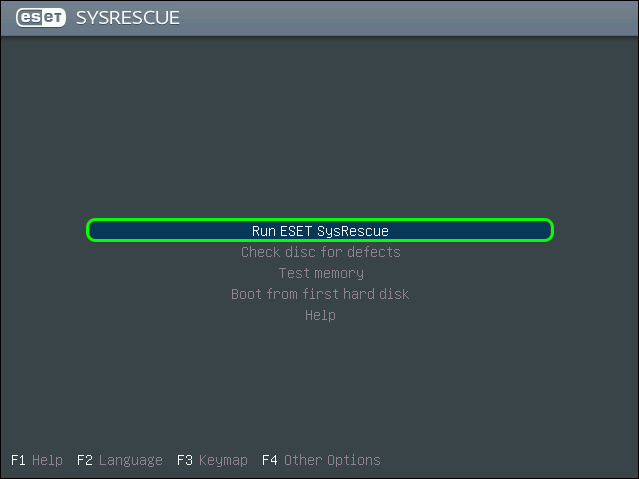 ---
Step 2: Configure Options and Accept License Terms
Now, you will see options to configure ESET System Rescue utility. Select appropriate options and click "I accept the terms in the License Agreement". You can take idea from the screenshot below.
---
Step 3: Update Antivirus Definitions and Start Emergency Scan
ESET SysRescue Disk utility will start. You will see options to Update antivirus definitions and On-Demand Scan to scan your PC. So first select Update from left and let ESET download latest antivirus definitions.
After updating definitions, select On-Demand Scan from the left pane. Now select Custom Scan or Smart Scan depending your requirements. We have used Smart scan in this tutorial.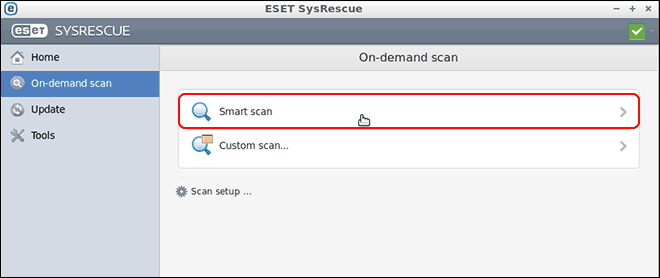 Scanning may take some depending upon the size of your disk. System Rescue disk will scan and remove viruses/malwares. After scan is complete, you will see scan summary. Click Close to go back to home screen.
---
Step 4: Reboot your PC and Boot to Windows
After you are done with scanning your PC, click on Menu button and select Logout. After that click Reboot to restart your computer and boot into Windows OS.

---
NOTE: If your PC only supports UEFI boot, check this link for ESET online scanner.
---
Scan your PC in Emergency using ESET SysRescue Disk
Emergency Rescue disk will scan and remove all viruses and malwares from your PC. Just make sure to update antivirus definitions to latest version before scanning. You can also get remote help from your friend or technician using TeamViewer. Simply click TeamViewer icon and you can share your screen.
This Emergency disk is very useful when you are unable to use your system because of viruses. Just boot from this SysRescue disk and scan your PC. Feel free to share your thoughts and queries in comments down below.