How to Disable UAC Prompt in Windows 10
User Account Control or UAC Prompt is one of Windows 10's security features. UAC keeps an eye on each and every program and prevents unauthorized changes to Windows 10. However, UAC prompt popping and dimming your screen every time you run or install a program might irritate you. And if you are sure about the behavior and origin of your programs, you can disable the UAC prompt in your Windows 10.
However, we suggest you do not disable the User Account Control prompt completely. Instead, you can lower the security settings to get fewer UAC prompts dimming your screen and asking for your permissions. So, let's get started with the process.
Disable User Account Control (UAC) Prompt in Windows 10
In this tutorial, we are going to shows you, how to disable User Account Control or UAC Prompt in Windows 10. This same method can be used on Windows 7, 8/8.1 also. Just follow these steps.
Step 1: Open Control Panel
First of all, open Control Panel from the Start menu. Alternatively, you can press Windows Key + R to open RUN, then type control and press Enter to open Control Panel.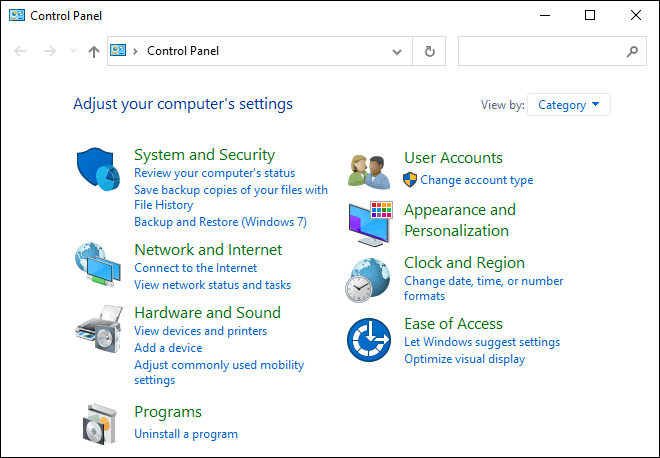 SEE ALSO:
1. How to Uninstall a Program from Control Panel?
2. How to Uninstall a Program using Command Prompt?
---
Step 2: Open UAC Settings
Now, in Control Panel, type uac in the search box and click on the "Change User Account Control settings" link from the search results.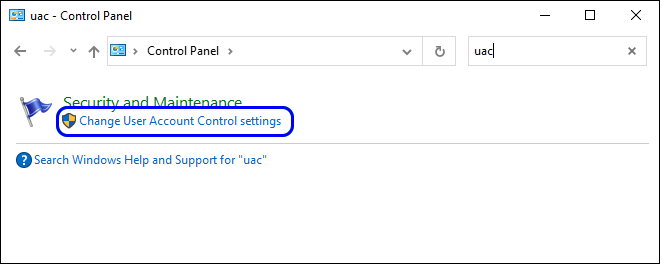 User Account Control Settings window will open. Here you can lower the UAC security level or completely disable the UAC prompt. The default security level will notify you about every change made to your computer.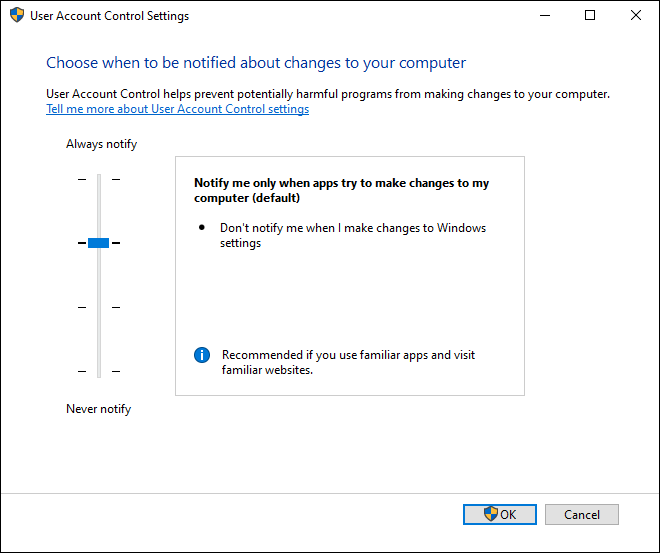 ---
Step 3: Change Security Level or Disable UAC Prompt
Now, lower the security level by pulling the blue slider downward. We suggest you don't move it to the bottom. As it will completely disable User Account Control Prompt and leave your PC vulnerable to security risks.
After lowering the security Level, click OK to apply the changes.
You will see UAC Prompt asking for your permissions, click Yes to continue.
---
Step 4: Restart your PC
After changing User Account Control Settings, you need to restart your computer to make the changes effective. Click on Start > Power > Restart.
---
NOTE: If you want to revert the changes, go to User Account Control Settings again and move the Blue slider to the default level. Restart your PC after that.
Turn Off Annoying User Account Control Prompt in Windows 10
Now, you have successfully changed the User Account Control settings. UAC prompt will not annoy you frequently and you will have a headache-free experience. However, we recommend that you do not move the blue slider to the bottom to avoid security risks. You can also move the blue slider to the top to tighten the security of your system. And you can always move it to the default level to make everything back to default.
This method also works for Windows 7 and 8/8.1. Hope you liked this tutorial. Feel free to share your queries and suggestions in the comment section down below. You can also subscribe to your newsletter to get the latest tutorials right into your inbox.
SEE ALSO: Top 10 Cool Command Prompt Tricks for You.