How to Downgrade Lenovo A6000/Plus from Lollipop to KitKat
Lollipop upgrade for Lenovo A6000/Plus proved to be a curse instead of boon. There are lot of bugs like WhatsApp Contact Sync issue and faster battery draining issue. So, if you want to get rid of this Lollipop upgrade and downgrade your Lenovo A6000/Plus to KitKat, you are at the right place.
You can also install Custom ROM but it will invalidate your device's warranty. However, we have a solution for that. Here, we will show you how to downgrade your Lenovo A6000/Plus from Lollipop 5.0.2 to Kitkat 4.4.4. We will use official KitKat Stock ROM in this tutorial, so, you won't lose your device's warranty.
NOTE: YOU ARE STRONGLY ADVISED TO TAKE BACKUP OF YOUR PHONE'S DATA BEFORE PROCEEDING AS THIS WILL ERASE EVERYTHING ON YOUR DEVICE'S INTERNAL STORAGE. IN CASE OF FAILURE, YOU MAY GET A DEAD SD CARD OR YOU CAN LEAVE YOUR DEVICE IN DEAD STATE. THIS TUTORIAL MAY WORK FOR SOME PEOPLE WHILE IT MAY NOT WORK FOR OTHERS. PROCEED AT YOUR OWN RISK. WE WON'T BE RESPONSIBLE FOR ANY DAMAGE TO YOUR DEVICE OR ANY LOSS OF DATA BY ANY MEANS.
---
Requirements to Downgrade
1. Download official KitKat Stock ROM for Lenovo A6000/A6000 Plus from here.
2. Take Backup of your personal data as this process will erase all data on your phone.
3. Charge your phone's battery more than 70%.
4. Your device must have original Stock Recovery installed. You shouldn't worry if you never installed custom ROM on your device.
5. Your Lenovo A6000/Plus must be un-rooted in order to downgrade from Lollipop to KitKat. If you have rooted your device, you have to first un-root your device.
---
SEE ALSO: How to Downgrade Lenovo A6000 or A6000 Plus from Android Nougat to KitKat?
---
Downgrade Lenovo A6000/Plus from Lollipop to KitKat
After getting all the required things ready, follow these steps.
Step 1: Copy KitKat Stock ROM to SD Card and Turn Off your Phone
First of all, copy downloaded Lenovo A6000/Plus Stock ROM zip file to your SD card and rename it to update.zip. After that insert SD card in your phone. Now, power off your device using power button on your phone.
---
Step 2: Boot your Lenovo A6000/Plus into Recovery
Now go to Recovery Mode by holding down volume up, volume down, and power button together. You should hold these three buttons for 10 seconds and then release. When you are in Recovery mode, you will see Android robot logo. If you don't see it, you have to power off your device and repeat this step again. We will flash KitKat stock ROM and downgrade Lenovo A6000/Plus using Stock Recovery.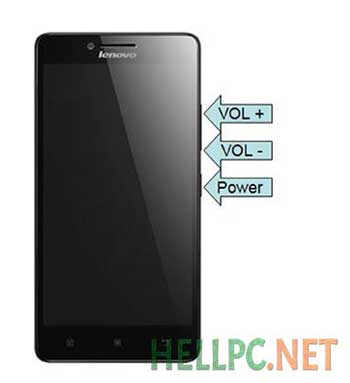 ---
Step 3: Wipe your Lenovo A6000/Plus using Recovery
After successfully booting into Recovery Mode, you will see Stock Recovery Menu on screen. Now, choose wipe data/factory reset and wipe cache partition to format your device.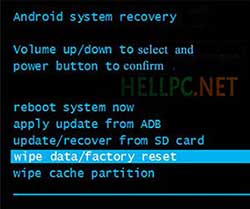 ---
Step 4: Install KitKat Stock ROM from SD Card
After wiping out data and cache partition, select apply update from sd card option. After that, navigate to KitKat Stock ROM zip file on your SD card and select it. We will now install KitKat stock ROM to downgrade Lenovo A6000/Plus from Lollipop to KitKat.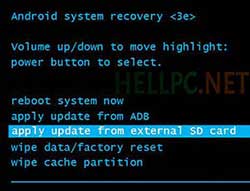 System will flash selected KitKat Stock ROM on your Lenovo A6000/Plus phone. This process will take some time. You can have a cup of coffee in meanwhile.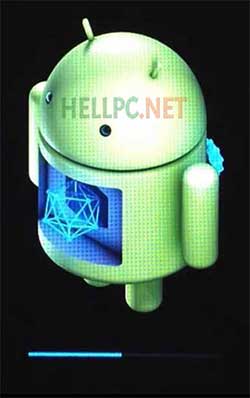 ---
Step 5: Reboot your Lenovo A6000/Plus to KitKat
After successful installation of KitKat Stock ROM, select reboot system now option from Stock Recovery Menu. Your phone will reboot to Android KitKat now.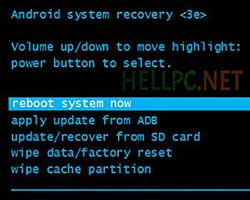 ---
Downgrade Lenovo A6000/Plus to KitKat using Stock ROM
Now, your Lenovo A6000/Plus will reboot to KitKat. And you will have to setup your phone just like you did first time after purchasing it. You have successfully downgraded your Lenovo A6000/Plus from Lollipop 5.0.2 to KitKat 4.4.4.
Hope you liked this tutorial. If you still face problems after downgrading your phone, just give it a factory reset. Feel free to comment your queries and suggestions down below.