Fix "USB Freezes Computer" issue in Windows 10
Computers hanging after plugging in the USB drive is a very common issue in Windows. There might be two most common reasons behind this – corrupt USB disks (maybe with some hardware errors) and corrupt USB port drivers. Improper ejection of USB drives also causes issues sometimes. So, if you plug out a USB drive while in use, it may get corrupt. And a corrupt USB sometimes hangs or freezes the computer causing trouble to users.
In some cases, there is an issue with USB port drivers. But thanks to Windows Updates, you will get most of the device drivers automatically without any intervention. However, if you think USB drivers are corrupt, you can try updating drivers in Device Manager.
SEE ALSO: How to Repair a Corrupt Memory Card or USB Drive?
Fix the "My Computer Freezes When I Plug in a USB in USB Port" Issue in Windows 10
Keeping in mind the issues with USB Drives and Port Drivers, it can't be denied that sometimes, ports are the main cause of the error. With time, ports get corroded, resulting in improper connection of the USB drive with the computer causing PC freezing issues after plugging in USB devices. It's a better idea to keep the ports clean to avoid connectivity issues.
To ensure that you have no issue with Pendrive, try connecting it to another PC, it may give a better idea about where the actual problem is. If nothing works and you don't have another PC to try your USB device, you may try the following steps to resolve the PC freezing problem caused by inserting USB drives. This is pretty useful when you need to troubleshoot and fix problems caused by leftover drivers.
WARNING: Before proceeding, we recommend that you create a restore point in your system. It will help you to restore your system to working state in case of any issues later.
Step 1: Show Corrupt Devices via Registry
We will first enable the display of hidden but corrupt devices via Registry Editor. This will show the USB device which hangs your PC. To open Registry Editor, launch the RUN utility, type regedit and press ENTER.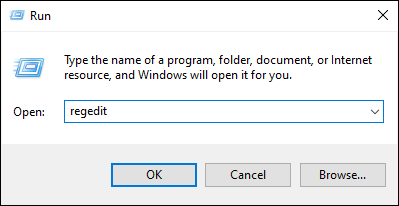 You may see UAC Prompt, click Yes to continue. Next, in Registry Editor, go to this path:
HKEY_LOCAL_MACHINE\SYSTEM\CurrentControlSet\Control\Session Manager\Environment
Right-click in the right pane and create a new key by selecting New > DWORD (32-bit) Value.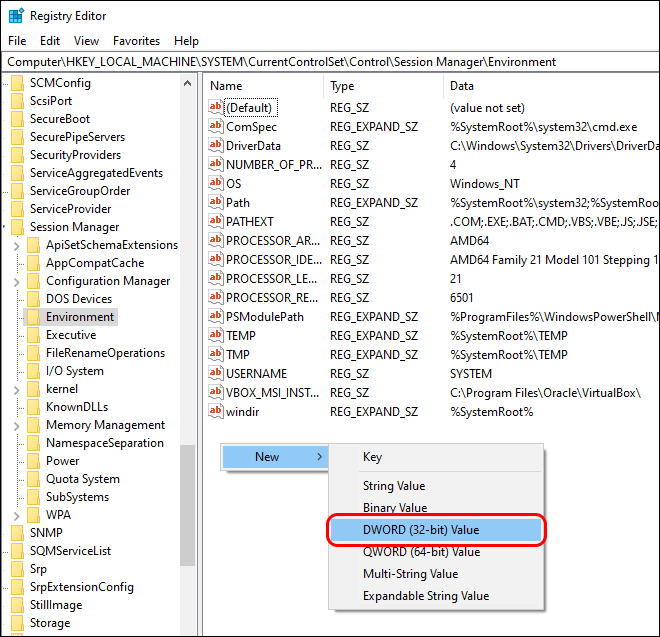 Name new DWORD as "DEVMGR_SHOW_NONPRESENT_DEVICES". This DWORD will allow us to view hidden and non-present USB devices in Device Manager that are freezing your Computer when plugged in.

Right-click on the newly created DWORD and select Modify… to change its value which is set to 0 (Zero) by default. You can also double-click on it to modify its value and set the Value data to 1 and click on OK to continue.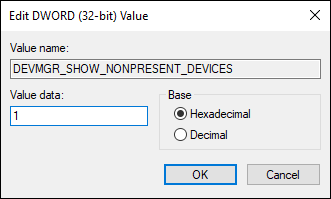 The registry part is done and you can close the Registry editor. It's time to finish the remaining work in Device Manager.
---
SEE ALSO: How to Format Corrupt SD Card or USB Drive using Chromebook Recovery Utility?
---
Step 2: Display Non-Present Devices in Device Manager
Now, we will uninstall non-present, hidden, or corrupt devices from Device Manager so that the corrupt USB doesn't freeze your computer. Launch the RUN utility, type devmgmt.msc and press ENTER to open Device Manager.
In Device Manager, click on View in the menu and select Show hidden devices. It will make all the hidden devices (the devices that were installed on your PC but now are not connected) visible. When you plug in one of these USB devices, it hangs your computer.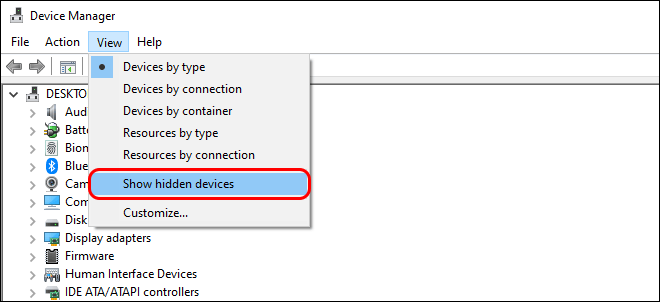 SEE ALSO: How to Hide all Drives in your Computer?
---
Step 3: Uninstall USB Devices Freezing Your Computer When Plugged-in
It's time to Uninstall those hidden USB devices. How to find a hidden device? Look for devices with blurred icons. There are two main places to look for hidden devices – Disk drives and Universal Serial Bus controllers.
Let's start with Disk drives. Select a hidden USB device that is no more connected to your PC, right-click it and select Uninstall device.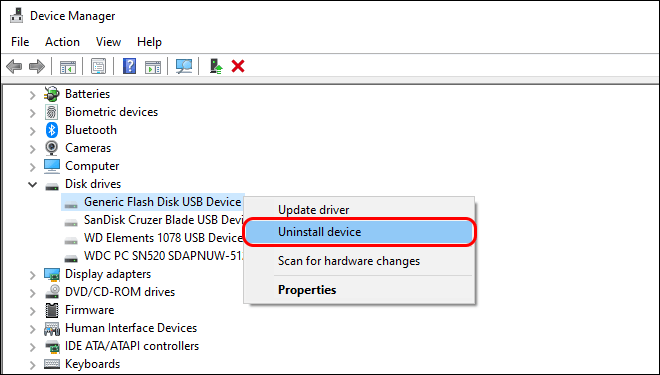 Click on Uninstall to continue the uninstallation of the selected Device.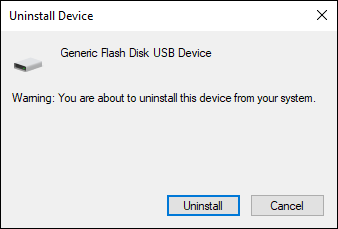 Similarly, uninstall all other hidden USB devices in Universal Serial Bus Controllers as well. Select a device, right-click, and click on Uninstall Device. And then click on Uninstall again to continue.
---
Step 4: Restart your Computer
After successfully uninstalling all hidden USB drives, restart your computer. Sometimes, you may require to restart your PC at least TWICE to clear leftover device drivers from your PC. After restart, the corrupt USB drivers that slow down your PC will be removed.
---
SEE ALSO: How to Make Bootable USB using Command Prompt?
Fix the "USB Drive Freezes Computer When Plugged-in" Issue
After uninstalling all hidden USB devices, restart your PC and connect your USB drive again. This time your USB drive should not hang or freeze your PC. If the USB still hangs or freezes your PC, there might be a hardware problem either in your USB drive or your computer ports. Please note that this method doesn't fix hardware issues. However, this tutorial will definitely help you with software-related issues.
Hope you liked this tutorial. In case are still facing issues with your USB drives, you can write down your queries in the comment section below. You can also subscribe to our newsletter to get the latest updates directly into your inbox.