Mouse Cursors for Windows – Free Download
Are you bored of Windows default mouse cursors? And want some cool ones for your Windows. Then, you have landed at the right place. Here we present some cool mouse cursor sets for you. Just download and install these mouse cursors on your Windows PC and enjoy. You can also download more pointers from the Open Cursor Library.
Installation of cursors is not very easy, so we have also written a tutorial for that. You can check here, how to install mouse pointers/cursors on Windows. In this post, we are sharing some unique sets of mouse cursors/pointers. However, you can check the Open Cursor Library for more cursors.
Mouse Pointers for Windows (Download for Free)
We are sharing two cursor/pointer sets, the Black-Gold Cursor Set by Mr. Rajib and the Entis Cursor Set by Entis-design respectively. Let's check them one by one.
A) Black Gold Cursor Set by Mr. Rajib
This beautiful cursor/pointer set is designed by Mr. Rajib, a technology geek and UCF LORD at UC Forum. Click the link below to download the Black Gold Mouse cursor set for Windows. You will get a zip file after downloading. Extract and install them after that.
Download Black-Gold Cursor Set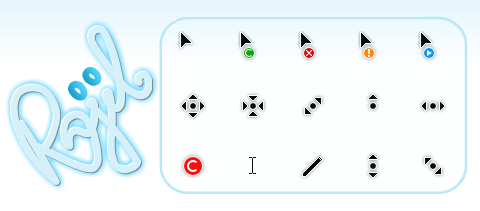 ---
B) Entis Cursor Set by Entis-Design
This cursor set has been created by Entis-Design. Though it looks inspired by the Black-Gold cursor set, it is quite different. Entis cursors set for Windows are available in three variants. Check the download links below for each of them.
| Cursor Set Name | Download Link |
| --- | --- |
| Entis Cursor Set (Normal) | Download |
| Entis Mini Cursor Set | Download |
| Entis Mini Bevel Cursor Set | Download |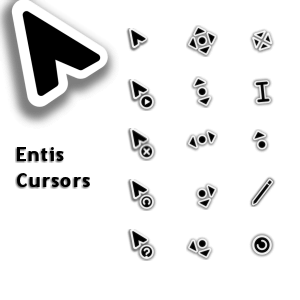 ---
C) Download More Cursors from the Open Cursor Library
Besides the cursor sets we have mentioned above, you can also download more cursor or pointer sets from the Open Cursor Library on the Real World Graphics website. Click the link below to open Open Cursor Library and download your favorite cursor or mouse pointer sets for Windows.
Open Cursor Library – Real World Graphics

---
Download Cursors or Pointers Set for Windows
After you have successfully downloaded the cursor or pointer set, it's time to install them. First of all, extract the downloaded zip file. After that run the file named Install. Next, these cursors will show up in the list of installed cursors. You can change your mouse cursors from the Control Panel.
Hope you liked these cursor sets. Share your experience in the comment section down below. And don't forget to subscribe to get the latest updates.
SEE ALSO: How to Install and Change Mouse Cursor/Point Set in Windows?