How to Fix Headphones Not Working on Windows 10
Microsoft regularly releases Windows updates to fix problems in Windows 10. But sometimes these updates also cause issues in Windows 10. Recently an update caused headphone issues on Windows 10. Many users reported that their headphones were not working on Windows 10 after the update. And some users complained that Windows 10 was not even detecting the headphones.
Besides Windows update, there might be other reasons causing headphones issues on your Windows 10. Altogether, it's a huge inconvenience when your headphones suddenly stop working. So, in this tutorial, we are going to show you how to fix headphones not working on Windows 10 issue. We will start with basic troubleshooting first.
SEE ALSO:
1. How to Fix Windows Update Issues in Windows 10?
2. How to get Windows Startup Sound back in Windows 10?
Fixing Headphones Issues on Windows 10
When you have multiple audio input/output devices connected to your PC, Windows 10 sometimes fails to decide the input or output device. In such cases, manually selecting input/output devices usually fix headphones not working on the Windows 10 issue.
1. Manually Select Input and Output Audio Devices
Search for "sound" in Start menu and click on Sound settings from search results.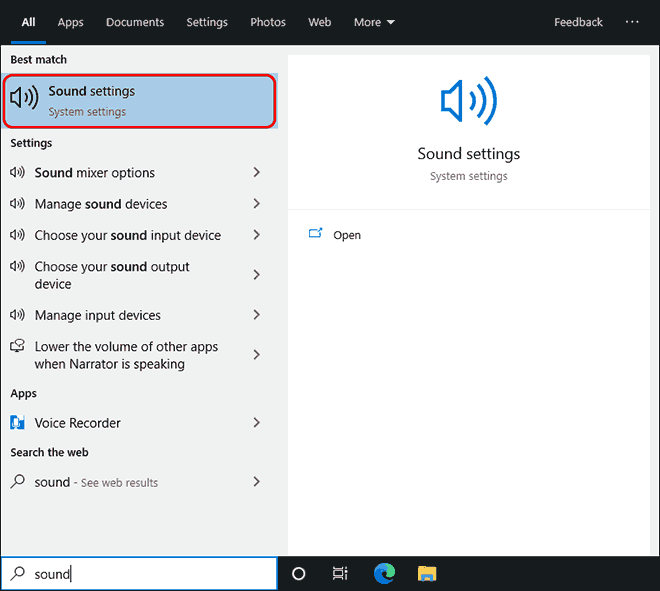 Now, manually select your output (headphones) and input (mic) devices from dropdowns. After selecting proper devices, headphones not working on Windows 10 issue should be resolved.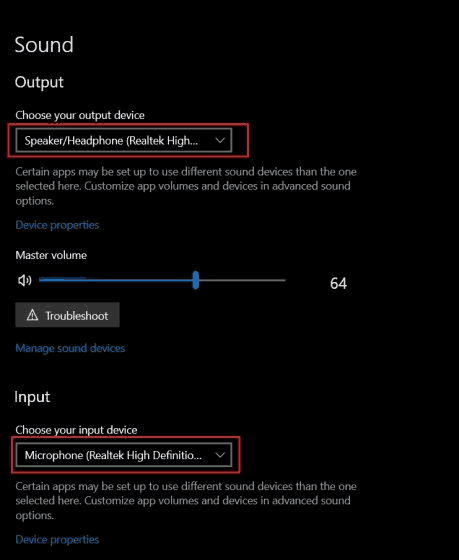 ---
2. Fix Basic Sound Issues with Windows Troubleshooter
If your issue is not solved in previous step, click Device Properties under Output and Input devices. In Device Properties, uncheck Disable if it is checked. Do this for both input and output devices.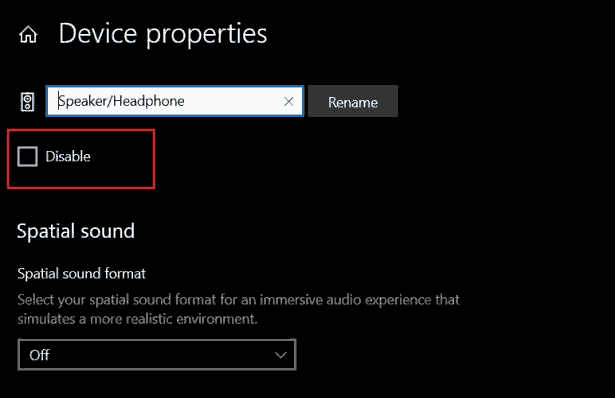 And if everything was right in Device Properties, go back and click on Troubleshoot button. Now, let the troubleshooter fix the "headphones not working on Windows 10" issue.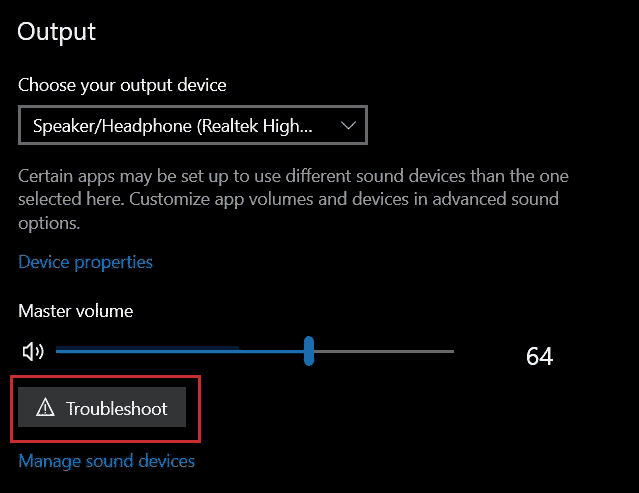 ---
3. Fix the "Headphones Not Working Issue" from Sound Control Panel
If you are still stuck with your headphones issue on Windows 10, let's try to fix it using Sound Control Panel. Go to RUN (Windows + R), type following command and press Enter.
control /name Microsoft.Sound
Now, right-click on your headphone device and select Enable to enable your headphones device if it is disabled. If you don't see your headphone device listed here, it might be due to driver issues. We will see that in the next section.
---
4. Fix Headphones Not Working or Detecting on Windows 10 due to Driver Issues
If your headphones are not showing up in the list of input or output devices on Windows 10, then it might be a driver issue. Here, we will update the audio driver in Device Manager to fix headphones not working on Windows 10.
To open Device Manager, go to RUN, type devmgmt.msc and press Enter.
In Device Manager, expand Audio inputs and outputs. Now, right-click on Speaker/Headphone… and select Update driver.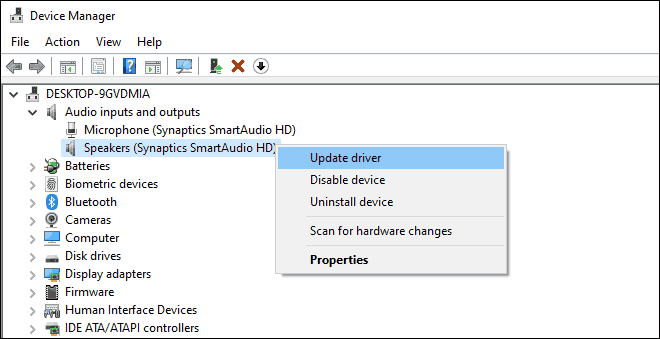 Now, you will see option to update drivers automatically or manually. Click on "Search automatically for drivers" and Windows will automatically update the drivers to the latest version. You might need to restart your computer after that.
NOTE: If your headphones have hardware issues, you will have to get it repaired from the service center first.
---
5. Fixing Headphones Issues via Native Sound App
Besides Windows 10's default Sound Control Panel, you will find a native Sound App on your PC based on your audio chipset type. For example, if your audio chipset is from DTS, you will find the DST Audio Control app on your Windows 10 PC.
Search for "dts" in Start menu and open DTS Audio Control app.
Now, go to Listening Experience tab and select proper input/output device in Device dropdown. This should fix Headphone not working on Windows 10 issue.
---
Headphones Not Working on Windows 10 – Issue Resolved
The above tutorial explained several methods to fix Headphones not working on Windows 10 issue. Starting from basic troubleshooting to updating the drivers and many other ways surely would have helped you solve the issue. So, by now, your headphones issue might have been resolved. In case you are still facing the issue, you can try resetting your Windows 10 as last resort.
Hope the above tutorial helped you solve the headphones issue. In case you still have some queries and suggestions, feel free to share them in the comment section down below. You may also consider subscribing to our newsletter to get the latest tutorials directly into your inbox.