How to Transfer Photos from iPhone to Chromebook
There have always been compatibility issues between iPhones and Chromebooks. But with time, both are on the path to become more compatible with each others. At least you can now transfer your photos from iPhone to Chromebook.
However, there is still no direct way to install iTunes on Chromebook. And even if you try it using Wine in Linux on Chromebook method, it won't work every effectively. So, in this tutorial, we are going to share two methods (wired and wireless) to connect your iPhone to Chromebook and sync Photos and Videos.
SEE ALSO: How to Transfer your Photos and Videos from Facebook to Google?
Connect iPhone to Chromebook and Transfer Photos
As mentioned earlier, we are going to discuss two methods to sync photos and videos between iPhone and Chromebook. So, let's have a look at the wired method (the easy one) first.
A) Transfer Photos and Videos from iPhone to Chromebook via USB
First of all, connect your iPhone to Chromebook with a USB lightning cable just like you do on Mac. You will see a pop-up on your iPhone asking you to allow media access. So, tap on Allow to access your photos and videos on Chromebook.
Now, on your Chromebook, open File Manager. There you will find Apple iPhone in the left side, click on it. Now, you can see all your photos and videos from the iPhone in your Chromebook. Feel free to transfer photos and videos from iPhone to Chromebook.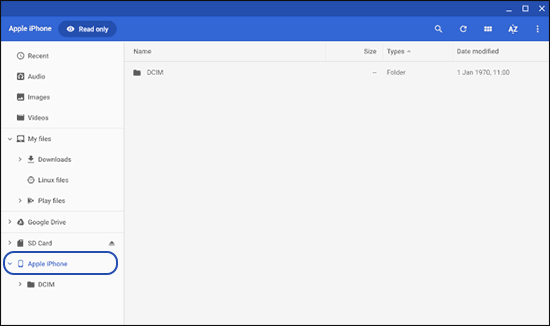 ---
SEE ALSO: How to Transfer Data from your old iPhone to the new one easily?
B) Wirelessly Connect iPhone to Chromebook and Transfer Files
As AirDrop is only available on macOS, you can only opt for AirDrop alternatives like AirDroid to transfer media and other stuff from your iPhone to Chromebook on Wireless connection. So, we will use AirDroid in this tutorial.
First, install the AirDroid app (Free) on your iPhone. Then create an AirDroid account and login with it. Next, go to My Device tab and select "AirDroid Web". Here, tap on "Scan QR code" and get ready to scan the QR code in the next step.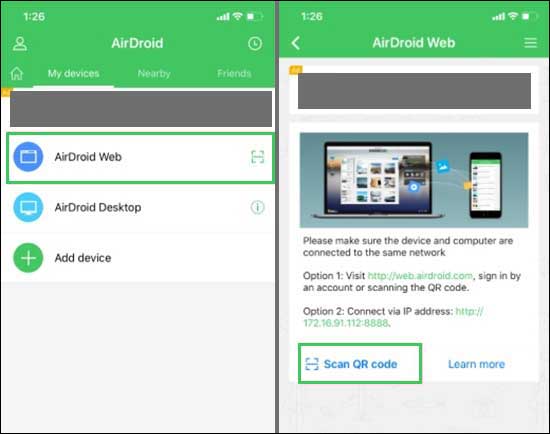 On your Chromebook, open AirDroid Web. Scan the QR code shown on homepage via AirDroid app on your iPhone. It will immediately connect to your iPhone. Now, login with your AirDroid account on Chromebook also.
NOTE: You need to connect your iPhone and Chromebook to the same WiFi network.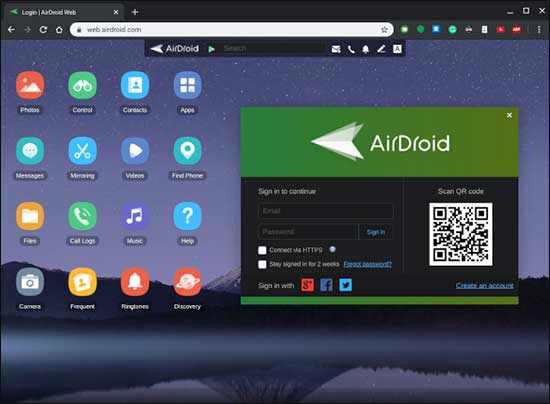 After successfully connecting your iPhone and Chromebook, you can see all your iPhone's media and files on your Chromebook.
NOTE: AirDroid web uses HTTP protocol. This means the data transfer is not secure. So, we suggest you to not use public or work WiFi network for this. We recommend you to use a USB cable in such cases.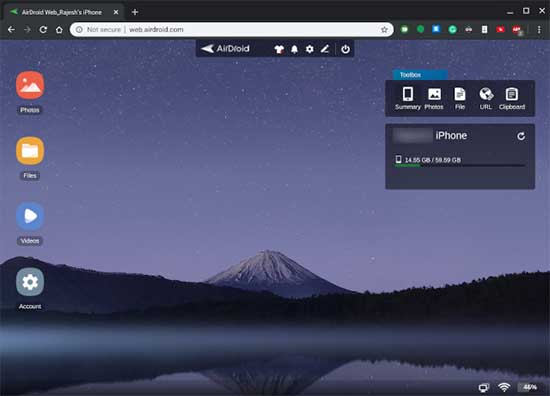 ---
SEE ALSO: How to transfer Google Play Music content to YouTube Music?
Sync Media Files between iPhone and Chromebook Easily
Above tutorial explained two methods to share media files between iPhone and Chromebook. First method uses a USB lightening cable which is faster and more secure way to transfer your photos. While the second method uses a third party service (app and website) over a Wi-Fi connection which is not that fast and secure. We recommend you to use USB cable method wherever possible.
Hope you liked this tutorial. You can also share it with your friends to help them. You can also learn more Chrome OS tips and tricks here. Feel free to share your queries and suggestions in the comment section down below.