How to Customize Website Notifications in Safari (Mac)
Web notifications popping from Safari while you are working on your Mac, are very annoying. While some of them might be useful, the rest are pretty useless and you won't want to see them. So, it's a good idea to customize website notifications in Safari on your Mac to avoid unwanted interruptions.
Fortunately, macOS provides you with enough controls to manage website notifications in Safari. So, you can easily turn off or disable useless notifications in Safari and allow useful ones only. In this tutorial, we are going to show you how to customize website notifications in Safari on macOS and block useless browser alerts.
SEE ALSO: How to Block Pop-ups and Spam Notifications on Android?
Manage Website Notifications in Safari Browser on macOS
The macOS allows you to control almost every aspect of website notifications from Safari. You can customize the notification's appearance and display order in Notification Center. Plus you can completely block useless alerts as well.
1. Customize How Safari Notifications Appear
You can change how notifications show up on your Mac. For example, you can select from banners and alert styles. And you can also make the alerts automatically disappear or stay until you manually dismiss them.
You can also choose to hide notifications on the lock screen and show only when Mac is unlocked. Alerts can be sorted based on Recents, Recents by App, and Manually by App.
First of all, select System Preferences from Apple Menu and then choose Notifications. Here, select Safari from the left sidebar and customize the notification display style and other settings.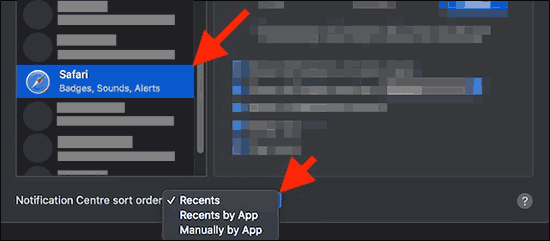 INFO: You can also block website notifications from Safari completely. To do so, disable the switch for "Allow Notifications from Safari".
---
2. Disallow Websites to Ask for Permission to Send Push Notifications
Do you hate those annoying website popups asking you to allow notification access? If your answer is yes, you can choose to prevent websites from asking you to allow sending notifications.

To disable websites from asking for notification permissions, open the Safari browser first. Then, go to Menu > Preferences > Websites > Notifications. Here, uncheck the box next to "Allow websites to ask for permission to send notifications".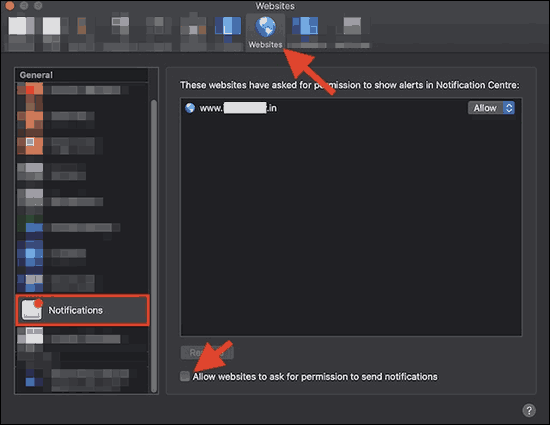 ---
3. Stop Receiving Push Notifications from a Website in Safari
Once, you allow a website to send you notifications, it will keep sending you annoying notifications every now and then. If any website is bugging you and you want to get rid of it, you can do that in Safari Settings.
Just like in the previous step, open Safari on your Mac and go to Menu > Preferences > Websites > Notifications. Now, select the website that you want to disallow notifications from and select Deny from the dropdown. Now onwards, you will no longer receive notifications from the selected websites.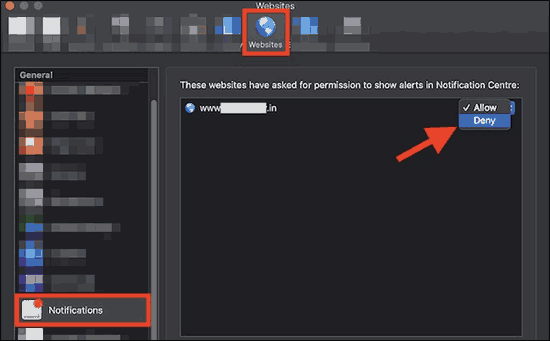 ---
4. Stop Receiving Siri Suggestions in Safari
Besides websites, Siri also keeps sending you suggestions to improve your browsing experience. If you don't want to see these suggestions, you can disable them as well. Go to Apple menu > System Preferences > Siri > Siri Suggestions & Privacy.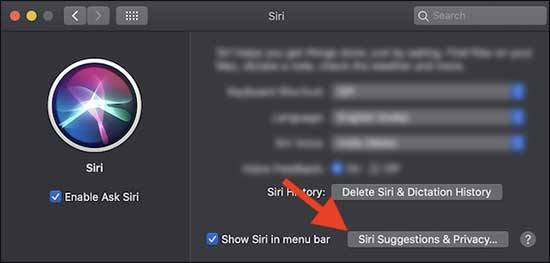 Here, select Safari from the left sidebar and uncheck the boxes next to Show Siri Suggestions in App and Learn from this app. Finally, click on Done to save the changes.
---
SEE ALSO: How to Set Google Chrome as Default Browser in iOS 14?
Manage and Customize Safari Notifications on macOS
Finally, you have successfully blocked annoying push notifications from websites in Safari on your Mac. And after disabling Siri suggestions in Safari, you will only see useful notifications. By using the methods explained above, you can easily manage notifications from any website on your Mac.
Hope you liked the above tutorial. Feel free to share your queries and suggestions in the comment section down below. You can also consider subscribing to our newsletter for getting the latest tips directly into your inbox.