How to Extend C Drive Space in Windows 10
Like previous versions of Windows, Windows 10 also uses a disk partitioning system where OS drive (usually C drive) generally stores all Windows system files and program installation files. Over time, the space in C drive gets filled up and you start getting pop-ups for clearing some space. And if you don't extend C drive space, it may cause your Windows 10 to slow down.
Besides Microsoft Store Apps, Windows updates are also cached and stored in the C drive for recovery purposes. Cleanup tools will help you free up some space but the next Windows update will fill it again. In such scenarios, users don't have many options but to increase the OS drive (C Drive) space. It's not very easy to extend the space of the C drive and there may be complications. So, in this tutorial, we are going to explain how to extend C drive space on Windows 10 in detail.
SEE ALSO:
1. How to Move Microsoft Store Apps from C Drive to Other Drive?
2. How To Shrink A Volume (Local Disk Drive) In Windows 10?
We will be using two utilities to extend C drive space on Windows 10 – native Windows Disk Management tool and third-party software AOMEI Partition Assistant. Let's start with the native Windows Disk Management tool.
A) Extend C Drive Space on Windows 10 using Disk Management
In the first part of the tutorial, we will use the native Windows Disk Management tool to increase C drive space. Disk Management tool is a built-in tool for managing disks on Windows 10. Before we start, we suggest you take a backup of your important data. So that you can recover in case of any failures.
NOTE: Using native Disk Management tool, you can only extend C drive space only if the nearest drive is empty or unallocated. It means, you can only use D drive (not drive E, F etc.) space to extend C drive space. So, you can move the data from D drive to other drives to make D drive free. After that you can use D drive space to extend C drive.
Step 1: Open Disk Management Tool
First of all, right-click on the Start button and select Disk Management. You can also open Disk Management using the RUN utility. Simply type diskmgmt.msc in RUN and press Enter.
---
Step 2: Delete D Drive to Make Unallocated Space
As mentioned earlier, first take the backup of the data on the D drive. After you have emptied the D drive, right-click on D drive in Disk Management and select Delete Volume. Disk Management will delete the D drive and it will be converted to unallocated space.
---
Step 3: Extend C Drive Space using Disk Management
After creating unallocated space, right-click on the C drive partition and select the option to Extend Volume.
NOTE: If the Extend Volume option is disabled, you won't be able to extend C drive space using native Disk Management tool. We will have to use a third-party tool which is explained in next section. We suggest you create a new volume using unallocated space before moving forward.
---
Step 4: Complete the Extend Volume Wizard
After you click Extend Volume, the Extend Volume Wizard will open. Using this wizard, you can merge partial or whole unallocated space with C drive. Simply follow on-screen instructions to extend C drive space. And finally, click Finish to close the wizard.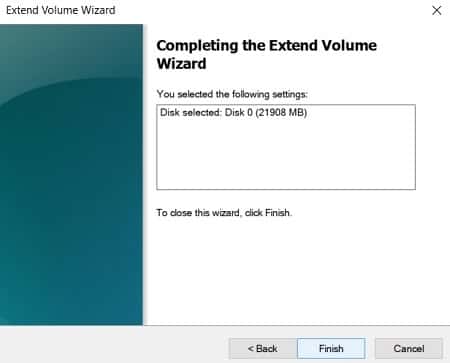 Go to Disk Management and check the C drive space again. You have successfully increased C drive space. It will show up immediately in Disk Management.
---
SEE ALSO: How to Shrink a Volume in Windows 10 and Windows 11?
B) Extend C Drive Space with AOMEI Partition Assistant
In the previous section, we merged the D drive with the C drive by deleting it. However, if you just want to add space from the partition that is not adjacent to the C drive, you can use AOMEI Partition Assistant. It's a third-party partition manager software with a lot of features. AOMEI Partition Assistant download link is given at the end of the post.
You can also use this method if the native method failed to extend the C drive. Especially when the Extend Volume option for C drive is grayed out in Disk Management, you can use AOMEI Partition Assistant.
Step 1: Free Up Space to Extend C Drive
First, we will need to make free space to merge with the C drive. You can skip this step if you already have unallocated space.
Now, right-click on the drive with available storage (you can use the volume you created after the native method failed) and select Resize/Move Partition.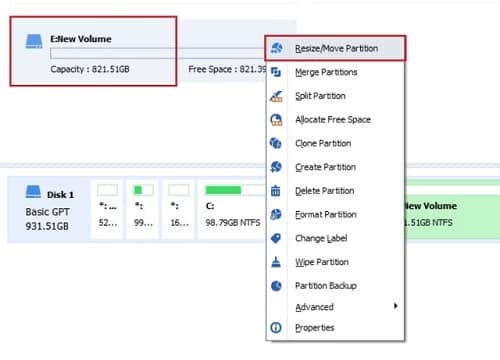 Now use the slider to shrink the partition and free up the required space. In this tutorial, we have freed 21 GB from 821 GB drive. Click OK to confirm.
We will use this 21GB to extend C drive space. You can free up more space depending on your requirements.
---
Step 2: Merge Free Space with C Drive
Now, we have unallocated space ready to be merged with C drive. Right-click on newly-created unallocated space (which looks like a drive of 21 GB in our case) and select Merge Partitions.
Next, select both C: drive and the unallocated drive from the list and click OK to merge both partitions.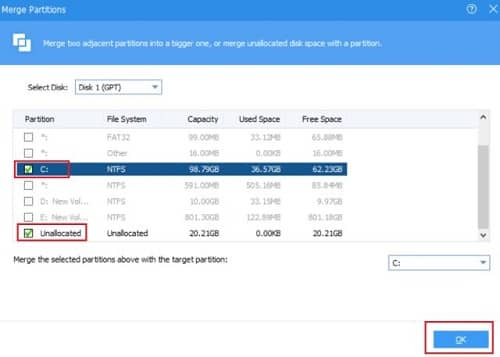 ---
Step 3: Apply the Changes in AOMEI Partition Assistant
After you are done with the changes, click on Apply button in the top left corner. Next, click on Proceed button to apply the changes.
You may also see an additional warning about restarting your computer. The C Drive extension process may take some time to complete and your computer might reboot several times.
After extending C drive space successfully, AOMEI will start your PC in normal mode. You can verify disk space in Disk Management or simply by going to This PC.
---
Download AOMET Partition Assistant
You can download the latest version of AOMEI Partition Assistant from the link below.
---
SEE ALSO: How to Upgrade your PC to Windows 11 (4 Methods Explained)?
Two Easy Methods to Increase C Drive Space
Above tutorial explained two easy methods to extend C drive space. While the native Disk Management method is simple and straightforward, it may fail due to the disabled Extend Volume option. However, in such scenarios, you can always use AOMEI Partition Assistant. AOMEI Partition Assistant offers the facility to merge spaces from non-adjacent partitions which is great.
Hope you found this tutorial helpful. In case you face problems while following the tutorial, write them down in the comments. You can also subscribe to our newsletter to get such tutorials directly into your inbox.