How to Install and Use Signal Messenger on Android
After WhatsApp's privacy policy update in Jan 2021 and endorsement from Elon Musk, a lot of users have started to install and use Signal Messenger on Android and iOS devices. Signal messenger is developed by non-profit Signal Foundation. It is claimed to be privacy first messenger with tagline "Say Hello to Privacy".
WhatsApp's new privacy terms clearly dictate that it is going to share your personal data with Facebook. And that's a big privacy concern. So, if you are not okay with new privacy terms of WhatsApp, you can switch to Signal Messenger.
SEE ALSO: How to Install Signal Messenger on PC?
Switch from WhatsApp to Signal Messenger on Android
In this tutorial, we are going to show you how to install and configure Signal Messenger on your Android phone. So, let's go through the steps.
Step 1: Install Signal Messenger
First of all, open Google Play Store on your Android phone. In Play Store, search for signal and install Signal Private Messenger from Signal Foundation.
---
Step 2: Grant Necessary Permissions
After installing the Signal Messenger, launch the app. Tap on CONTINUE to agree Terms & Privacy Policy. And then, tap on CONTINUE to start providing necessary permissions to Signal Messenger.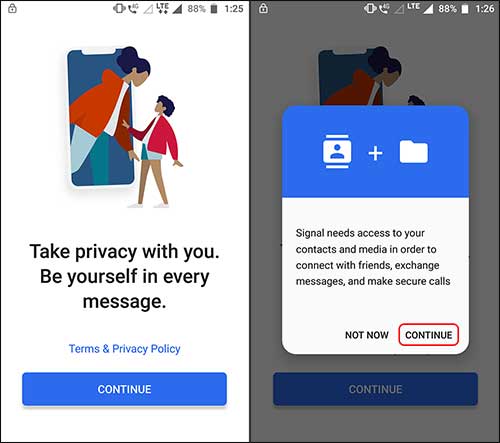 Next, you will be asked to grant permissions to access Contacts, Media and Phone calls. Tap on ALLOW to grant permissions one by one.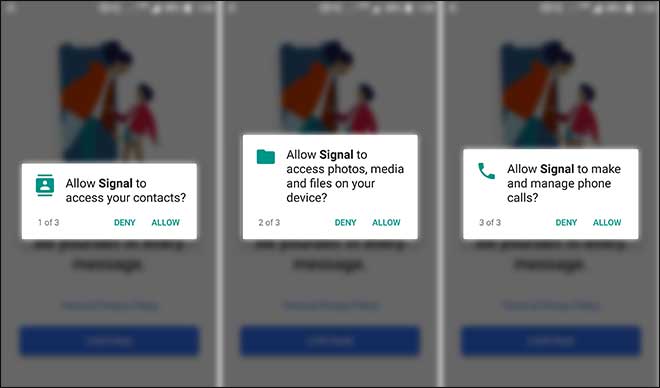 ---
SEE ALSO: How to Use WhatsApp's Advanced Search Feature?
Step 3: Setup your Account
Now, it's time to register your account using your mobile number. Select your Country, provide your mobile number and tap on NEXT. You may see re-captcha human verification. Solve, the captcha and tap on VERIFY.
After, successful verification, you will receive verification code on your mobile. Signal Messenger will automatically detect verification code from received message. You can also enter the code manually if it doesn't fill in automatically. Signal Messenger will then verify the code.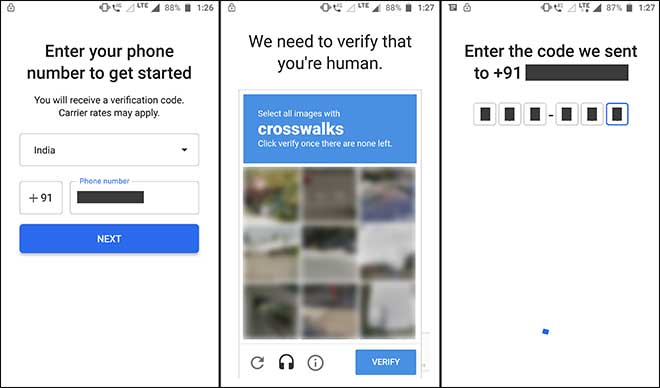 ---
Step 4: Setup Profile and Create Security PIN
After registering mobile number, enter your first and last name and tap on NEXT. Now, you will be prompted to create a 4-digit security PIN. Create your easy to remember 4-digit PIN and re-enter it to confirm.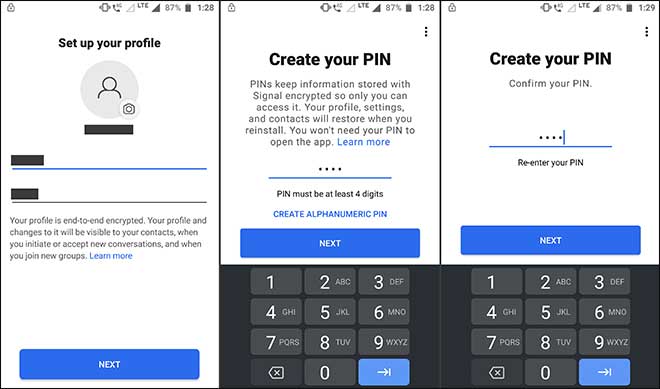 ---
Step 5: Start Chatting on Signal Messenger
Signal Messenger is all set up now. You can continue to use it. On the home screen, you will see a pinned message to make Signal your default SMS app. If you don't want Signal to be your default SMS app, simply close the message.
To start chatting, tap on write message icon at the bottom right.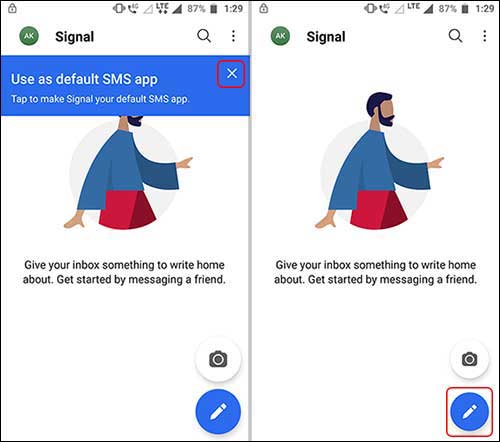 Next, you will see all your contacts who are using Signal Messenger. You will also see your own Mobile number to take notes to self. Select a contact to start chatting. In this example, we have used Note to Self.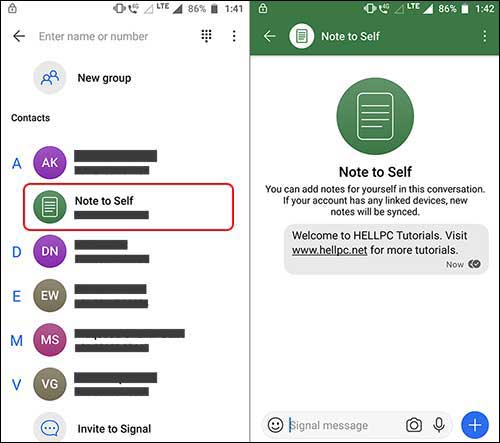 ---
SEE ALSO: How to use Disappearing Messages on Signal Private Messenger?
Install and Use Signal Messenger on Android
Above tutorial explained, how you can easily install and use Signal Messenger on your Android device. Setup is quite easy and straight forward. You can now start chatting with your family members or friends on Signal. You can also invite your contacts to join Signal by sending them a link.
Please note that unlike WhatsApp, Signal doesn't have cloud backup but it creates encrypted local backups. Hope you liked this tutorial. Feel free to share your queries and suggestions in the comment section down below.