How to Automatically Delete your Google Account
Your Google account is one of the services that collect the most amount of data about your online activities. So, have you ever thought about what is going to happen to your Google account when you pass away? Will your precious data stay on Google servers forever? Or is there a way to automatically delete your inactive Google account and data?
First of all, let us make it clear to you that your precious data will stay on Google servers unless and until someone or Google deletes it. To tackle this problem, Google itself provides the "Inactive Account Manager" tool.
SEE ALSO: Protect your Privacy while using Google Chrome?
How to Auto-Delete your Inactive Google Account?
Using Inactive Account Manager, you can decide and configure how to dispose of your Google account data in the unfortunate event of your death. So, in this tutorial, we will show you, how to set up the Inactive Account Manager to automatically delete your Google Account.
Step 1: Open Google's Inactive Account Manager
First of all, you will have to log in to your Google Account. Then select the "Data & personalization" tab from the menu on the left. Here, click on "Make a plan for your account" under the "Download, delete, or make a plan for your data" section.
Alternatively, you can use this link to access Google's Inactive Account Manager. After that Inactive Account Manager will open. Here, you will see a brief description of this feature. Click START to start configuring to automatically delete your Google account data.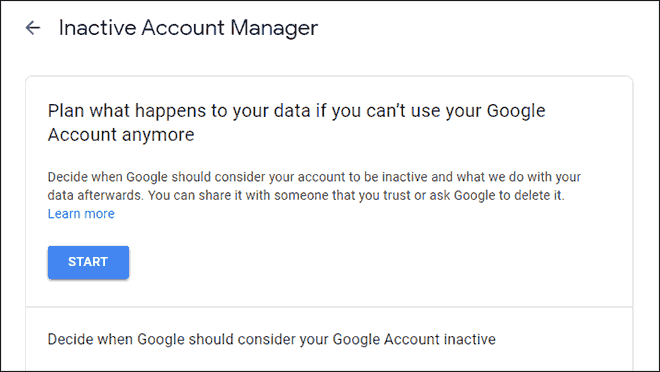 ---
SEE ALSO: How to Transfer Google Play Music content to YouTube Music?
---
Step 2: Set Waiting Period and Confirm your Details
First, you will be asked to set the waiting period. After the waiting period is over, Google will consider your account inactive.
You can select from available options: 3 months, 6 months, 12 months, or 18 months. Select your desired period and click SAVE.
After that confirm your email address and verify your phone number. Finally, click NEXT to move to the next step.
---
SEE ALSO: How to Keep your Google Photos Private?
---
Step 3: Add Trusted Persons to Notify
Next, you will see the option to add trusted persons (up to 10). Google will notify these people after your account becomes inactive. People you add via Inactive Account Manager can access your Google account data (photos, files, etc.) for 3 months.
Click ADD PERSON button, enter the email address of your trusted person, and click NEXT. Similarly, you can add more trusted persons to the Inactive Account Manager console.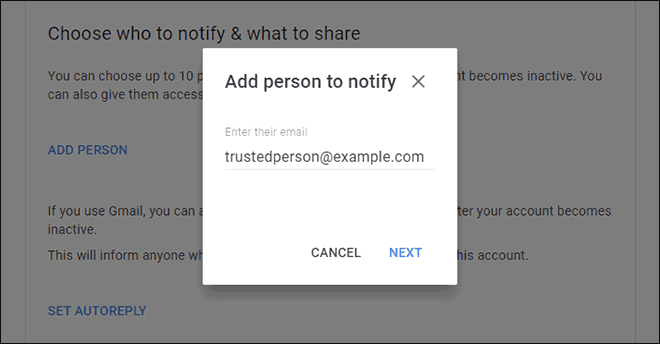 ---
SEE ALSO: How to Remove Third-party App access from Google and Facebook?
---
Step 4: Set Auto Reply for Incoming Emails
If you want, you can also set up an AutoReply message that will be sent in reply to incoming emails. We suggest you set up this option as it will notify the sender that this account is no longer in use.
To set the AutoReply message, click the SET AUTOREPLY button. Now type the Subject and Body of the AutoReply email.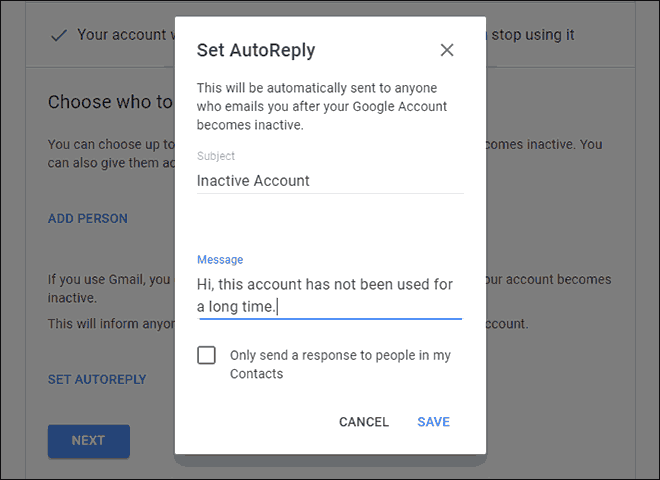 SEE ALSO: How to Send Bulk Emails using your Gmail Account (Mail Merge)?
---
Step 5: Set your Inactive Google Account to Auto Delete
It's time to set your inactive Google account to delete automatically. Turn ON the toggle next to "Yes, delete my inactive Google Account" and click REVIEW PLAN.
Finally, you will see the overview of the settings, you have selected. Review it carefully and click on CONFIRM PLAN to continue. After that, your Google account will be deleted automatically after three months of becoming inactive.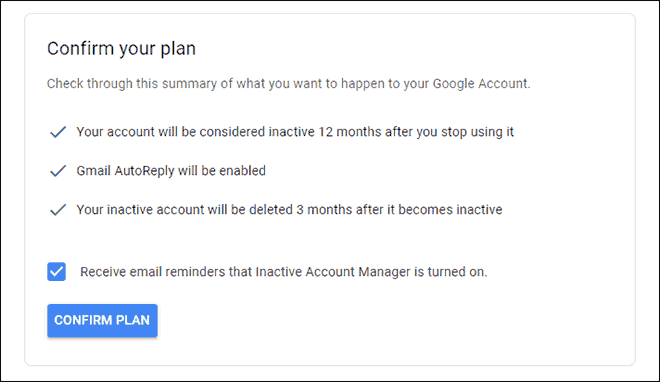 ---
SEE ALSO: How to transfer Data from your old Phone to New Phone?
---
Step 6: Cancel your Plan
You can also cancel your "auto-delete Google account" plan from the Inactive Account Manager. Simply, go to Inactive Account Manager just like Step 1 and click TURN OFF MY PLAN. Your plan will be canceled and the account will stay active.
---
Delete your Inactive Google Account Automatically
So, now you don't need to worry about the data you leave behind when you stop using your Google account or in case of your unfortunate death. You can easily set your Google account to auto-delete your data after a specific duration of inactivity.
Hope you find this information helpful. We suggest you configure your Google account plan to prevent your data from falling into wrong hands. Also, don't forget to subscribe for getting the latest tutorials directly into your inbox.