How to Use Cloudflare DNS (1.1.1.1) On Your PC and Phone
Cloudflare launched consumer DNS service on April 1, 2018. Cloudflare claims that it will be "the Internet's fastest, privacy-first consumer DNS service." Cloudflare's DNS service uses https://1.1.1.1 and https://1.0.0.1 as DNS resolver. And anyone can use Cloudflare DNS free of charge. Competing with OpenDNS and Google DNS, Cloudflare is focusing heavily on the privacy aspect of its own DNS service with a promise to clear all logs of DNS queries within 24 hours.
What is DNS? DNS services are usually provided by ISPs to resolve a domain name like windospc.com into a real IP address that routers and switches can understand. It's one of the most important part of the internet, but DNS servers that ISPs provide are usually slow and unreliable. ISPs or any Wi-Fi network that you are connected to can use these DNS servers to track your browsing activities, which poses a privacy risk.
SEE ALSO: How to Make your Computer a Web Server?
You can use Cloudflare DNS service on your PC and your Phone to speedup your internet. Configuring Cloudflare DNS on PC is simple and doesn't require any technical skills. However, you can't configure Cloudflare DNS directly on your phone. To solve this issue, Cloudflare has launched an app that configures DNS on your phone without much intervention. You just install this app and you are good to go in few taps. This app is available for both Android and iOS. This tutorial shows how to configure Cloudflare's DNS service on your Windows PC and Android Phone. Let's start with Windows PC.
A) Configure Cloudflare DNS on your Windows PC
Here is the list of Cloudflare DNS Addresses for using on Windows. You can also configure these DNS addresses on other platforms like macOS, Linux as well.
IPv4: 1.1.1.1 & 1.0.0.1
IPv6: 2606:4700:4700::1111 & 2606:4700:4700::1001
To configure Cloudflare's DNS service in Windows PC, we need to make some changes to network configuration. Follow these steps to use Cloudflare DNS in your Windows PC:
Step 1: Open Network Connection Settings
Open Control Panel and search "network connections". In search results, click on View Network connections under Network and Sharing Center.

This will open Network Connections manager. Right-click on your Ethernet or Wi-Fi adapter and select Properties. In case you have multiple adapters showing in Network connections, select the one which is showing "connected" and skip the ones which are disconnected (showing red cross symbol in bottom-left corner).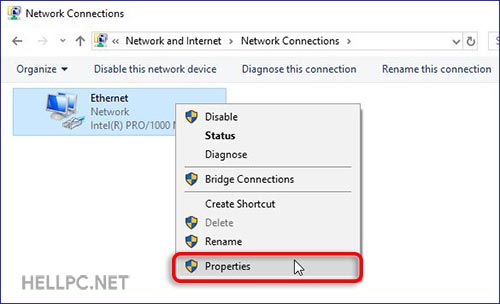 ---
Step 2: Configure 1.1.1.1 DNS in Network Properties
In Network properties, you can manage IP address and DNS address of selected Network connection. Most of the systems use IPv4. Select Internet Protocol Version 4 (TCP/IPv4) from the list and click on Properties button. You can take help from following screenshot. Here we will configure Cloudflare DNS in your PC.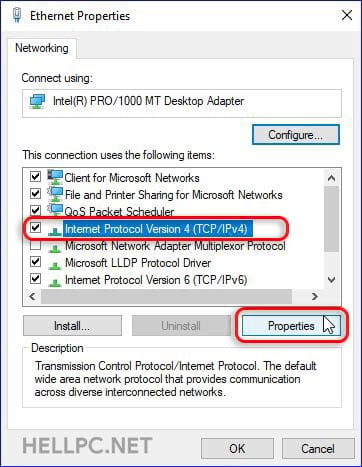 In most of the cases, IP address is configured automatically via DHCP. You will see Obtain an IP address automatically and Obtain DNS server address automatically options already selected. We need to change DNS server address only, so, we will leave Obtain an IP address automatically settings as it is.
Under DNS settings, select Use the following DNS server addresses: option. Fields for entering DNS server IP will be highlighted. In Preferred DNS server enter 1.1.1.1 IP address. You can leave Alternate DNS server blank but for redundancy you can use 1.0.0.1 as alternate DNS server.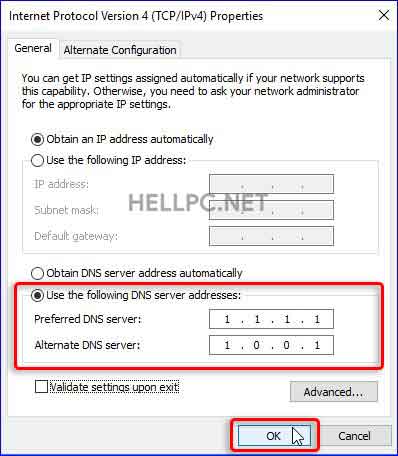 After entering DNS server addresses, click OK and then click Close to close Properties window.
---
SEE ALSO: How to Host Minecraft Server on Android Phone?
---
Step 3: Check DNS Configuration and Speed
After configuring Cloudflare DNS server on your PC, restart your PC to flush existing DNS cache or simply run following commands in elevated Command Prompt (Run as Administrator).
ipconfig /flushdns
ipconfig /registerdns
First command shown above flushes existing DNS resolver cache and second command will register your machine (computer) in the Cloudflare's DNS zone. You can run nslookup command to check default DNS server. If you have configured everything correctly, you should see one.one.one.one as Default Server.
The independent DNS monitor DNSPerf has ranked Cloudflare DNS (1.1.1.1) as the fastest DNS service in the world. Below are the results based on response time of DNS servers according to DNSPerf.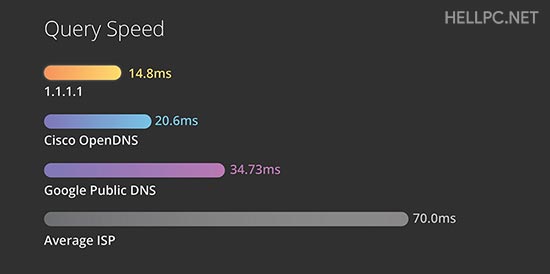 ---
SEE ALSO: How to Make your Computer a Time Server?
---
B) Configure and Use Cloudflare DNS on your Phone
Configuring Cloudflare's DNS on your Android or iOS device is not as easy as on your Windows PC. To curb this issue, Cloudflare has introduced it's App for Android and iOS. You can simply go to Play Store on Android device or App Store on your iPhone or iPad and install Cloudflare's DNS app and you are good to go. To see how to install and configure Cloudflare app on Android device follow these steps:
Step 1: Install Cloudflare 1.1.1.1 App on Phone
Open Play Store on your phone, search for "1.1.1.1 faster and safer internet" and tap on Cloudflare's app with name 1.1.1.1 Faster & Safer Internet. Tap on INSTALL to install the app on your phone. App will be downloaded and installed on your phone. Tap on OPEN to open Cloudflare's DNS app.
---
SEE ALSO: Common Tech Myths You Should Stop Believing in 2023.
---
Step 2: Install Cloudflare VPN Profile in your Phone
After opening the app for the first time, swap right to skip introduction page. On the next page tap on Install VPN profile to configure Cloudflare DNS on your android phone. Tap on OK when a pop-up for Connection request appears.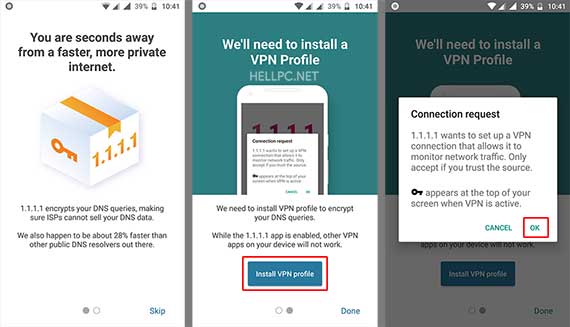 This app actually configures a VPN tunnel which redirects all your internet traffic through Cloudflare's DNS servers.
---
Step 3: Use Cloudflare DNS in your Phone
After configuring Cloudflare's VPN profile, you can tap on Done to complete the setup of app. You will see a big switch in the center to connect or disconnect Cloudflare VPN. By default this is turned OFF. Swipe the switch to right to enable Cloudflare VPN and you are good to go. It will now show connected. You can also see a small key symbol at the top of the screen.
---
SEE ALSO: How a Netflix VPN Improves Your Streaming Experience?
---
Configure and Use Cloudflare DNS on Mobile and Computer
Now, after you have successfully configured Cloudflare's DNS server on your PC and Phone, you can enjoy fast browsing experience. However your browsing and downloading speed also depends on your connection speed but a faster DNS server makes a big difference. With the privacy and speed promised by Cloudflare, you can browse internet freely.
Hope you liked the tutorial. Feel free to comment if you face any issues configuring Cloudflare's DNS on your phone and PC. Enjoy, have fun and subscribe to our newsletter to get latest tutorials via email.