How to Configure Proxy on Windows 10
Besides VPNs, proxy servers are also a great way to route internet traffic in a secure way. You just need to configure a proxy server on your Windows 10 PC and access blocked websites with ease. Besides websites, you can also control your bandwidth using proxy server.
Best part of using proxy is that you don't have to install any third party application. And the process to setup and use proxy on Windows 10 is quite simple and straightforward. So, in this tutorial, we are sharing the easiest way to configure proxy on Windows 10.
SEE ALSO: How to Access Blocked Websites using Proxy Sites?
Setting Up a Proxy Server on Windows 10
There are a lot of free proxy servers available on the internet that you can use. However, if you are looking for better services, you may also opt for premium proxy servers (which will be paid obviously). Let's go through the steps to setup the proxy server in Windows 10 without using any third party software.
Step 1: Open Proxy Settings in Windows 10
First of all, open proxy settings in your Windows 10 PC. You can search for proxy settings in Start menu and select Change Proxy Settings. Alternatively, you can go to Settings > Network and Internet and select Proxy from left side.
---
Step 2: Setup Proxy Automatically using Setup Script
In Proxy settings, first disable "Automatically detect settings" to allow manual configuration of proxy. After that, enable "Use setup script" and type the forwarding URL (for PAC script) provided by your service provider. Finally, click Save to save and use proxy in your Windows 10 PC.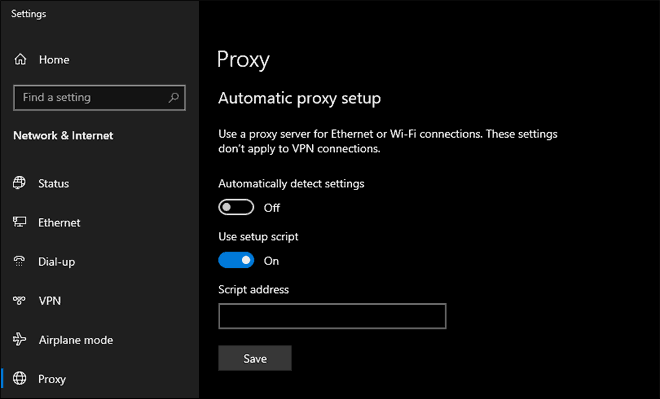 ---
Step 3: Manually Configure Proxy in Windows 10
So, If you don't have proxy script or would like to setup it manually, you can try this step. Just scroll down a bit to see Manual proxy setup options.
Here, enable "Use proxy server" first. Then, enter the IP address and Port of proxy server and click Save. You can also bypass proxy for specific websites by typing their addresses in the box provided (separated by semicolon).
---
Step 4: List of Best Proxy Servers
If you are looking for free proxy servers, you can check this website. However, if you want better and secure services, you can go for premium proxy servers. The proxy service providers like Bright Data (formerly Luminati), MyPrivateProxy and Oxylabs are few best in the market.
SEE ALSO: List of 100 Awesome and Useful websites?
---
Configure and Use Proxy Server on Windows 10
Above quick tutorial explained how you can set up and use proxy on your Windows 10 PC. The steps are quite straightforward and it's very easy to configure the proxy. Now, you can browse internet with better privacy and security.
Hope you liked this quick and short guide. In case you are still having issues, you can comment down below. Besides that, you can also subscribe using your email ID to get latest tutorials directly into your inbox.
SEE ALSO: How to Protect your Privacy while using Google Chrome?