How to Convert Videos using VLC Player
There are various video converters available on the internet which provide various conversion features. But most of them are available as trial version with some limitations on conversion. And you can remove these limits only after paying for pro version. However, there is a well known media player that can also convert videos. Yes, we are talking about VLC Player and you can convert videos using it as well.
You can easily convert .flv, .mkv, .dat and other formats of videos to .mp4, .avi and many other formats. All you need to have in order to convert videos using VLC Player is the VLC Player itself and the Video that you want to convert.
SEE ALSO: How to Set Video as Wallpaper in Windows 10 using VLC Player?
Convert Videos from One Format to Another using VLC Player
This tutorial shows, how to convert videos in any format using VLC Player. VLC Player is an open source application and doesn't require any purchase or activation. You can download latest version of VLC Player from it's official VideoLAN website. One big advantage of using VLC Player is that it supports a wide range of video file formats.
Step 1: Launch VLC Player and Select Convert
First of all, open VLC Media Player. After that, click on Media menu item and select Convert/Save…. This utility in VLC Player allows the users to convert Videos from one format to another.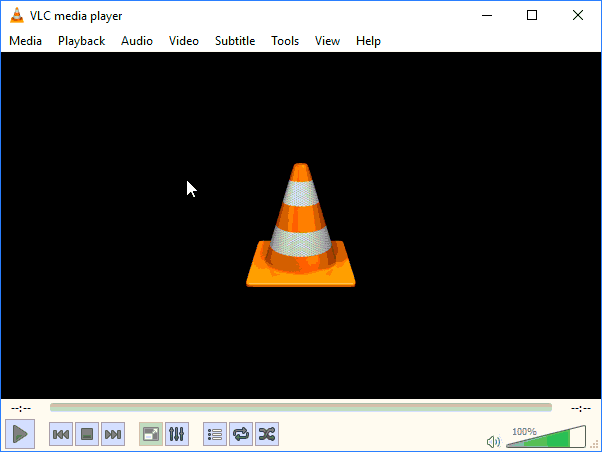 ---
Step 2: Select the Video You want to Convert
Now click on Add… button to select the video that you want to convert. Browse to the location of the Video file and select it. In this tutorial, we are using Big Buck Bunny video. We have placed this video on Desktop.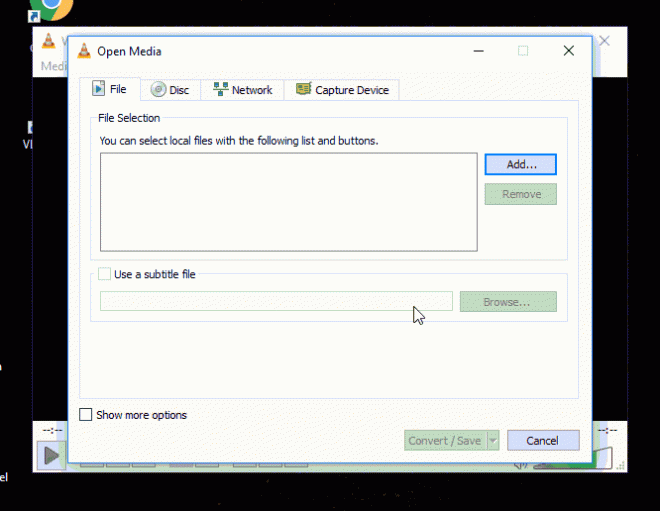 Now, click on checkbox to Show more options. You can change the start time of the video here. This option is useful if you want to trim and convert video from a specific time in VLC player.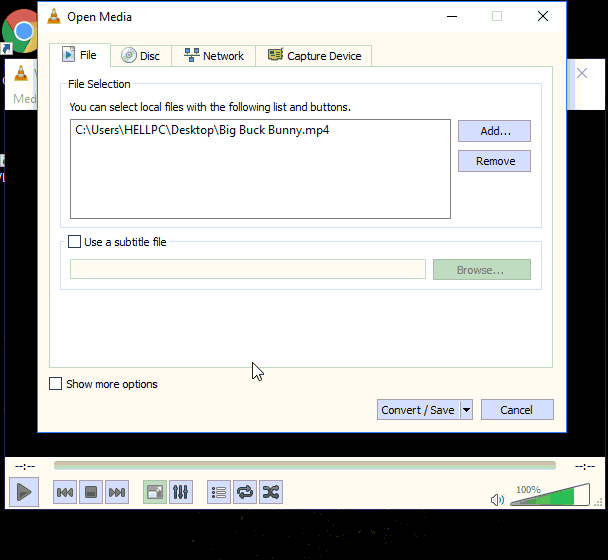 ---
Step 3: Select the Output Format to Convert the Video
Click on arrow in Convert/Save button and choose Convert to convert videos using VLC media player. You will see Convert window where you can change the video format and many other options.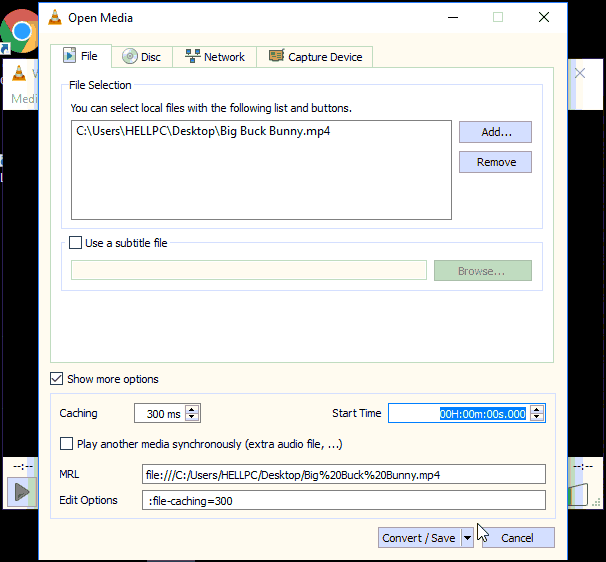 Choose the target format for your video from the drop-down list and click on Settings icon to change more settings. You will see Encapsulation tab where you can choose the type of the encoding to convert selected video using VLC Player. You can leave it as it is, if you are not sure which one to choose.
---
Step 4: Choose Video Codec, Resolution and Audio Codec for Output Video
Now click on Video Codec tab to change settings related to Bit rate, Frame rate and Resolution of the output Video. You can leave these options unchanged if you are not aware about these options. Leaving them as it is won't cause a problem while converting videos using VLC Player.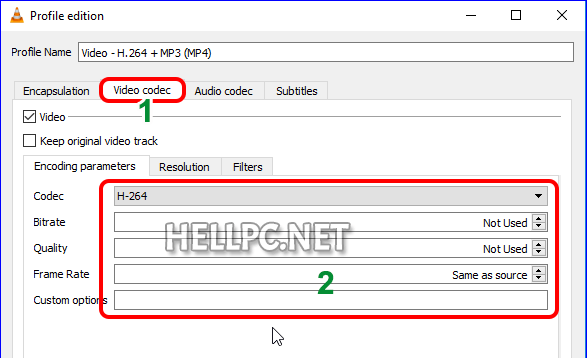 Click on Resolution tab under Video Codec tab to change resolution of converted video. You can manually enter height and width for the video that you are "converting using VLC Media Player."
Click on Audio Codec tab to change audio settings of the Video. You can change audio bit rate, codec, no. of channels and sample rate here. You can also leave these options as it is and continue to convert videos using VLC Player.
---
Step 5: Select Destination for Converted Video
Now, we are back to Convert window. We have already made necessary changes to conversion options. Now, it's time to choose output file location and output file name for the video being converted using VLC Player. So, click on Browse button.
Choose the location and file name for the output video. I have used Desktop as output location for the video converted using VLC media player.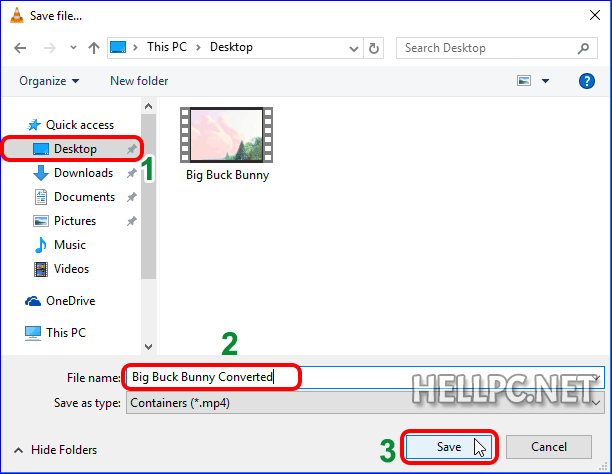 ---
SEE ALSO: How to Convert Automator Actions to Apps on Mac?
---
Step 6: Convert the Video using VLC Player
Click on Start button to start converting the video using VLC Media Player. You will see the timeline of VLC moving just like while playing the videos. Wait for it to complete. The time VLC Player takes to convert video depends on Resolution and length of input video.

After the progress bar reaches the end, video conversion is complete. Go to the location you selected in previous Step and you will find your converted video there.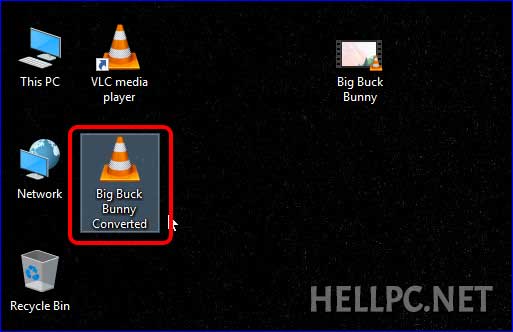 You can also test the video converted by VLC Player by playing it.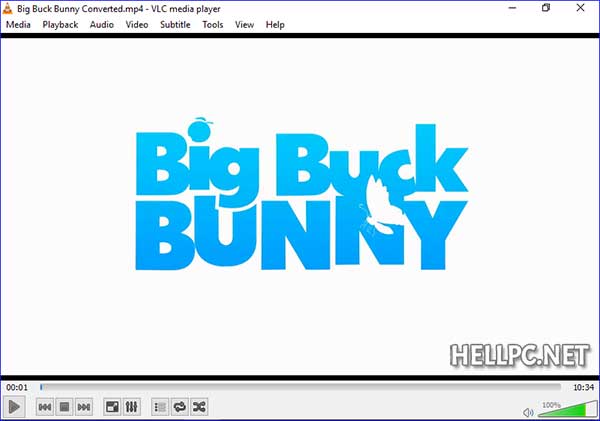 ---
Convert Videos to your Desired Format using VLC Player
So, you see, converting videos using VLC Player is quite easy and convenient because VLC Player is easily available and is free of cost. It doesn't require any registration or payment unlike other Video converters. You can also convert Video to MP3 using VLC Media Player.
Converting MP4 songs to MP3 using VLC Player allows you to play your favorite song in music player instead of video player. Hope you liked the post. Share it on your social media to help your friends.