How to Create Multiboot USB Disk using YUMI
Bootable USB drives have made it easy to install operating systems. You can make bootable USB drive of any Operating system that you want. Normally you would need different USB drives for different Operating systems. But you can create multiboot USB disk using Yumi to put multiple operating systems/distros or other tools on single USB disk.
YUMI Multiboot USB Creator allows you to add multiple bootable ISOs on a single USB Drive. It means, you can install Windows 10 and Ubuntu or any other Operating Systems from single bootable USB disk. Besides that, you can always put more bootable ISOs on your existing multiboot USB disk. You just need to worry about the size of the USB disk.
SEE ALSO: How to Create Bootable Windows 11 USB for Supported or Unsupported PCs using Rufus?
Before moving to detailed steps, have a look at the video to understand the process in a better way.
---
Create Multibootable USB Disk using Yumi Multiboot USB Creator
In this tutorial, we will show you how to create a multiboot disk using YUMI multiboot USB creator. We will create a multibootable disk of Windows 10 and Ubuntu. You will need to download the ISOs of Windows 10 and Ubuntu before you start the process.
Step 1: Download and Run YUMI
First of all, download YUMI Multiboot USB Creator from official website. You will find two option to download Yumi for Legacy and UEFI systems. So, download the version your PC supports.
After downloading, double-click the downloaded file to run Yumi. Yumi is a click to run utility, you won't need to install it. However, you may see UAC prompt, click YES to continue. After that, Yumi will start, click on Agree to start.
---
Step 2: Select Desired Options on YUMI
Now, you will see Yumi's main window. Here, from Step 1 drop-down list, select your USB drive. After that, check the box to format USB.
Next, select the distro type from Step 2 drop-down. We have selected Windows 10 Installer to create bootable USB of Windows 10 in this tutorial. After that, click Browse button to browse and select the ISO file.
Finally, click Create to create bootable USB disk using Yumi multiboot USB creator.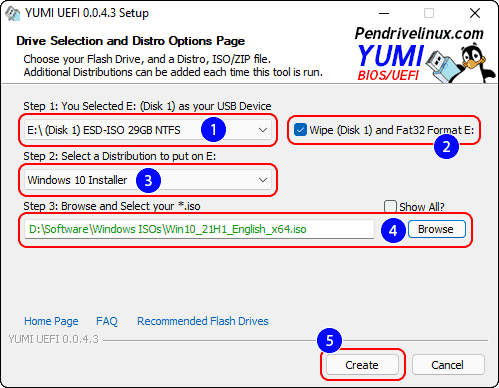 ---
Step 3: Create Bootable USB using YUMI Multiboot USB Creator
After clicking the Create button, you will see a prompt warning you about formatting the USB. Make sure that you don't have any important data on USB and click Yes to continue.
If you are using UEFI version of Yumi, you may see another prompt. So, click Yes again to continue.
Yumi will start creating bootable USB of selected OS (Windows 10 in our case). This process is going to take some time depending upon the size of ISO file selected. After the process is complete, click Next.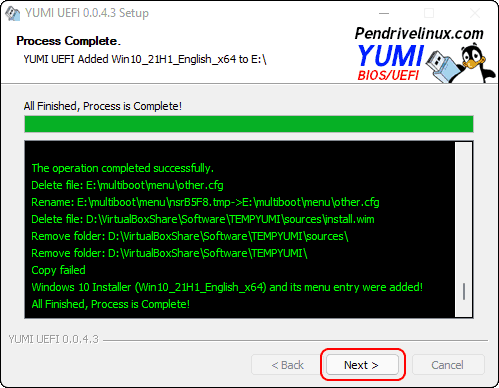 ---
SEE ALSO: How to Make Bootable USB using Command Prompt?
Step 4: Add Another Distro to USB using YUMI Multiboot USB Creator
After you click on Next button, you will see a prompt asking if you would like to add another distro to USB. So, click Yes to add another OS or tool to USB disk using Yumi Multiboot USB creator.
Now, YUMI setup will start again and you will have options to add another OS to existing bootable USB. So, select your existing bootable USB in Step 1 and distribution type in Step 2 (Ubuntu in our case).
After that, click Browse button in Step 3 and select Ubuntu ISO. Finally, click Create to create multiboot USB disk using YUMI.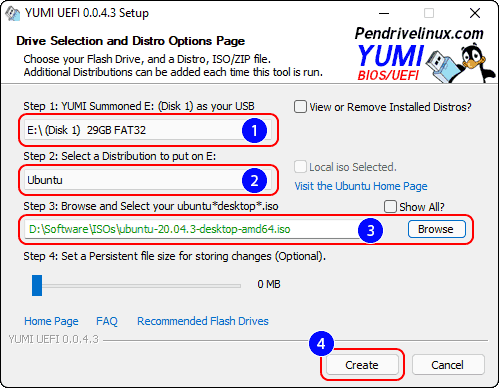 YUMI will start adding selected distro to existing multiboot USB disk. This process may take some time, you can have a cup of coffee in the meanwhile. After the process is complete, click Next to continue.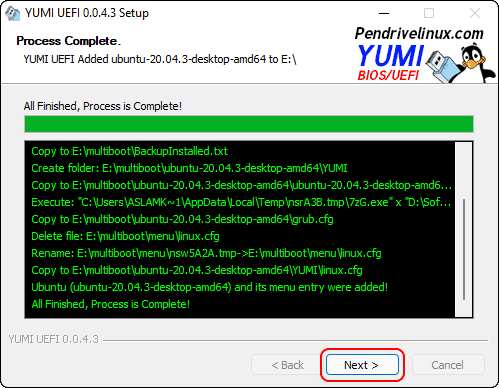 ---
Step 5: Exit YUMI after Creating Multiboot USB Disk
After you click Next button, it will ask you to add another ISO to it. So, click No to stop adding more distros to USB.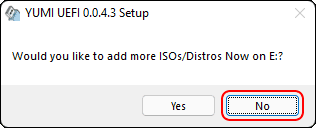 Now, click Finish to exit YUMI Multiboot disk creator.
---
Step 6: Boot from Multiboot USB Disk
You can install multiple operating systems using this multiboot USB disk. Just setup your PC to boot from USB drive and you can install desired operating system.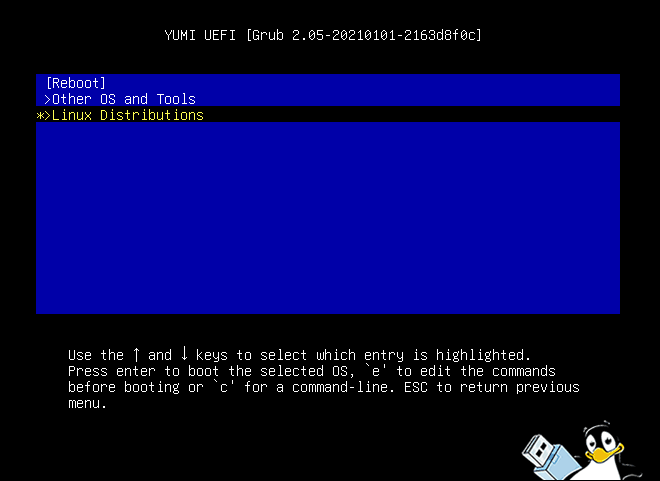 ---
SEE ALSO: How to Enable Linux Bash Shell on Windows 11 and Windows 10 (with WSL 2 support)?
Create Multiboot USB using YUMI and Install Multiple OS from Single USB
Now, you are ready with your multiboot USB disk. If you wish to add more ISOs or distros to multiboot USB, you can start YUMI setup again. From there, you can add more distros to existing multiboot USB. YUMI supports a long list of distros, OSes and tools for various platforms which you can use for various purposes.
Hope you liked this tutorial. In case you have any queries or suggestions, feel free to share your thoughts in the comment section down below.