How to Disable Video Autoplay in Facebook App
Facebook's Video Autoplay feature automatically plays videos in your Facebook app. Due to this autoplay feature, videos in any post start playing automatically. This feature may seem cool, but it consumes a lot of data. So, it will be better to disable video autoplay in Facebook app to avoid high internet bills unless you are on unlimited data plan.
Another disadvantage of this feature is that it will automatically play promotional videos, ads including the ones you don't want to see. It's Facebook's strategy to enhance revenue but it doesn't seem to be very beneficial to users. Luckily there is an option to turn off this video autoplay feature in your Facebook app.
SEE ALSO: Change these 5 Facebook Settings to Protect your Privacy.
Disable Video Autoplay in Facebook App
So, in this tutorial we will show you how to change your Facebook settings to disable Video Auto-play. Besides that we will also show you how to reduce video quality in Facebook app to reduce data consumption.
Step 1: Open Facebook App and go to Menu
First of all, open Facebook App in your phone. After that tap on hamburger menu (the right-most button with 3 horizontal lines on the top bar). This will open Facebook menu on your phone.
Now, scroll down and tap on Settings and Privacy.
---
SEE ALSO: How to Play Instant Games in Facebook App?
---
Step 2: Go to Media Settings
Now, under Settings & Privacy, tap on Settings. Here, you will see a lot of settings for your Facebook app. After that scroll down to Preferences section and tap on Media to disable video autoplay in Facebook app.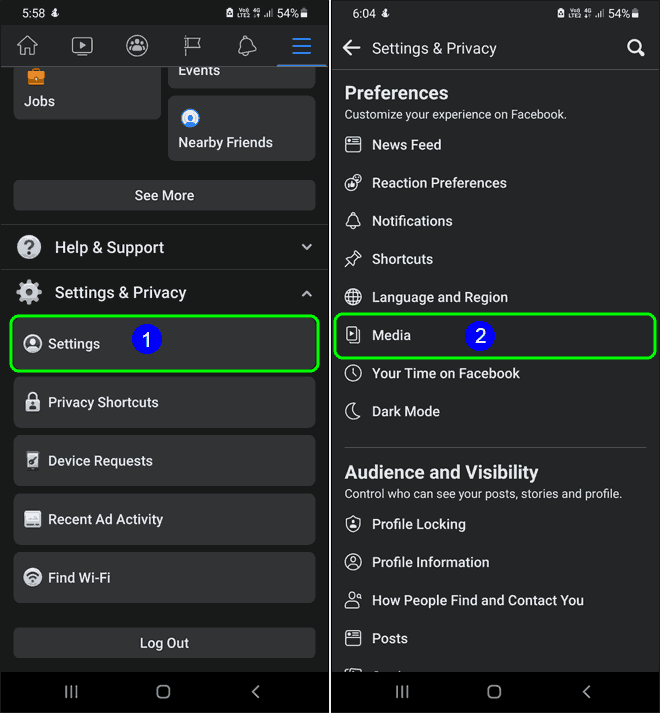 ---
SEE ALSO: How to Add or Remove Music to your Facebook Profile?
---
Step 3: Reduce Video Quality and Disable Video Autoplay
In Media settings, you will see current settings for your Facebook app. It's time to modify these settings to your liking. So, if you have limited data plan, you can turn on Data Saver under Video Quality section to reduce data usage by reducing video quality.
Similarly, you can check "Never Autoplay Videos" in Autoplay section to disable video autoplay in Facebook app. Settings will automatically save. So, set your preferred options and press back button to go back to Facebook home.
---
SEE ALSO: How to Enable Dark Mode in Facebook Android App?
---
Turn off Video Autoplay and Reduce Video Quality in Facebook App
You have successfully disabled Video Autoplay in your Facebook App. Now, videos will not play automatically in your Facebook feed. So, to play a video, you will have to tap on it. No more autoplay ads or promotional videos on Facebook.
Hope you liked this tutorial. In case you are facing any issues or have any troubles following the steps, feel free to comment down below.