How to Download Email Backup from Gmail in 2023
With the help of the Google Takeout tool, you can easily export and download the email backup from your Gmail account. Not just emails in your Gmail account, you can also download the backup of all the data stored in your Google account. Google allows you to export the backup of your data (emails, photos, etc.) to your PC or to cloud services like Dropbox, OneDrive, etc.
Google has divided the data in your Google account into 50 categories, Email is just one of them. So, you have the flexibility to choose which data you want to download. Besides that, you also have the flexibility to choose the destination for your data. For example, you can download the backup of your emails from Gmail to Google Drive, OneDrive, Dropbox, or Box. You can also download it to your PC using a download link sent to your Gmail inbox.
SEE ALSO: How to Set Gmail as Default Email App on iPhone (iOS 14)?
Export and Download the Backup of your Emails from Gmail to your PC
Though Google has made the takeout process easier, there are still some caveats. For example, Google only supports two types of archives – .zip and .tgz. Besides that, Google also doesn't specify when the archive of your data will be ready to download.
However, it also depends on how much data you have stored in your Google account. So, if you have fewer emails in your Gmail account, your backup will be small in size and will be available for download sooner. Anyways, let's check the steps.
Step 1: Go to your Google Account and Select Download Data
First of all, go to your Google account page (https://myaccount.google.com/) in the web browser. After that, click on Manage your Data and Privacy under Privacy & Personalization section.
Now, scroll down to the "Data from apps and services that you use" section. Here, click on Download your data under Download or delete your data.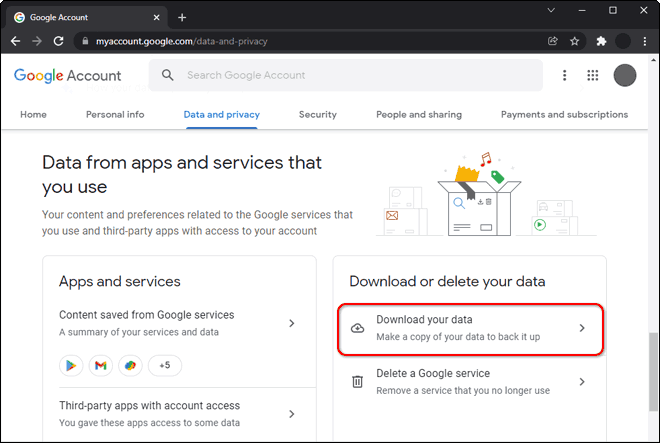 ---
Step 2: Select Email Data to Download
Now, Google Takeout will show you the list of categories to choose from. Currently, it has 50 categories of data. So, under the "Select data to include" section, click on Deselect All first.
After that, scroll down and select Email to download the backup of emails from your Gmail account.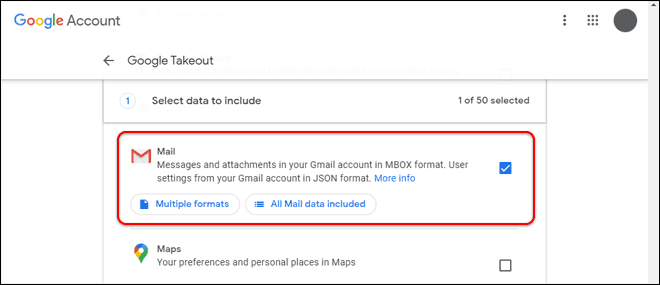 You can also click on "All mail data included" to customize the selection of emails. However, we recommend leaving this setting to default.
So, after selecting your email data to export, scroll down and click Next Step to continue.
---
SEE ALSO: How to Send Bulk Emails using Gmail (Mail Merge)?
Step 3: Choose File Type and Destination and Start Email Backup Download
Now, it's time to choose backup file settings. The first option that you have to select is the Delivery method for email backup download from Gmail. Here, you can select Send download link via email, Add to Drive, Add to Dropbox, Add to OneDrive and Add to Box. In this tutorial, we have used the "Send download link via email" option.
Next, select the Frequency of backup of emails from your Gmail account. Default is Export once, and we recommend you to leave it to default.
The last option is File type & size. From the file type drop-down, you can select .zip or .tgz. But remember, if you select .zip as the file type for email backup download of Gmail account, recommended max file size is 2 GB. It means, that a backup larger than this, will be split into multiple files. Although you have the option to select the archive size up to 50 GB, that might cause problems while extracting the archive.
Finally, click Create Export button after making all selections.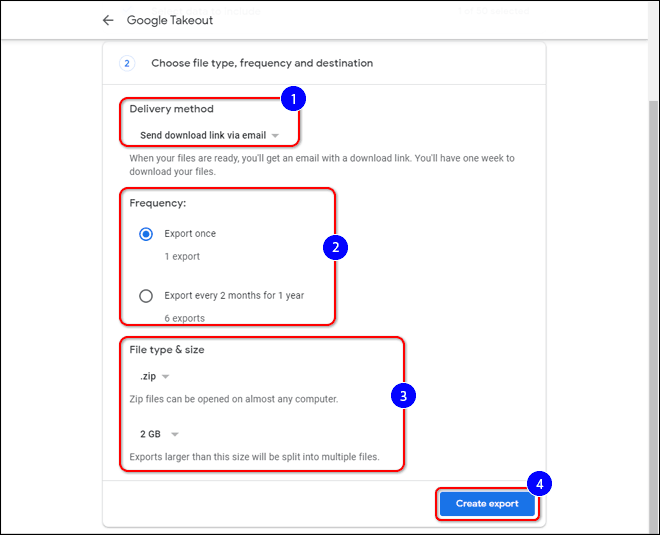 After you click Create export, Google will start creating the backup of your emails from your Gmail account. Once the process is complete, you will receive an email with the download link.
However, Google doesn't clearly specify when the backup will be ready for download but it also depends on the amount of data in your account.

---
SEE ALSO: How to Create or Change your Gmail Signature?
Save the Backup of your Emails from Gmail to your PC
After your export is ready, you will get an email to download the backup of emails from your Gmail account. Be warned that the download link will be functional for 1 week. So, make sure to download your email backup within one week of receiving the email. You can also check this tutorial to speed up your download using BitComet.
We hope you liked this tutorial and found it useful. In case you are facing any troubles following this tutorial, write it down in the comments down below. We will try our best to attend as soon as possible.