How to Free Up Space in C Drive on Windows 11 & 10
If you have used Windows 10 for a long period of time, you must have faced the low disk space problem in the C drive. And same is the case with Windows 11 as well. The main reason for this problem is that Windows stores various system files for recovery purposes. These files are stored in the "WinSxS" folder, which gets bigger with time. This can lead to a low disk space problem if you do not clean or free up used space in C (Windows) drive.
While a lot of files in the WinSxS folder become useless over time and can be deleted. But it also contains many important system & update files, so, you can't delete the whole folder. And besides the WinSxS folder, Windows stores Windows Update files in the SoftwareDistribution folder which also needs cleaning up.
SEE ALSO: How to Extend C Drive Space in Windows 10?
Clean Junk Files from C (Windows) Drive to Free Up Space
As mentioned earlier, the WinSxS folder gets larger with time. If you have been using Windows 10 for years, it may take up to 40% of Windows drive. Here is the screenshot of WinSxS folder properties to give you some idea about it.
So, to make your Windows 11 or 10 PC smooth again, you need to clean these junk files from Windows (C) drive to free up space. We will have to follow a two-step process to do it – 1) using the DISM tool and 2) the Disk Cleanup tool. We will start the process with the DISM tool first.
Step 1: Use the DISM tool to Clean Up the WinSxS folder
Here, we will use DISM (Deployment Image Servicing and Management) tool to clean junk files from the Windows drive. DISM tool will help us reduce the size of the WinSxS folder and hence make free space in the C drive. Follow these steps.
First of all, open Command Prompt as Administrator. After that type the following command to check if there is a need to clean WinSxS (aka Windows Component Store) folder.
dism /Online /Cleanup-Image /AnalyzeComponentStore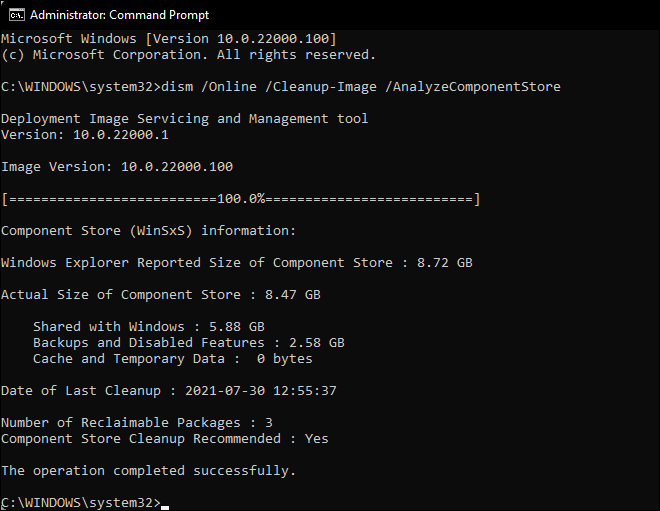 As the above screenshot shows, Component Store Cleanup is recommended. So, type the following command in the CMD window to clean unused or junk files from the WinSxS folder.
dism /online /Cleanup-Image /StartComponentCleanup
The first step is complete here. Now, let's move to the second step to make free space in Windows (C) drive.
SEE ALSO: How to Enable and Configure Storage Sense in Windows 10?
---
Step 2: Make Free Space in C (Windows) Drive using Disk Cleanup Tool
Let's clean the remaining junk files using Disk Cleanup Tool. So, first of all, open File Explorer in Windows 11 or 10. After that right-click on Windows (usually C) drive and select Properties. Here, click on the Disk Cleanup button to launch the Disk Cleanup tool.
Disk Cleanup window will open. Again, click on the "Clean up system files" button to scan for system files that can be removed during the clean-up process.
Disk Cleanup tool will scan for junk system files. After that, you will see various options to clean unused files and free up space in C (Windows) drive. Now, select Windows Update Cleanup, Windows Error Dump files along with other automatically selected items. Finally, click OK to start the clean-up process. You will see a confirmation dialog, click on the Delete Files button to continue.
Now, Disk Cleanup will remove selected files from the Windows drive and make free space.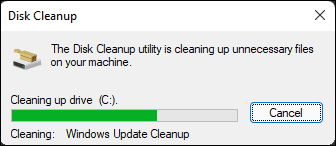 Now, check the Properties of C drive again. You will see a significant increase in the free space of Windows (C) drive.
---
SEE ALSO: How to Shrink a Volume in Windows 10 and Windows 11?
Clean Junk files from C Drive to Make Free Space
The above tutorial explained how you can clean junk from the WinSxS folder. This will definitely give a boost to your PC. However, there are several other factors that slow down your PC. You can check these tips to speed up your Windows 10 or 11 PC. But if nothing works, you can try resetting your Windows 10 PC using Recovery options.
Besides these, you can also change the default save location for Microsoft Apps and move them to another drive as well. And you can also schedule automatic cleanup of recycle bin to free up some space. Hope you liked this tutorial. In case you have any problems following this tutorial, feel free to share them in the comment section down below. You may also subscribe to our newsletter to receive the latest updates via email.