How to Hide All Drives in Windows PC
There may be several reasons you might want to hide all drives in your Windows PC be it network or local disk drives. There could be security issues, data safety, or any other reason you want to do this. Well, there are several ways to achieve this but we are sharing the Registry Editor method in this tutorial. After you hide all the drives, they won't be visible in the File Explorer anymore.
This method requires the use of Registry Editor in Windows. We suggest you create a restore point before proceeding further so that in case of any mishappening, you can easily restore your Windows PC to its working state. And don't worry we will also show you how to unhide all drives in your Windows PC.
SEE ALSO: How to Disable Quick Access in Windows 10 and Windows 11?
WARNING: Use this trick at your own risk. Messing with the Registry Editor in wrong way my harm your computer badly.
Hide All Disk Drives and Network Drives in your Windows PC
To hide disk drives, we need to modify Registry settings in Windows. We will use the Registry Editor which is already available in Windows.
Step 1: Open Registry Editor
First of all open RUN from the Start menu or by pressing the Windows + R key combination. After that, type regedit and press Enter. The Registry Editor window will open.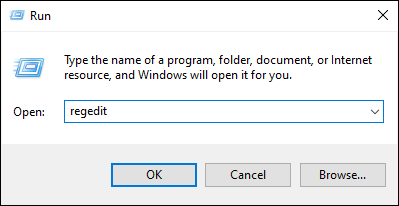 ---
Step 2: Create a New Explorer Key in Policies
Now track down to the following path in the Registry Editor:
HKEY_CURRENT_USER\Software\Microsoft\Windows\CurrentVersion\Policies
If you do not find the Explorer key in Policies, you can create it manually. Simply right-click on the Policies key, choose New Key, and name it Explorer. We will use this new DWORD to hide all disk drives in Windows.
---
SEE ALSO: How to Disable Login Background Picture in Windows 10?
Step 3: Create NoDrives DWORD to Hide All Disk Drives
Now in the right pane, right-click and select New > DWORD (32-bit) Value. Name the DWORD NoDrives (it is case sensitive).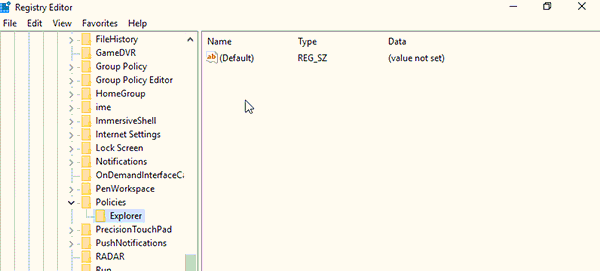 Now double-click on it and modify its value to 3FFFFFF (Hexadecimal). Setting this DWORD value will hide all drives in Windows PC.
---
SEE ALSO: How to Hide Files in Image using the Command Prompt?
Step 4: Restart Your Computer
Close Registry Editor and restart your computer to make the changes effective.
---
Step 5: Check after You Hide All Drives in Windows
After restarting your PC, open "My Computer" or "This PC", no drives will be shown.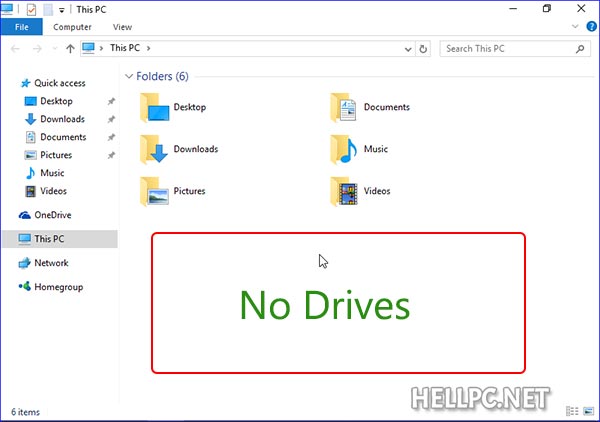 ---
SEE ALSO: How to Hide Files and Folder in Mac using Terminal?
Step 6: Show the Drives Again (Unhide All the Drives in your Windows PC)
To show all the drives in My Computer again, simply follow the same path in Registry Editor as in Step 2. Now, delete the NoDrives DWORD item that you created and restart your computer. You can now see all the drives again.
SEE ALSO: How to Fix "USB Freezes Computer" Issue in Windows 10?
Hide All Disk Drives in Windows PC using Registry Editor
You can easily hide all your disk drives using the above trick. This trick doesn't harm your computer in any way. But you are advised to be careful while playing with Registry Editor. You may also check this trick to restore the classic File Explorer menu ribbon in Windows 11.
Hope you liked this trick. In case you have queries or suggestions about this trick, feel free to share them in the comment section down below. You may also like to subscribe to our newsletter and get the latest tutorials via email.