How to Install Chrome OS on your PC in 2023
Chrome OS is quite famous among students as it is very lightweight and efficient. It may not have a lot of features like Windows 10, but it doesn't have big system requirements. You can easily run it on your old PC. Just install Chrome OS on your PC and enjoy.
Google doesn't allow installing Chrome OS on normal computers. So, Neverware has created CloudReady OS from the same Chromium source as of Chrome OS, which you can install on your PC. But you won't be getting Play Store support in Cloudready OS.
SEE ALSO: How to Fix "Chrome OS is Missing or Damaged" Error in Chromebook?
Install Chrome OS on your Computer in 2023
So, in this tutorial, we are going to show you how to install Chrome OS via Neverware's CloudReady OS on your Computer. Though there is no Play Store support on CloudReady OS but you can still use Linux on Chrome OS. Let's check the steps in detail.
WARNING: You might face problems with Chrome OS on AMD graphics cards. But you can still try it and see if it works for you.
Step 1: Download CloudReady OS USB Maker
First of all, go to CloudReady OS download page. Here scroll down a bit and click on "DOWNLOAD USB MAKER" button.
This is official tool provided by Neverware for creating bootable USB to install Chrome OS on PC. Download size is 48 MB approximately.

---
Step 2: Make Bootable USB for Chrome OS
After downloading the USB Maker, run the setup. It will show you the requirements, get a USB disk of 8 GB or greater size ready. Insert USB disk and click Next >.
NOTE: USB maker doesn't support Sandisk USB drives. So, avoid using Sandisk USBs.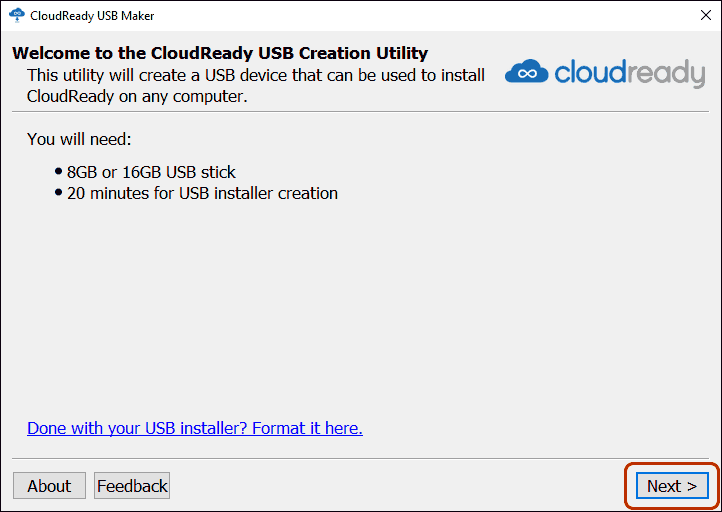 USB Maker will download Chrome OS image (around 1.4 GB) and create bootable USB for Chrome OS. After successfully creating the USB, click Finish to exit the wizard.
---
SEE ALSO: How to Make Bootable USB using Rufus?
---
Step 3: Boot your PC from CloudReady USB
Now, it's time to boot your PC from Chrome OS bootable USB. You may need to set up your PC to boot from USB first. After that shutdown your PC and turn ON again. While starting up, press dedicated boot key repeatedly to boot from USB. Boot key may differ for each manufacturer. Here, you can check for major manufacturers.
| | |
| --- | --- |
| DELL | Tap F12 when the Dell Logo is displayed. |
| HP | Tap F9 when the HP Logo is displayed. |
| Lenovo | Tap F12 when the Lenovo Logo is displayed. |
| Apple | Hold Option (next to the ⌘ key) when the computer first turns on. |
| Toshiba | Tap F12 or F2 when the Toshiba Logo appears. |
| Acer | Tap F12 as the Acer Logo appears. |
| Others | Try pressing Esc, F1-F12 or Enter key during bootup. |
From the boot menu, select USB drive which you have created in previous step. On successful boot, you will see CloudReady screen.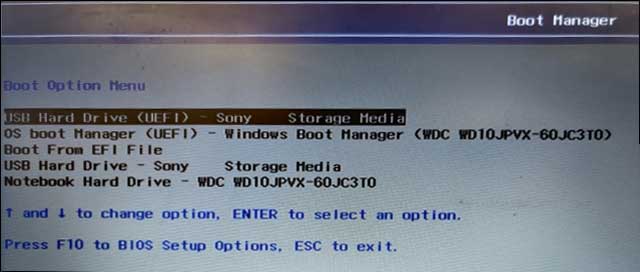 ---
Step 4: Start Chrome OS Installation
After loading necessary files, you will see the Chrome OS setup screen. Now, click on time menu at the bottom-right corner and then click Install OS.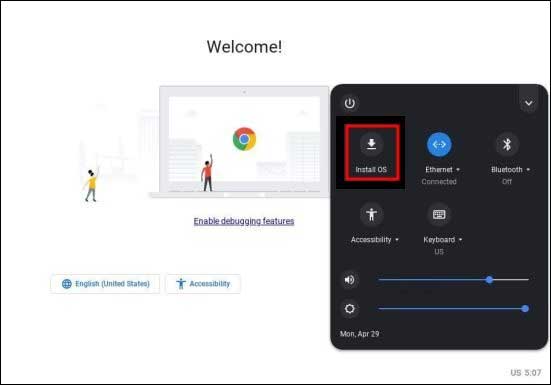 Next, you will see CloudReady installer wizard. Here, click on "INSTALL CLOUDREADY" button to continue.
NOTE: Since CloudReady has stopped supporting dual-boot, you can't install Windows and Chrome OS together. And CloudReady setup will wipe your HDD completely. So, we suggest you to back up your Windows PC before proceeding.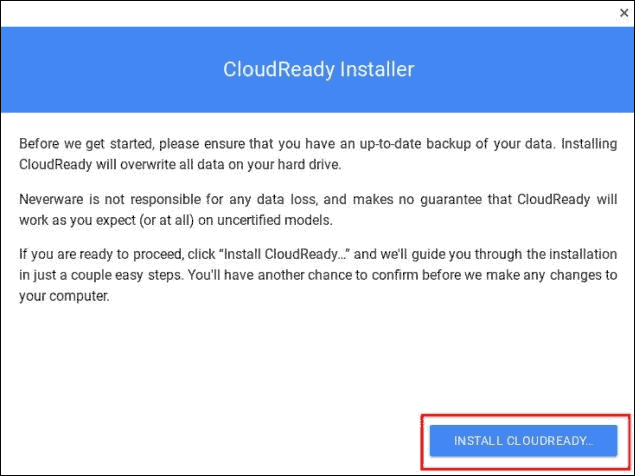 ---
SEE ALSO: How to install Windows and Android side by side on your PC?
---
Step 5: Install Chrome OS and Configure your Google Account
CloudReady setup will ask for your permissions to format the hard drive. So, click "ERASE HARD DRIVE & INSTALL CLOUDREADY" button to install Chrome OS on your PC.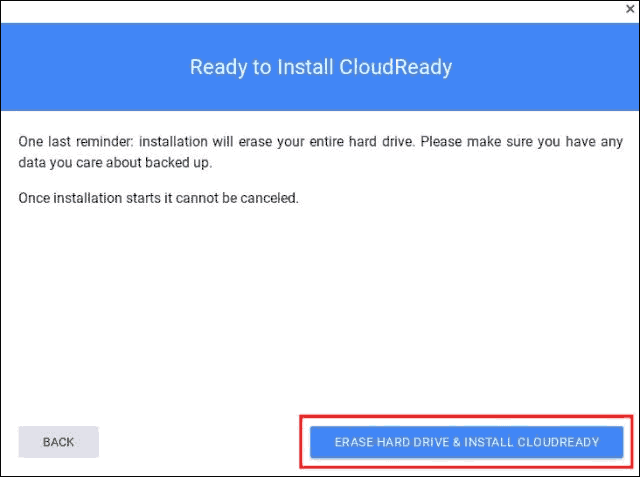 Setup will completely shutdown your PC after successful installation. Now, remove bootable USB from your PC and turn it ON.
You computer will boot into the Chrome OS setup screen. Simply click "Let's Go >" button to continue initial setup. Now, you can add your Google account and enjoy Chrome OS on your PC.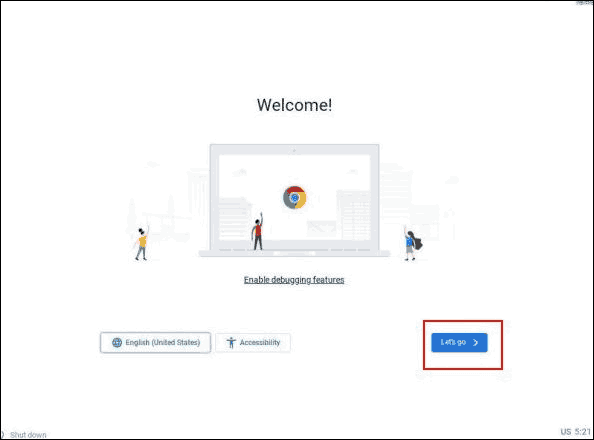 ---
SEE ALSO: How to Format Corrupt USB drive/SD card using Chromebook Recovery Utility?
---
Revive your Old PC with Chrome OS
Above tutorial explained a simple approach on how to install Chrome OS on PC. Chrome OS can even work on low configuration PCs. Neverware has done a great job compiling the same Chromium source and make it available for general public. However, Neverware is part of Google now.
Hope you enjoyed Chrome OS installation on your PC. You can also install Android, or Remix OS on your PC. Just make sure to backup everything before you start. In case you have any problems while installing Chrome OS, feel free to share them in comment section down below.