How to Install Windows XP on your PC
This tutorial shows you how to install our good old Windows XP on your PC. Windows XP is very lightweight, so, it doesn't require any high configuration PCs. You can easily install it on low configuration PC with 512 MB or 1 GB RAM. But before you start installation, you are going to need Windows XP ISO, which you can download from here (official Microsoft link).
So, before proceeding further, make sure to create a bootable CD or bootable USB for Windows XP. Besides that, you will also need to change your BIOS settings to boot from CD or USB based on which media you have created.
SEE ALSO: How to Get Windows 11 Upgrade on your Windows 7 or Windows 10 PC?
Install Old and Gold Windows XP on your PC
After you are ready with installation media and your PC, it's time to play the installation game. So, insert the bootable Windows XP CD or USB into your PC and follow these steps.
Step 1: Boot from Media and Start Windows XP Setup
After inserting the installation media, restart your PC. Now, when you see the message "Press any key to boot from CD/DVD or USB…", press any key.

Now Windows XP setup will start loading required files. After that, you will see screen showing options like 'Press Enter to setup Windows', 'Press R to Repair' etc. Press Enter to continue installation of Windows XP. Press F8 to accept license agreement when prompted.
---
Step 2: Check for Existing Windows Installations
If you already had Windows installed on your PC, you will see options about repairing the previously installed Windows XP. But as we are going to install a fresh copy of Windows XP on this PC, press Esc key to continue fresh installation of Windows XP.
If you don't have any previously installed Windows on your PC, you may proceed to next step.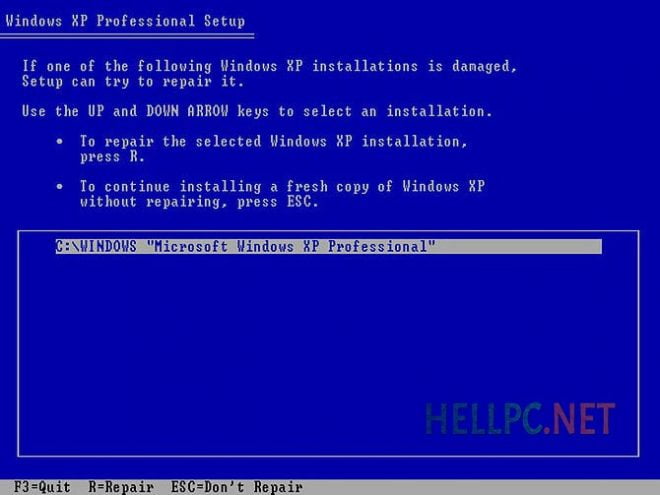 ---
Step 3: Create a Partition to Install Windows XP
Now, you will see list of available partitions of your hard disk drive. If you already don't have partitions created, you can create new partition by following on-screen instructions as shown below.
After creating partition, select newly created partition and press Enter to set Windows XP.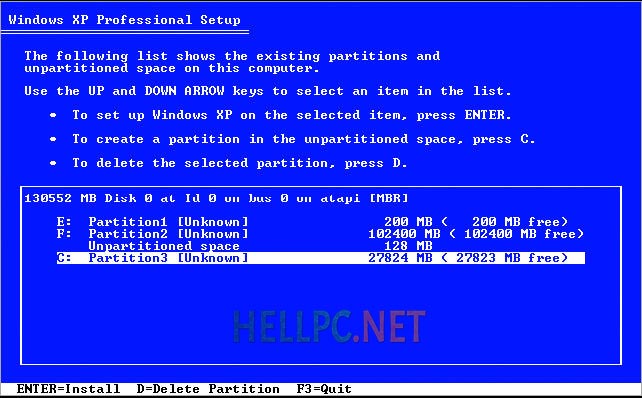 ---
Step 4: Format the Partition
Choose formatting option for your selected Partition. If you have created a partition of 30 GB or more, you have to format this partition using NTFS file system. Because FAT file system supports only up to 30 GB. Choose suitable option and press Enter. In this tutorial, we have used NTFS file system (quick format) option to install Windows XP.
Windows will format the selected partition.
---
Step 5: Installing Windows XP
After formatting the partition, setup will start copying Windows XP files.
After copying the files, computer will restart and Windows setup will be loaded. Windows will keep installing programs automatically. It may take some time to install Windows XP, you can have a cup of coffee in the meanwhile.
---
Step 6: Configure Windows Settings
It's time to configure Windows XP for the first use. So, fill required details asked by Windows like activation key, usernames, date-time settings etc.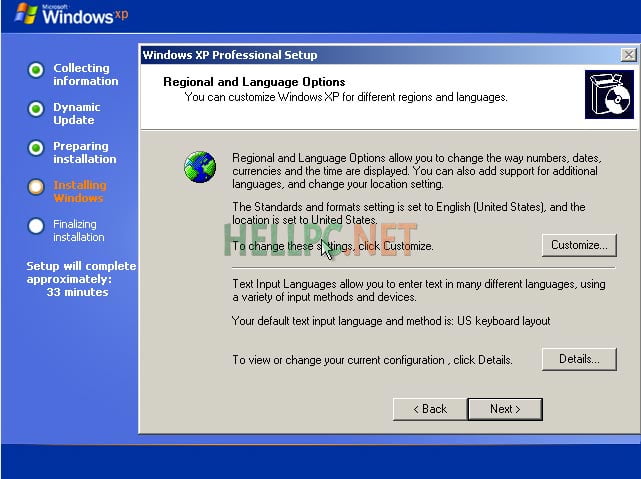 If everything completed successfully, you will see "Thank you!" screen. Click Finish button in the bottom-right corner to continue. Windows XP install is complete now.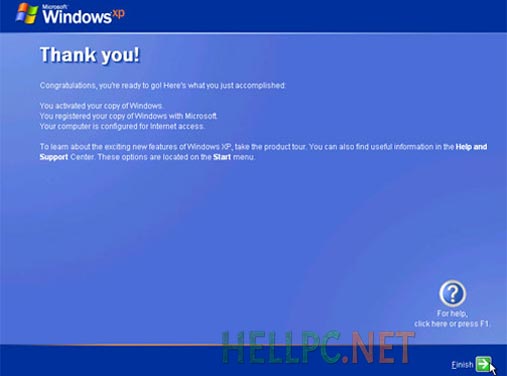 ---
Step 7: Windows XP Desktop
If you successfully completed above steps, your Windows XP will be installed. Now, you can now eject Windows CD or USB from your PC and proceed installation of drivers and other programs on your PC. You may also need to restore Desktop icons first.
---
SEE ALSO: How to Dual-boot Windows XP and Windows 7 in your PC?
Try Good Old Windows XP on your PC
You have now successfully installed Windows XP on your PC. You can now play old games like Road Rash on your Windows XP. Start installing the programs and enjoy your Windows XP. Remember, Microsoft has ended support for Windows XP already, so, you won't get any updates.
Hope you liked the post. Write in comments if you have problems installing Windows XP.