How to Lock Your iPhone Remotely without Find My iPhone
Have you ever wondered how to lock an iPhone remotely without Find My iPhone? It sounds really useful, doesn't it? Well, it's certainly a good idea to learn how to do it.
So, the idea behind this is that you may have misplaced your iPhone or need to keep your data private and wish to remotely wipe out all the data on your phone. You can even remotely lock or wipe the data on your iPhone via a special password. This also makes it impossible for others to abuse your phone.
Find My iPhone is a great tool that helps users find their missing iPhones quickly. The service lets users tag the device as missing or stolen. So if you're worried that someone might find your device and view your private photos or messages, you can remotely lock your iPhone with a passcode. But what if your device doesn't support Find My iPhone or you don't have an iCloud account but still want to remotely lock your iPhone? Do not worry there is an easy fix for that.
Besides Find My iPhone, spy apps do the job just as well, if not better. These also help keep your data safe and secure from anyone who might find your smartphone. If you're keen on these apps, hover to this page for a detailed iPhone spying guide.
SEE ALSO: How to Disable Camera Access on iPhone's Lock Screen?
What Other Methods Can You Use to Lock Your iPhone Remotely?
People who haven't set up their Find My iPhone can use XNSPY to lock their iPhone remotely. It is a remote monitoring app that lets you view call logs, text messages, instant messaging conversations, record phone screens, or listen to the phone's surroundings via a monthly subscription.
The app also lets you find your smartphone device (Android or Apple) via its geolocation tracker feature. So let's see how to lock an iPhone remotely via XNSPY.
Once you have installed XNSPY on the device you want to monitor, use your login credentials to sign in to your online XNSPY account.
Click on the Dashboard to access all the different features and settings.
Check the left vertical menu for all the features.
Click on the Remote Control option.
You will see four options: Record Surround, Wipe Phone, Lock Phone and Take Screenshot.
Select the Lock Phone option to lock your iPhone remotely.
Next, you will have to set a password to unlock the device next time.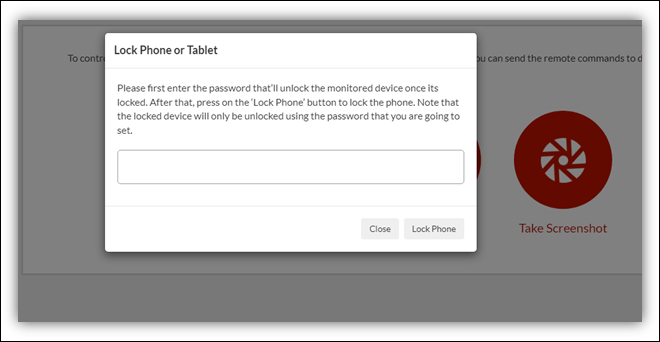 You will press the Lock Phone button to lock your device remotely.
NOTE: If your iPhone is running iOS 6 to 9, you will have to jailbreak your iPhone to make this feature work.
XNSPY is a reputable app to remotely monitor any iPhone and works while remaining completely undetectable. You can also use this app to keep a backup of your data which can come in handy if the phone gets stolen. It discreetly captures all information transmitted or received on the targeted phone after it is set up.
By logging into your XNSPY online account, you can view this information from any web browser and lock your iPhone remotely.
---
SEE ALSO: How to Transfer Data from Old iPhone to New?
Why is it Necessary to Lock Your Lost or Stolen iPhone?
If you do not lock your iPhone or wipe the data from your stolen iPhone, you may become a victim of identity fraud. The person who finds your phone might access the gallery and view your risqué photos. They can then blackmail you for money to keep them from making your pictures public. And still, there is no certainty even if you make the payment. We strongly suggest that you do not make any payment because it encourages such activities.
There are proper black market channels that sell stolen phones for cheap. There is a demand for spare parts for devices. So, crime organizations can sell these phones to third-party repair shops for a dollar on the dime. That adds up as another reason to lock your iPhone remotely after being stolen.
Your accounts and personal information also get saved on your iPhone. This means that the person could also access your social media accounts and post on your behalf. They could also view your emails containing crucial business data or financial documents. They can also use your saved banking card information to buy stuff online. Even worse, they could find your contacts lists and start sending them malware or phishing scams using your number. Your contacts will be will more than likely open the links and get infected or become a victim of a cybercrime knowing it came from you.
In extreme cases, you might have to wipe all your phone's data to prevent it from falling into the wrong. So, we recommend that you keep a backup of your data on the cloud or on your computer.
---
SEE ALSO: How to Sync Gmail Contacts to iPhone on iOS 14 and 15?
What Steps Can You Take to Secure Your iPhone's Data?
You should immediately call your bank and have them disable online transactions and mobile banking features.
Call your cell phone carrier to temporarily suspend your account so the perpetrator cannot call or text the contacts on your phone.
You can also log out of all personal email and social media accounts like Facebook, Twitter Instagram by logging on to them from a web browser on your computer. Change the password of every account immediately.
Keep an eye out for any suspicious activity on your social media or email account. Also, contact your closest contacts and explain the situation. Warn them not to pick or open any messages sent from your phone number.
Use XNSPY's geolocation monitoring feature to track your phone in real-time. You can easily remotely monitor and lock your iPhone preinstalled with XNSPY using the online account dashboard.