How to Manage Files Access of Apps in iOS 14
All the apps that need to deal with accessing or saving the data to your iPhone require access to Files app on your iPhone. It becomes easier for the apps to manage files and folders with complete access to the stock file manager. But there may be situations when you no longer want an app to have the permission to access the file manager. May be due to privacy concern or any other personal reasons. Good news is, with iOS 14, you can quickly revoke app's permission to Files app. In this tutorial, we are going to show you how to manage Files access to apps in iOS 14 and iPadOS 14.
SEE ALSO: How to Disable Camera Access on iPhone Lock Screen?
Manage Access to Files App on iPhone and iPad
The setting to control apps' permission of files and folders is hidden under Privacy setting. That's why it is not easily visible. After you have installed/used an app which has access to stock file manager, you can now go to Files and Folders setting to allow or disallow permissions.
It would have been better if Apple had offered an option to force an app to ask for access of the Files app every single time. Just like the way location tracking works. But something is better than nothing. At least now you can manually allow or revoke the permissions. Let's see how to take control and manage apps' access to Files and folders on your iPhone and iPad.
Step 1: Go to Files and Folders Privacy Settings
First of all, open Settings app on your iOS or iPadOS device. Now, tap on Privacy. Next, scroll down and select Files and Folders. Here, you can manage file and folder access of applications on your iPhone.
---
Step 2: Turn OFF Files and Folders Access of Apps in iOS 14
Here you can see the list of apps which have access to Files App on your iOS device. Here, you can manage files and folders access of apps in iOS 14.
You can turn off the switch next to the app whose Files app access you want to revoke. Remove desired app's files access and quit the Settings app.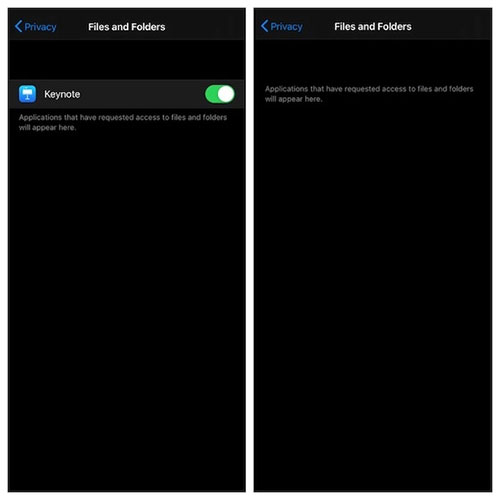 ---
SEE ALSO: How to Sync Contacts from Gmail to iPhone and iPad?
Allow or Disallow Files App Access on iPhone or iPad (iOS 14)
So, that was pretty simple and straightforward method for allowing or disallowing files app access on iPhone or iPad. With iOS 14, you can easily manage Files app access. May be in future updates, Apple might provide us a better way to control privacy (including Files app and other permissions) on iPhone.
Hope you liked this tutorial. Feel free to drop your queries and suggestions in the comments down below.