How to Play Instant Games in Facebook App in 2023
Facebook is one of the most engaging and addictive social media platforms. But it also offers mini-games called Instant Games in its Facebook app. Initially, Facebook introduced Chess and Basketball games to Messenger. But later on, moved them to the Facebook app. So, now you can play your favorite instant games in the Facebook app itself.
Besides the Facebook app, you can also install Facebook Gaming (Free) app from Play Store to enjoy gaming. This app is specially dedicated to gaming. Using this app you can play games and watch gaming videos. You can find almost all types of games here.
SEE ALSO: How to Add or Remove Music on Facebook Profile?
---
---
Play Instant Games in Facebook App on Android
So, in this tutorial, we are going to show you how to play instant games in the Facebook app on Android. You can find thousands of mini-games on Facebook. Just select your favorite game and play. However, in this tutorial, we will play the Basketball instant game in Facebook App.
Step 1: Open Facebook App and go to Gaming
First of all, open Facebook App on your smartphone. After that, tap on the hamburger menu in the Facebook app. Here, you will see several options tiles. Tap on the Gaming tile to go to Facebook Gaming.
Now, you can watch gaming videos, streams and play mini-games here. Further, tap on the Play tab from the top bar.
SEE ALSO: How to Enable Dark Mode in Facebook App on Android?
---
Step 2: Select your Favorite Game and Tap on Play Now
Scroll or search for your favorite game. After that tap on the selected game to start it. You will be prompted about the privacy policy and data collection by the game. So, tap on Play Now to agree to the terms and play selected instant games on Facebook. In this tutorial, we have taken the example of the Basketball game.
SEE ALSO: How to Remove Third Party App Access from Google and Facebook?
---
Step 3: Choose Notifications Setting and Play Instant Games in Facebook App
You may be prompted to turn on game notifications. You can choose to enable or disable them. So, tap on the appropriate option to turn on or off messages from the game.
Now, your selected Basketball instant game will start. You can play the game by swiping up the ball into the basket. Each successful basket shot gives you 2 or 3 points. And if you fail to basket the ball, your game is over.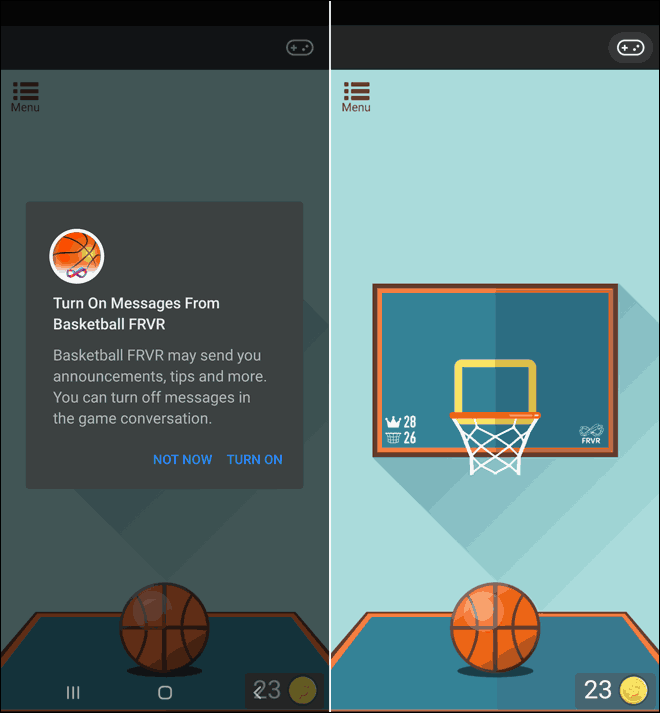 SEE ALSO: How to Install Apps and Games in BlueStacks 5 and 4?
---
Step 4: Exit the Game after Playing
After you are done playing instant games on Facebook, you can press the back button to exit the game. Next, tap on Exit to Gaming on the top to close the current instant game. Here, you will have options to share your favorite instant games with your friends on Facebook to compete with them.
---
SEE ALSO: How to Transfer Photos and Videos from Facebook to Google Photos?
---
Play your Favorite Instant Game with your Friends on Facebook
So, that's how you can play your favourite instant games in the Facebook app. Just like Basketball, there are several other instant mini-games on the Facebook Gaming platform. You can enjoy them with your friends. Just share the link on your profile or via messages on Messenger. You can also check how to disable video autoplay in the Facebook app.
Hope you liked this tutorial. Feel free to share your thoughts and comment on your score below. We suggest you check this article on Xbox Cloud Gaming. You can also get the latest tutorials directly into your inbox by subscribing to our newsletter.