How to Protect your Privacy on Google Chrome
Google releases frequent updates to solves security bug and protect your privacy on Google Chrome. Extensive research done by a security expert from Sophos showed that the software flaw could allow an attacker to bypass browser security. The software bug could also allow a cyber-criminal run malicious code through the victim's CPU.
Security bugs are one way to leak private data to cyber-criminals. Nevertheless, there are other ways your privacy can be breached while using Chrome. A simple malicious chrome extension may lead to compromising the security of your browser and system as well.
SEE ALSO: How to Protect your Privacy on Facebook?
How do Browsers Leak your Information?
When you browse the internet, you share a lot of information with the website you browse. What kind of data you share? You share the data like the browser you're using, your operating system, CPU, IP address, and browser add-ons etc.
You're most likely giving off a lot of data to thousands of websites that you browse. What's worse? This data can easily fall into the hands of malicious corporations and individuals.
Boost and Protect your Privacy on Google Chrome
So, today we are going to share the best ways to protect your privacy from websites and cybercriminals while using Google Chrome.
1. Turn off Account Synchronization
Google Chrome typically attempts to synchronize the data on your Chrome browser to your Google account. All your bookmarks, history, passwords are saved in Google Chrome. And as soon as you login to another device, all that data will show up on the new device.
This feature could prove disastrous if a cyber-attacker gets a hold of your Google account details. Using your Google account, attacker can access all your data in this kind of situation.
To continue using your Google account while protecting your data on your browser, you can turn off synchronization on Google Chrome. So, click on the three dots at the top-right corner of your Google Chrome and select Settings. Click on Turn off the sync under the You and Google section.
SEE ALSO: How to Configure your Google Account to Auto-delete?
---
2. Use a VPN Chrome extension to Protect your Privacy
To protect your privacy, you can add a VPN extension for Google Chrome. A VPN is a tool that enhances online anonymity by channeling your traffic through a private network. This way, your IP address changes to one in a different location, hence keeping websites from tracking your activity.
Whenever you surf the internet without a VPN, you expose a lot of information about yourself to malicious individuals. For instance, connecting to a public Wi-Fi network to check your emails or bank account could lead to a breach of your accounts. Any hacker using the same Wi-Fi network could have spied on your activity, giving him/her unfettered access to your accounts.
VPNs provide a high level of encryption that secures your activities online. VPNs also provide added benefits such as accessing geo-restricted content and location spoofing.
---
3. Update your Chrome Browser Frequently
In truth, this tip holds true not only for Google Chrome but all types of software programs. A lot of individuals tend to ignore these software update pop-ups that come up on a screen. They are highly beneficial to protecting your privacy and security because they come with eliminated software bugs and new features.
Cybercriminals are always looking for security loopholes to introduce malicious software or malware to a computer system. Activities such as checking out a website or downloading files can get your system infected with malware. This malware can then siphon data from your computer to hackers.
Google Chrome browser updates prevent this kind of malicious activity and protect your privacy. So, keep your browser updated.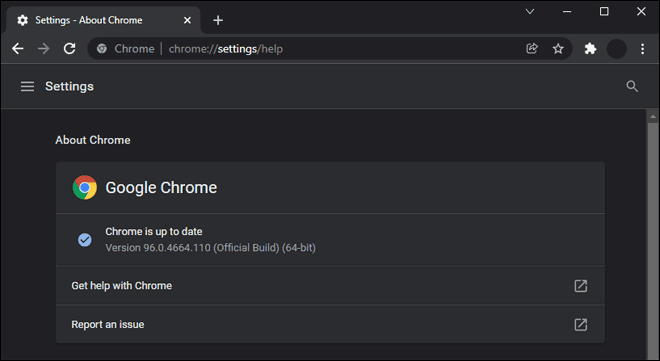 ---
4. Disable Location Tracking and Protect your Privacy
One of the most crucial parts of privacy is to stop websites from tracking your location. Services like Google's search engine track your location to send you results based on your location.
To disable your location from being tracked in Chrome, head over to Settings. Then, under Privacy and Security, click on Site Settings and select Location under Permissions.
Now, click the radio button next to 'Don't allow sites to see your location' to disable location tracking to protect your privacy in Google Chrome.
---
SEE ALSO: How to Share your Live Location on Google Maps?
5. Activate Clearing of Cookies
Browsers store cookies locally to help track your online activities. For instance, if you're attempting to login to an online account, cookies help you to keep logged-in to a website without having to login again.
While cookies help ease up your browsing experience, they could also be used against you by cybercriminals. Hackers typically target cookies to get as much information about you as possible. So, it's a good idea to clear cookies frequently to protect your privacy on Google Chrome.
To clear cookies in Google Chrome, go to Settings. After that, select Cookies and other site data under Privacy and Security. Finally, enable the toggle for 'Clear cookies and site data when you close all windows'. Going forward, all your cookies will be cleared automatically when you close Google Chrome.
---
Protect your Privacy while using Google Chrome
Internet surfers are concerned about the privacy of their data. However, with the numerous threats on the internet plus the 'legal' tracking done by websites, your data could easily fall into the hands of the wrong people. To protect your privacy while browsing on Chrome, you can take certain steps such as getting a VPN extension for anonymity, clearing all your cookies, and disabling location tracking.
Hope you liked this article. Feel free to share you thoughts about privacy and security of Google Chrome in the comment section down below.