How to Remap Keyboard Keys in Windows 11 and Windows 10
What do you do when one of the important keys, e.g. Spacebar on your keyboard goes missing? Your keyboard becomes unusable without that important key. Now, one of the solutions to this problem is to purchase a new keyboard, but that will cost you money and effort. So, to avoid all this hustle, you can remap missing keyboard keys in your Windows 11 or 10 PC using third-party utilities and save some money.
Besides broken or missing keys, there may also be other reasons to remap your keyboard keys. For example, you might want to use your Windows keyboard on Mac. Or you can remap some keys to enhance your gameplay experience. And you may also remap a useful key to make your daily routine work easy.
SEE ALSO: Best of Windows Keyboard and Mouse Shortcuts for You.
Remap Keyboard Keys in Windows 11 and 10 Using Third-Party Tools
There are several tools available to remap keys on your Windows PC be it Windows 10 or Windows 11. Most of these tools work even on older versions of Windows, like Windows 8/8.1, Windows 7, Vista, etc. So, you just need to find a suitable tool of your liking.
However, we found SharpKeys to be a good open-source tool for keyboard remapping. So, we will explain it first. After that, we will also discuss other tools for keyboard remapping.
A) Remap Keys on Windows 11 or 10 using SharpKeys
SharpKyes is one of the best open-source tools which allows you to remap keyboard keys on your Windows PC. SharpKeys uses registry tweaking for remapping keys. But you only have to play with its GUI, SharpKeys will do the rest of the work.
Step 1: Download and Install SharpKeys on your PC
First of all, download the latest version of SharpKeys from here. After that run the downloaded file to install it. Follow on-screen instructions and finish the installation.
---
Step 2: Launch SharpKeys to Start Mapping Keys
After successful installation, run SharpKeys. On the first launch, you might see a message about registry keys created by SharpKeys. Click OK to close the message.
Now, you will see the main window of SharpKeys. Here, click on Add button in the bottom-left corner to add a new key mapping.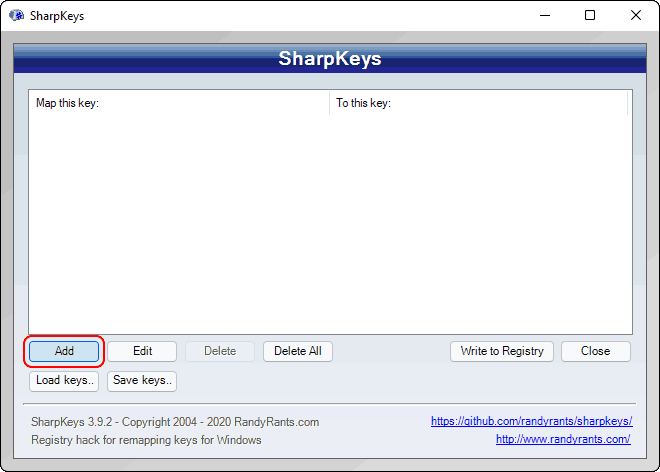 ---
Step 3: Add Key Mapping to Remap Keyboard Keys in Windows
Now, you will see a key mapping window. Here, you can remap any of the selected keys on your Windows keyboard to perform the desired operation. So, from the left side, select a key or action to be performed. And on the right side, select the target key to perform that action. You can also type custom keys using the Type Key buttons.
In this tutorial, we have selected "Special: Scroll Lock (00_46)" from the left pane and "–Turn Key Off (00_00)" from the right pane to turn off Scroll Lock key. After making your desired selection, click OK to add this mapping to the SharpKeys screen.
---
Step 4: Apply Key Mappings and Restart your PC
After you click OK, a mapping will be added to the SharpKeys screen. So, when you are done with custom key mappings, click the Write to Registry button to apply the changes.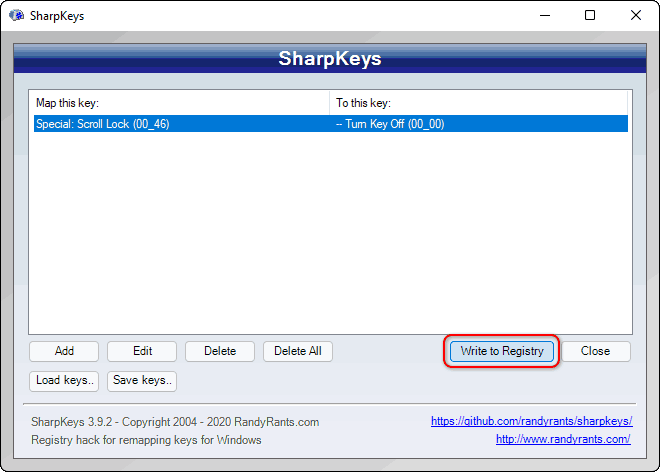 You will see a confirmation message. Click OK to close the message box.
Now, you also need to restart your PC in order to make registry changes effective. So, restart your PC and enjoy remapped keyboard on your Windows PC.
---
SEE ALSO: How to Customize Alt + TAB Behavior on your Windows 10 PC?
---
B) Other Tools to Reassign or Remap Keyboard Keys in Windows 11 or 10
As we have seen, SharpKeys does the job pretty well. However, there are several other tools that will do the same job for you. So, here are 2 more tools that you can use to remap your keyboard keys on Windows 11 or 10 PC.
1. Key Remapper
Key Remapper is quite a powerful key remapping tool. It not only allows you to remap keyboard keys but also mouse keys. Using Key Remapper, you can change mouse button pressing actions and wheel rotation actions. You can also swap keyboard keys using it. For example, you can easily swap Caps Lock and Esc keys.
The best part of Key Remapper is that you can create key remapping for specific programs which won't affect other programs or Windows. So, you can remap specific keyboard keys on Windows PC for your favorite game. Similarly, you can also map another key for some other program. And these mappings won't affect each other. There are a lot of options there to explore. So, it's up to you what you do with it.
Download: Free version (with limitations, $24.95 for licensed version)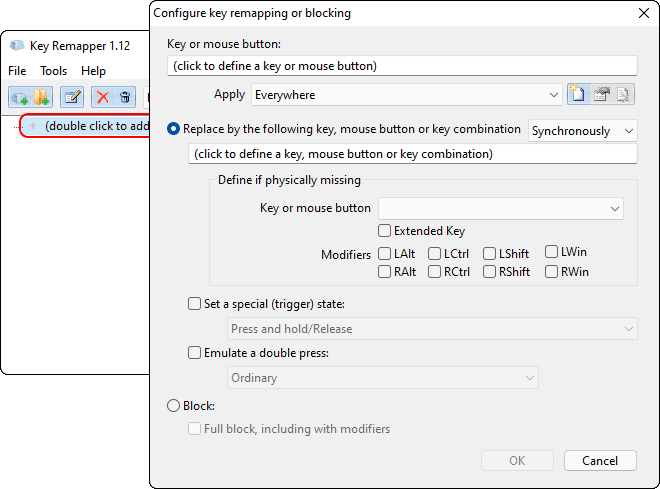 ---
2. Microsoft Keyboard Layout Creator
This tool doesn't have all the options that other tools have but you can design your own keyboard layout using this tool. For example, you can design your keyboard for an unsupported language, which is going to be very useful.
Microsoft Keyboard Layout Creator provides you with a virtual keyboard that allows you to click to remap any keyboard keys in Windows 11 or 10. The only downside of this tool is that you can't reassign or remap special keys like TAB, Caps Lock, Shift, Ctrl, Alt, etc.
Download: Free
---
SEE ALSO: 10 Cool New Windows 11 Features in 2023.
Remap Keyboard Keys in Windows PC and Speed up your Work
With these keyboard remapping tools, your work won't be affected by some broken or missing keys on your keyboard. You can easily reassign broken or missing keys to some other keys and continue your work. Besides the above-mentioned tools, KeyTweek and AutoHotKey are also great key remapping tools you might want to try.
Hope you liked the above tutorial. We suggest you try out these tools and check which one best suits you. You can also create automation commands using some of these tools. Well, feel free to share your thoughts in comments down below.