How to Root Android Phone Without a PC
This tutorial shows, how to root an Android phone without using a PC (using the KingRoot app). You won't need a computer to root your phone, you can simply root your phone by installing the KingRoot app on it. KingRoot officially claims to be able to root almost every Android device without using a computer.
Why root your Android phone? Well, there are many advantages of rooting your Android phone. You can customize, and delete system apps, optimize startup, etc. But if done incorrectly, you may face issues with your phone or even brick your device. Plus this will also void your phone's warranty.
WARNING: Please note that rooting your phone will void it's warranty. Besides that, your phone might also get bricked in the process. So, make sure to transfer it's data to your PC or another phone. we take no responsibility for any loss of any kind.
---
Check out this video tutorial first.
SEE ALSO: How to Install TWRP Custom Recovery on Android without PC?
Root any Android phone Using the KingRoot App
In this tutorial, we have used the Lenovo A6000 Plus Smartphone to display the root process. The download link for the KingRoot app is given at the end of the post.
Step 1: Download and Install the KingRoot App on Your Android Phone
First of all, download the KingRoot APK file on your Android phone. Then, go to the location of the downloaded KingRoot APK file and tap on it to start the installation of the KingRoot app on your smartphone.
A pop-up will appear showing the properties of the KingRoot app, tap on "Install" to install the KingRoot App on your phone.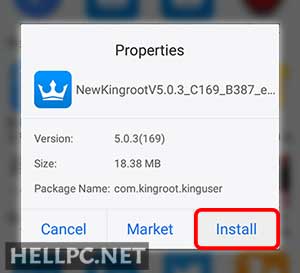 Now, you will see the list of the permissions the KingRoot app requires before installation. Scroll down to the bottom and tap on Install.
SEE ALSO: How to Hide Apps on any Android Phone?
---
Step 2: Bypass Android Security to Install the KingRoot App
The system will start installing the KingRoot app on your Android phone.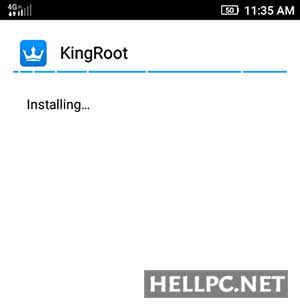 KingRoot app bypasses Android security and installs itself as a System App on the Smartphone. Android may detect security intrusion and block KingRoot installation. Tap on "More details" to see more options and tap on "Install anyway (unsafe)".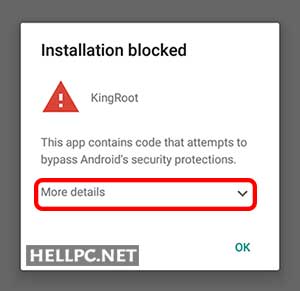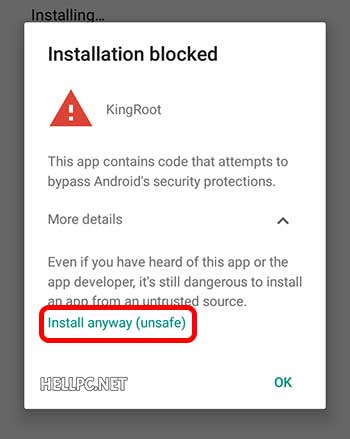 KingRoot will be installed on your Android smartphone. Tap on Open to open the KingRoot app. After that, you can easily root your Android phone without using a PC.
---
SEE ALSO: How to Change Language in TWRP Custom Recovery?
Step 3: Open the KingRoot App and Check the Root Status
When you open the KingRoot app for the first time, you will see introductory slides. Just swipe up on them.
On the last slide, you will have a "TRY IT" button tap on it. Make sure you have checked the "Agreed KingRoot License Agreement" check box, otherwise "TRY IT" button will be disabled. KingRoot App will open and Start scanning for your device's Root Status.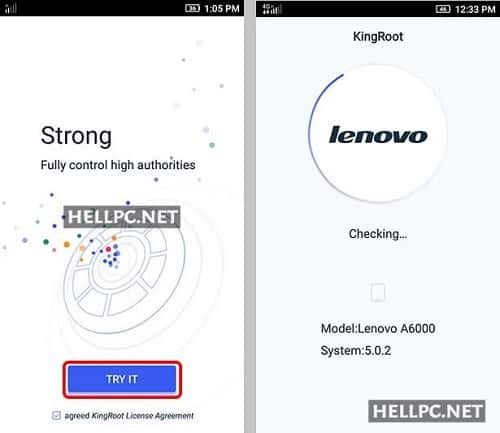 ---
Step 4: Root Your Android Phone using the KingRoot App
If your phone is Un-Rooted, you will see the following screen. Tap on "TRY ROOT" to start rooting your Android smartphone without using a PC.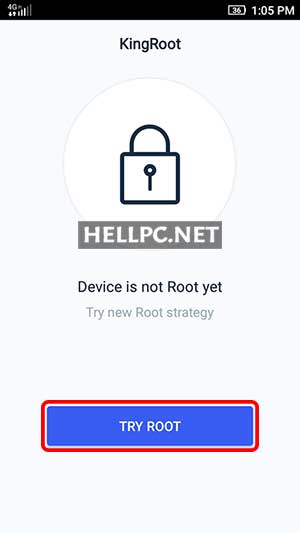 You must have an active internet connection to Root your device because KingRoot downloads some data during the Root process. If you have the internet disabled on your phone, you may see the following screen.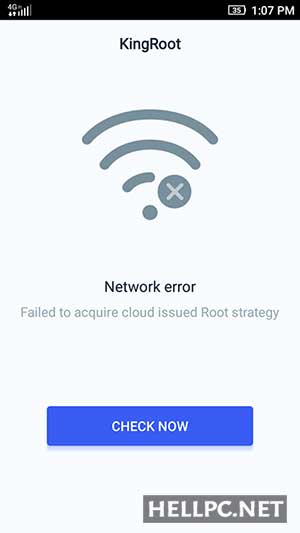 After enabling the internet connection on your smartphone, start the KingRoot app again and click on the "TRY ROOT" button. The root process will start.
KingRoot may fail to Root your smartphone on the first attempt. Don't panic, just tap on "ROOT AGAIN" to try rooting again.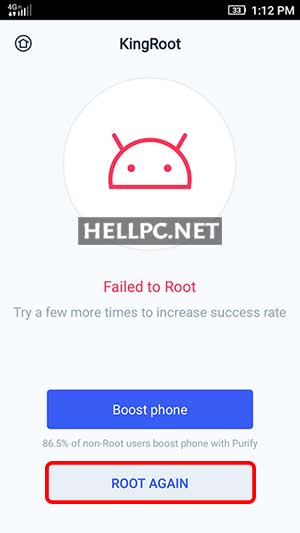 You will see a success message after the root process is successful.
---
SEE ALSO: How to Uninstall Magisk from your Android phone?
Step 5: Verify Root in KingRoot App
You have successfully Rooted your Lenovo A6000/A6000 Plus Android smartphone. It's time to verify it, tap on Options. You will see the current Root status of your Device.
---
SEE ALSO: How to Downgrade Lenovo A6000/Plus from Lollipop to KitKat?
---
Download KingRoot App
You can download the latest version of the KingRoot app from the following link. This link is the official link where you can download the latest and older versions of the KingRoot App.
---
Root Your Android Phone without Using a PC
Now, you have root-level access on your Android Smartphone. You can now install Magisk or SuperUser on your phone to manage root access. The process is quite simple and straightforward but you might face issues on some phones depending upon their Android version or manufacturer. If KingRoot doesn't work for you, you may also try other Android rooting apps like KingoRoot, etc.