How to Setup your PC to Boot from USB Disk
When you need to install Windows or any other OS from USB, you first need to setup your computer BIOS or UEFI to boot from USB. Only after that you would be able to install OS from the bootable USB disk. The process to enable USB boot may vary for every different OEM but there are some common options that you can look for.
So, in this tutorial, we will show you how to change BIOS/UEFI settings to enable booting from USB disk. The first step in the process includes getting into BIOS or UEFI settings. This process may be different for every different brand/manufacturer.
SEE ALSO: How to Enable Virtualization (VT-x/AMD-V) in BIOS or UEFI Settings?
Enable Boot from USB Disk in BIOS or UEFI Settings
Follow these steps to setup your computer to boot from USB drive.
Step 1: Go to BIOS or UEFI Settings
Restart your PC. While computer is starting again, press DELETE repeatedly or any other specified key for your mother board. It is usually shown on the startup BIOS screen, to enter BIOS setting. Here is the list of major manufacturers with BIOS keys.
| | |
| --- | --- |
| DELL | Press F12 when the Dell Logo is displayed. |
| HP | Press F9 when the HP Logo is displayed. |
| Lenovo | Press F12 when the Lenovo Logo is displayed. |
| Toshiba | Press F12 or F2 when the Toshiba Logo appears. |
| Acer | Press F12 as the Acer Logo appears. |
| ASUS | Press DELETE key while booting up. |
| Others | Try pressing Esc, F1-F12 or Enter key during bootup. |
If you see Windows starting the normally, restart your PC again and press BIOS key repeatedly until you see BIOS screen.
---
Step 2: Change Boot Priority to Boot from USB First
In BIOS settings go to BOOT > Boot Device Priority. You can use scroll keys to navigate between tabs and options.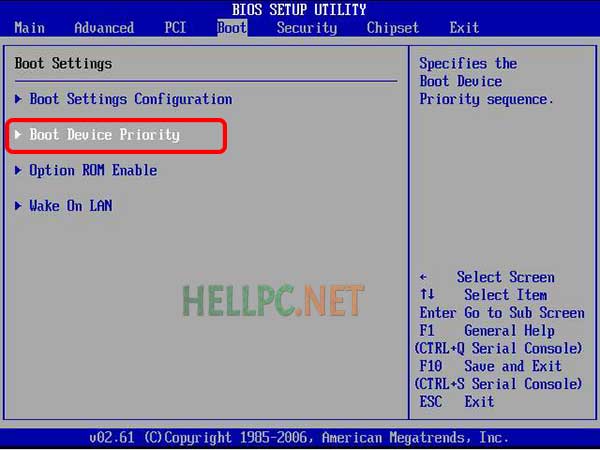 Set first BOOT device to Removable Media.
IF YOU ARE USING OLD BIOS:
If you are using OLD BIOS, you have to change Hard Disk Boot Priority. It is because your USB drive doesn't appear as Removable Drive in old BIOS but as Hard Disk Drive. Set First boot device to HDD.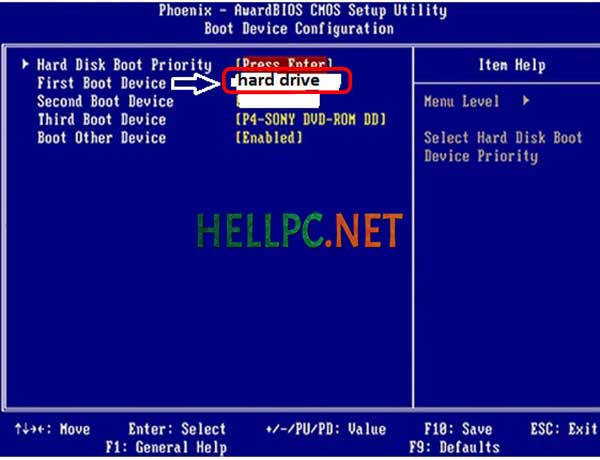 Now, go to Hard Disk Boot Priority and set your USB as first device to boot from.
SEE ALSO: How to Setup your PC to Boot from CD/DVD disc?
---
Step 3: Save Changes and Restart your PC
Press F10 and then press Enter to save the changes and exit the BIOS/UEFI settings. This will save the changes you have made. In new BIOS systems, you can also use mouse. Click on Yes to save and exit on the confirmation popup that appeared after pressing F10.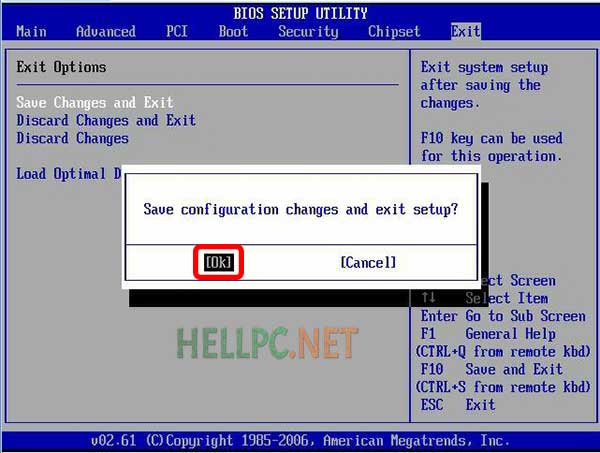 ---
Step 4: Boot From Bootable USB Disk
Now Restart your PC and insert Bootable USB drive. Press any key when you see "Press any key to boot from USB…". PC will start loading startup files and Operating System installation will start.

SEE ALSO:
1. How to Create Windows 11 Bootable USB using Rufus?
2. How to Clean Install Windows 11 on Unsupported PC?
---
Setup BIOS or UEFI to Boot your PC from USB Disk
Setting your PC to boot from USB is not a tough task, you just need to follow the right steps. However, as mentioned earlier, the steps might be different for every manufacturer or OEM. But you can look through available options and find the right settings.
After setting up the BIOS, you just need bootable USB to start OS installation process. Hope, you liked the tutorial. Share your queries and suggestions in the comment section down below.