How to Transfer Google Play Music Content to YouTube Music
Google has officially shut down the Google Play Music in year 2020. This process, which started in year 2019, has finally completed in year 2020. So, as a part of transition, Google has provided option to transfer Google Play Music content to YouTube Music till the end of year 2020.
The people who are using Google Play Music can move all their content, including albums, purchases, songs, playlists, uploads, personalized recommendations and liked/disliked songs to YouTube Music. Users can move their data using YouTube Music app or even from the YouTube Music website. In this tutorial, we have explained how you can transfer music from Google Play Music Library to YouTube Music.
See Also: How to Transfer Data from old Smartphone to new One (Android, iOS)?
Transferring Google Play Music Library to YouTube Music
In this tutorial, we have used YouTube Music app on Android for transfer, but the process is quite same for iOS and the web as well. Before you begin the transfer process, make sure you are using the updated version of YouTube Music app. You can update your YouTube Music app from Play Store and App Store on Android and iOS respectively.
The 'Transfer' option is not available in older versions of YouTube Music app. So, you are suggested to update the app before proceeding with this tutorial. The transfer process will continue in the background, and you can listen to your songs during the transfer process.
Step 1: Install and YouTube Music App on your Phone
First of all, open the YouTube Music app on your phone. If you are doing it via web browser, go to music.youtube.com/transfer. You might see a promotional banner for YouTube Music Premium. Simply close the advertisement by tapping on the 'X' at the top-right corner.
---
SEE ALSO: How to transfer Photos and Videos from Facebook to Google Photos?
Step 2: Transfer Music from Google Play Music to YouTube Music
On the next page, you'll see a banner providing the option to 'Transfer your Google Play Music Account'. Here, you can transfer your Google Play Music library to YouTube Music. Tap/click on the 'Start Transfer' button at the bottom to start the transfer process. The transfer process "may take a few hours" depending upon your Play Music data size. You can enjoy some music in the meanwhile.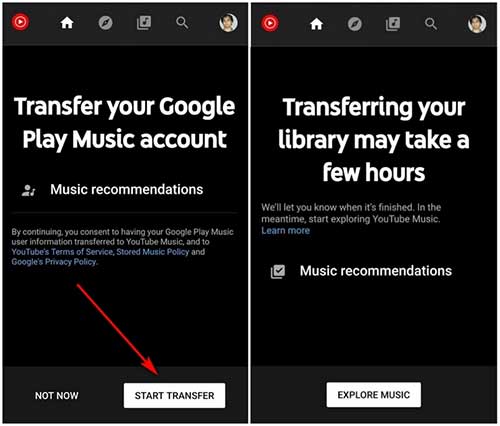 ---
Step 3: Explore Music after Transfer
After the transfer process is over, you will see a message saying "Transfer Complete". Tap on the 'Explore Music' button and you will be taken to the app's home screen. All you content from Google Play Music has been transferred to YouTube Music successfully.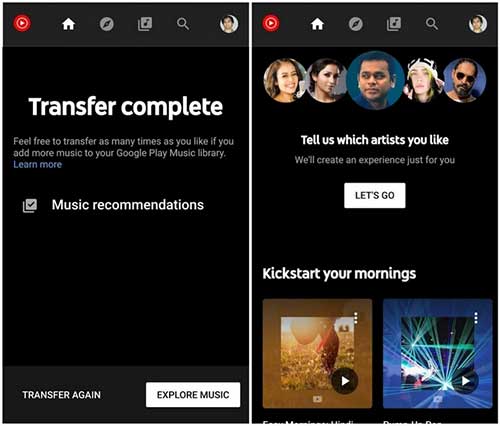 ---
SEE ALSO: How to install Google Play Store in Windows 11 and run Android Apps?
Move Your Data to YouTube Music in Easy Steps
Above tutorial explained how you can transfer Google Play Music content to YouTube Music. So, now you won't have to lose any of your favorite playlists that you created on Google Play Music. You can easily transfer all your data to YouTube Music. As mentioned already, the process for transferring the content is similar on Android, iOS and the web.
Hope you liked the tutorial. Feel free to write your suggestions and queries in comment section down below.