How to Use Signal Messenger on PC
After the privacy policy update of WhatsApp, millions of people have started using Signal Messenger. Following this, the company has added a lot of WhatsApp-like features to the Signal Messenger recently. Besides other features, Signal also has a desktop app that allows you to use Signal Messenger on a PC. You can download the latest version of the Signal Desktop app from the official website.
You need to have Signal Messenger installed on your phone in order to use it on your PC. It works quite similarly to the WhatsApp desktop application. But Signal offers additional features like Audio and Video calls on the Desktop version. So, in this tutorial, we are going to show you how to install and use Signal Messenger on a desktop computer.
SEE ALSO: How to use WhatsApp on PC using WhatsApp Web?
Install Signal Messenger on Desktop Computer
For installing Signal Messenger on your computer, you need to download the setup from the official website. After that, you can continue with the installation on your PC. Check the following steps.
Step 1: Download Signal Messenger for PC
First of all, open this link in a web browser on your computer. This link will take you to the official Signal Messenger download page for desktops. Now, click on the download link to download Signal Messenger setup.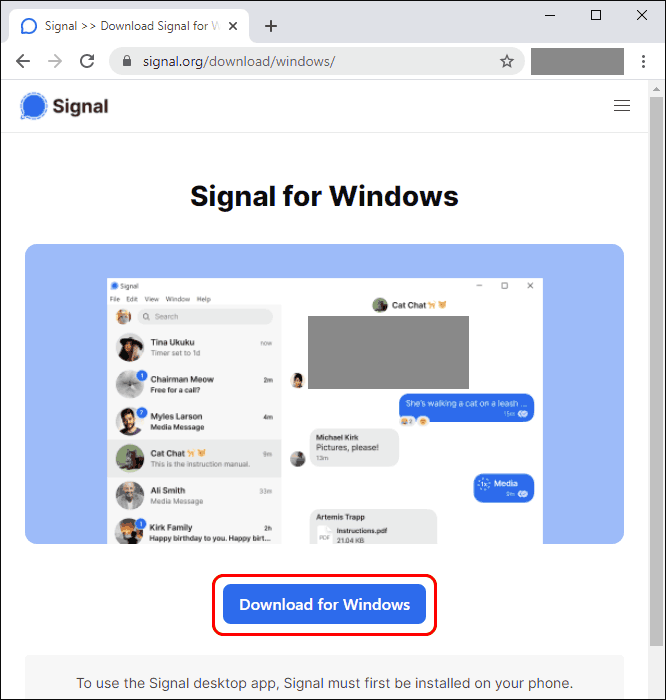 ---
Step 2: Install Signal Messenger on your PC
Run the downloaded file to install the Signal Messenger Desktop version on your PC.
After successful installation, the Signal Desktop version will launch. You will see a QR code on the home page of the Signal Messenger Desktop app. You can link this PC to the Signal app on your phone by scanning the QR code.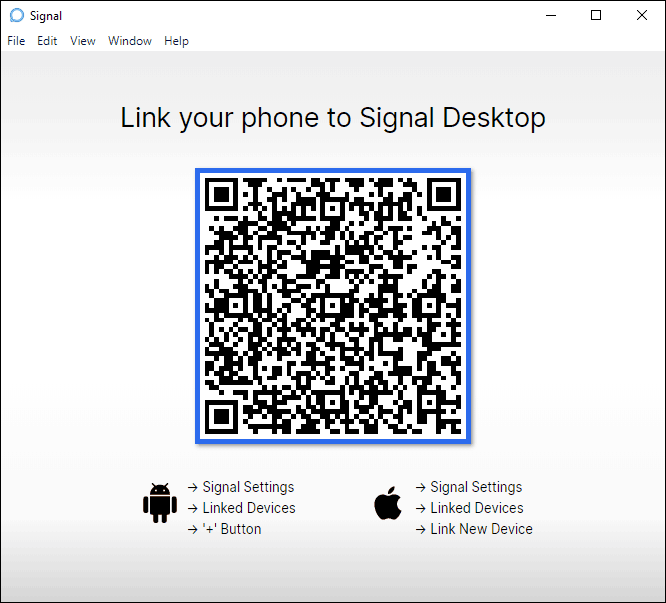 SEE ALSO: How to Install Official WhatsApp app on your PC?
---
Step 3: Scan QR Code via App on Phone
Now, open the Signal app on your phone. Tap on the 3-vertical dots menu and select Settings. In Settings, scroll a bit down and tap on Linked devices. Here you can see all the devices linked to your Signal account.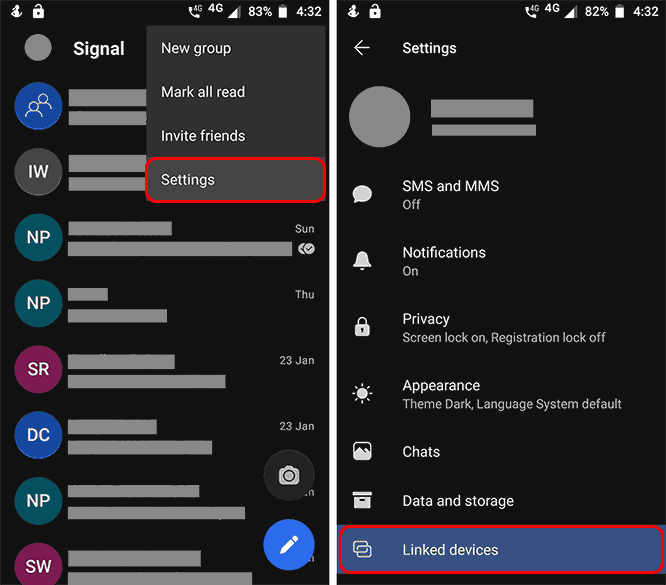 Next, tap on the (+) button to link a new device. Then, scan the QR code on the Signal Desktop app. You will see the details of what you will be able to do with the desktop app. Tap on Link device to link Signal Messenger app on your PC with your Phone.
---
Step 3: Setup Desktop App
After you click on the Link device, Signal on the desktop will show you the option to set a name for the desktop app. Type a suitable name and click on Finish linking phone.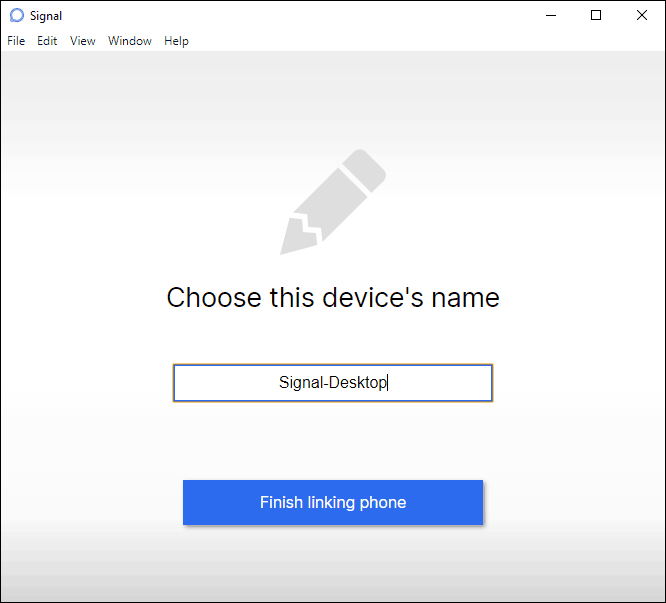 Now, Signal Messenger on your PC will sync your contacts and groups from the Mobile app.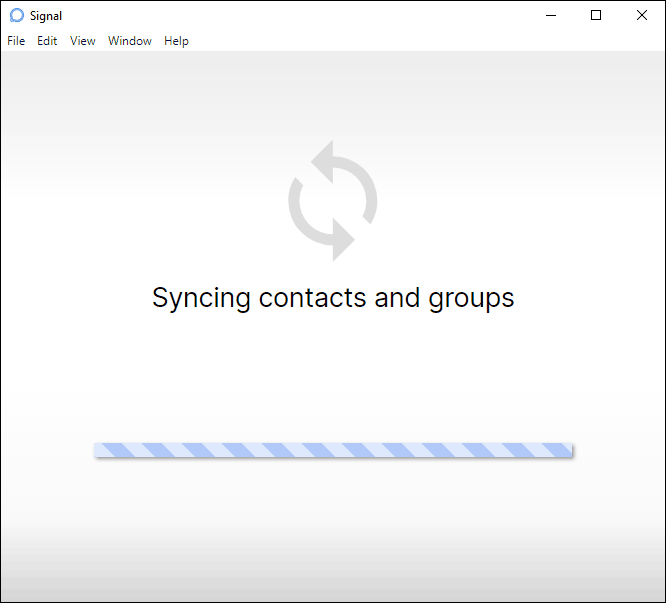 ---
Step 4: Use Signal Messenger on your Computer
After loading all your contacts and groups, the Signal Messenger desktop app will open. You can now start chatting with your friends and family.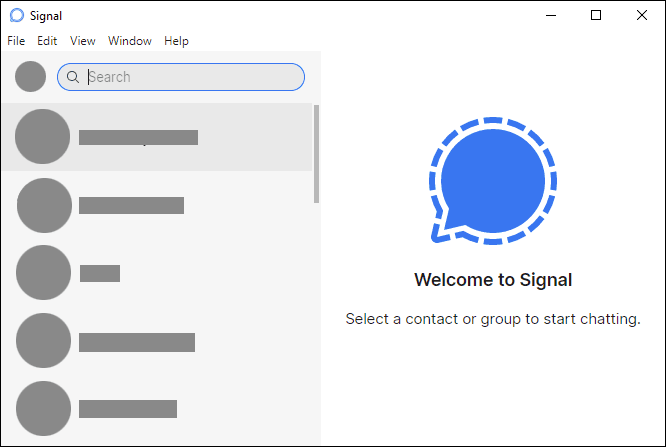 Select any contact to chat with. Here, you will notice that you can use Audio and Video calls on the Desktop app. You will see a notice saying that chat history is not transferred to newly liked devices.
NOTE: Signal Desktop version will not display previous chats citing security reasons.
---
Install and Use Signal Messenger on Computer
Installing and using Signal Messenger on your desktop computer is very simple and straightforward. Signal Messenger Desktop version doesn't retrieve previous messages from the phone as WhatsApp does. But Signal Messenger on Desktop has additional features like Audio and Video calls which the WhatsApp desktop app doesn't have added later.
Hope you liked the above tutorial. Feel free to share your thoughts and suggestions in the comment section down below. You can also subscribe to our newsletter for getting the latest tutorials directly into your inbox.
SEE ALSO: How to use Disappearing Messages on Signal Messenger?