How to Use Siri Full Screen on iOS 14
With the release of iOS 14, Siri has got an all-new UI change which is good-looking and has better functionality. Siri no longer occupies the whole screen when you invoke it. So, you can continue the work you were doing already. By default, Siri will appear on the top of the current app. And both the current app and Siri will be visible to the user. However, while using Siri, you might find the background app to be a little distracting. In iOS 14 and iPadOS 14, you have the option to use Siri in Full Screen by blurring the currently running app.
SEE ALSO: How to Disable Siri in iCloud and Delete Learning Data?
How to Blur the Background While Siri is Active
Besides, allowing you to blur the background while Siri is active, the iOS 14 also allows you to enable the real-time transcription of your speech. If you are missing the old Siri UI or want to make Siri transcribe your requests, you can easily do so.
Apple has made a good move by keeping some old elements intact while adopting the new features. Let's see how to use Siri full screen by blurring the background.
Step 1: Open Siri Settings on iPhone
First of all, open the Settings app on your iPhone or iPad running iOS 14 or iPadOS 14. Next, tap on Accessibility and scroll down to the bottom and select Siri.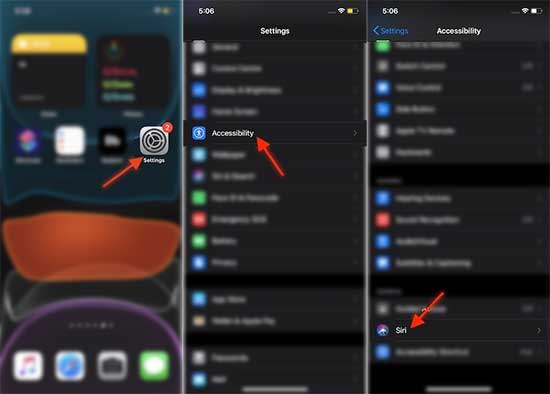 ---
Step 2: Disable 'Show Apps Behind Siri' to Use Siri on Full Screen
Now, disable the option to "Show Apps Behind Siri". It will disable the display of the current app in the background. From now onward, whenever you will invoke Siri, the current app or screen will be blurred and you can use Siri full screen.
INFO: In future, if you want to go back to the default settings. Just follow the same steps mentioned above and turn on the switch next to Show Apps Behind Siri.
---
SEE ALSO: How to Manage Files Access of Apps in iOS 14 and 15?
Using Siri on Full Screen by Blurring the Background
Above tutorial explained, how you can blur the current app and use Siri on full screen. The current screen will be blurred as soon as you invoke Siri using voice commands. So, you can now have a distraction-free conversation with Siri.
As you may know, Apple has allowed Siri to work with third-party music apps like Spotify and also improved the translation feature. Hope you liked the tutorial. Feel free to drop your queries and suggestions in the comments.