How to Use System Restore in Windows 11 and Windows 10
System Restore is a very powerful tool in Windows, be it Windows 11, 10, 8/8.1, or Windows 7. Using System Restore, you can restore your system from a bad or problematic state to a previous good working state. So, if your recently installed program or Windows Update is causing problems, you can use System Restore to undo changes and go back to the previous working state in your Windows 11, 10, 8/8.1, 7, or Windows XP PC.
Since Microsoft has provided Recovery as a better alternative to System Restore, you may find it disabled by default. So, you may have to enable it first. Only after that, you can use it to restore your PC. Besides that, you should have restore points created already, otherwise, you won't be able to use System Restore.
SEE ALSO: How to Schedule Automatic Shutdown in Windows 11 or Windows 10?
Use System Restore in Windows 11, Windows 10, 8/8.1, 7 or XP
So, in this tutorial, we will show you how to restore your Windows 11 PC to its previous state using System Restore. We have used Windows 11 in this tutorial, but it will also work on previous versions of Windows.
Step 1: Open System Properties
System Restore is available in System Properties on Windows 11. So, we need to open System Properties first.
Press Windows + R to launch the RUN utility. After that, type sysdm.cpl and press Enter to open the System Properties window.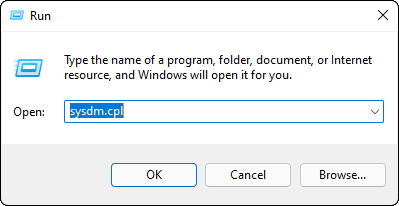 ---
Step 2: Launch System Restore in Windows 11
The System Properties window will open. Here, go to the System Protection tab and click System Restore. If you see this option greyed out, you need to enable System Protection in Windows 11 first.
---
Step 3: Select Restore Point
System Restore wizard will start. If you already have the restore points available, the wizard will recommend the most recent restore point to restore your Windows 11 PC.
You can simply click Next or click Choose a different restore point to select another restore point of your choice.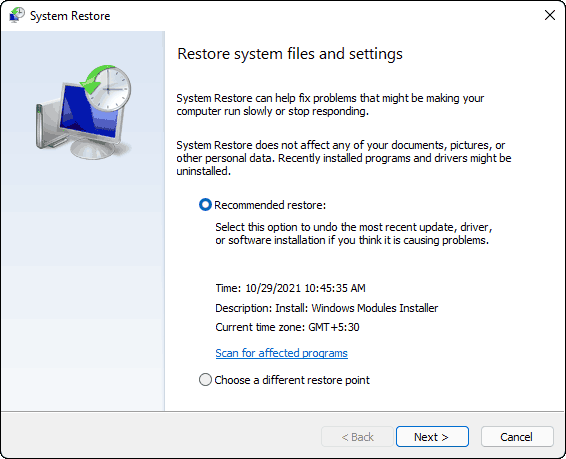 If you choose to select a different restore point, you will see the list of available restore points. Select a restore point from the list of available restore points and click Next.
---
Step 4: Check for Affected Programs
Before you start System Restore on your Windows PC, we advise you to check for the programs that will be affected. So, click Scan for affected programs link to see the changes that will be made to your system.
The system will scan and show you the list of programs, updates, and/or drivers that will be removed or restored with system restore. Click Close to close this window when you are done with checking the changes.
---
Step 5: Start System Restore in your Windows PC
Finally, click Finish to start the system restore process on your Windows 11 PC.

You will see a warning message saying "Once started, System Restore cannot be interrupted. Do you want to continue?", click Yes to start System restore
SEE ALSO: How to Start Windows 11 in Safe Mode (and Get out of it)?
---
Step 6: Let System Restore Finish
System Restore will start. As mentioned in the warning, you won't be able to interrupt the process. So, sit back and let the restore process finish.
After the successful system restore operation, your PC will restart and you will also see a success message showing the summary. Close the message and start using your Windows 11 PC.

NOTE: If System Restore fails to restore your PC, try restarting your Windows PC in Safe Mode. After that, run System Restore again.
---
SEE ALSO: How to Restore Desktop icons in Windows 11, 10, 7 or Windows XP?
Use System Restore to Recover from Corrupt Programs or Drivers in Windows
You have successfully restored your Windows 11 PC using the selected restore point. It is quite helpful if a recent update or program is causing problems. The process is quite simple and straightforward. But you need to have restore points already created. We recommend you create restore points manually at regular intervals to make the restore process easy.
Hope you liked the tutorial. Write in comments your queries and problems. We will try to respond as soon as possible. You may also like to subscribe to our newsletter to get the latest tutorials directly into your inbox.