How to Use WhatsApp's Advanced Search Feature
Just after introducing the long-awaited Dark Mode, WhatsApp has recently introduced the Advanced Search feature. Using Advanced Search on WhatsApp, you can easily find the type of information you are looking for. Be it photos, audio, videos, GIFs, documents, or links, everything is now categorized. WhatsApp's Advanced Search feature has made searching WhatsApp chats very easy.
A simple search feature has always existed in WhatsApp. But that would not segregate the results and it was not easy to find what you were looking for. Now, with the new Advanced Search feature, all search results can be categorized as Photos, Videos, Audio, GIFs, Documents, and Links. So, you just tap on the type of results you are looking for and enter your search keywords. Immediately, you will get relevant search results.
SEE ALSO: How to View Live Cameras around the World?
Use Advanced Search Feature on WhatsApp
Using Advanced Search, you can now segregate your search results. But if you are not sure about the type of info you are looking for, you just need to type the search keyword without selecting the type of results you want. And WhatsApp will show you all types of search results. So, in this tutorial, we are going to explain how you can use WhatsApp's Advanced Search feature.
NOTE: We have used screenshots of WhatsApp on Android. But the process remains same for both iPhone and Android.
Step 1: Open WhatsApp and Tap on Search
First of all, open WhatsApp on your iPhone or Android Phone. Here, on the top bar, you would see the Search icon at the top. Tap on the Search icon (on Android) or the Search bar (on iPhone).
---
SEE ALSO: How to Backup WhatsApp Chats to Google Drive?
Step 2: Advanced Search Options
Now, you will see WhatsApp's Advanced Search options below the search box. You can tap on Photos, Videos, Links, GIFs, Audio, and Documents to get relevant search results.
---
Step 3: WhatsApp's Advanced Search in Action
In this tutorial, we have decided to search for Links. So, after taping on Links as we typed the search keyword ("hellpc" in our case), it displayed the relevant links from WhatsApp chats.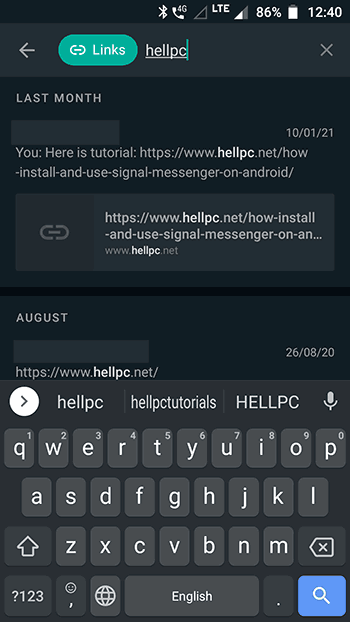 ---
SEE ALSO: How to Install and Use Signal Private Messenger on Android?
Get Relevant Results using WhatsApp's Advanced Search
Advanced Search in WhatsApp shows up relevant results from your chats, plus it also highlights the search words in search results. WhatsApp's Advanced Search is a great extension to existing basic search. And this is going to be really helpful to users.
We hope you find this tutorial helpful. In case you have any troubles using WhatsApp's new Advanced Search feature, let us know in the comments down below. Also, share your thoughts about this new feature.