Instagram Reels – Create, Edit, Share (Complete Guide)
Instagram Reels is a short-video sharing platform just like TikTok. Integration with Instagram gave Instagram Reels massive exposure right from the start. Another good thing with Reels is that you can use all of the eye-catching filters and effects of Instagram and gain lots of followers. If you haven't tried it yet, now is the best time to try Instagram Reels on your Android or iPhone device.
Instagram has introduced 'Reels' at a time when the biggest short-video sharing platform TikTok has been banned in India. And it may face a similar ban in several other countries including the US. So, it's the perfect time for the Facebook-owned platform wants to cash in on this opportunity.
How to Use Instagram Reels Feature on Instagram (iOS or Android)
Instagram Reels is currently available in a few countries including Brazil, France, Germany, and India only. It has got massive hype, so, Instagram may soon launch it in other countries as well. So, if this brand-new Reels feature hasn't rolled out in your country yet, you may get it very soon. Let's go through the steps for using Instagram reels on your iPhone or Android device.
Step 1: Record Instagram Reels Videos
First of all, open the Instagram app on your phone and tap on the Camera icon in the top-left corner. When you see Create with Reels screen, tap on the Get Started button.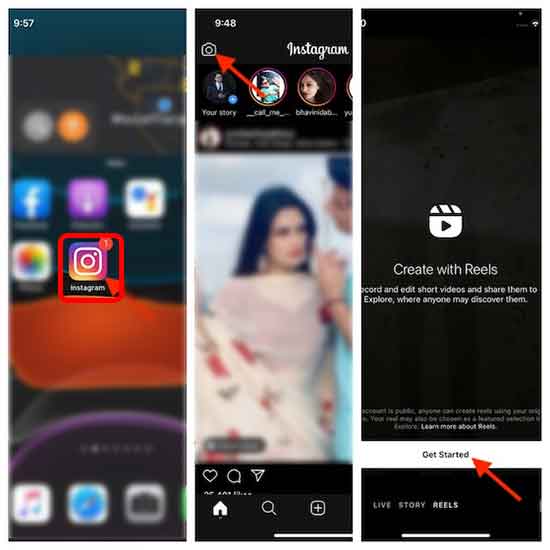 Now, you will see three options at the bottom – Live, Story and Reels. Tap on Reels. Go ahead and give your best and create a cool Instagram reel. The overall length of the video clip is limited to 15 seconds.
When you are ready to record, tap on the big white circle icon to start recording the clip. Tap on the same button to stop the recording when you are done. 
---
Step 2: Add Music to your Instagram Reels
To make your clip attention-grabbing, you need to add suitable music to it. To add the music, tap on the music icon on the left side. Here you can search for the music that you want to add.
There are two tabs namely For You and Browse. The For You section automatically displays songs as per your interests, and the Browse section allows you to choose songs from different genres.
Additionally, you can view the lyrics on the screen and select any part of the song to add to the Reels.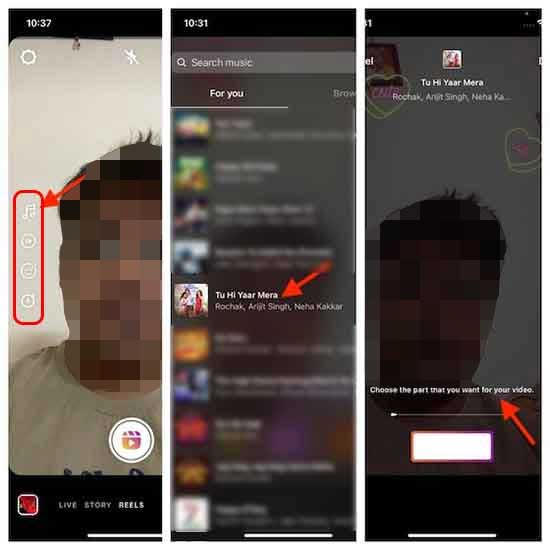 ---
Step 3: Adjust the Video Recording Speed
You can also adjust the video recording speed of Instagram Reels. To change the recording speed, tap on the second icon on the left side that looks like the play button. Currently, Reels allows you to record videos in slow motion speeds up to .3x and .5x. You can also increase the speed by selecting 2x and 3x. 1x speed is selected by default.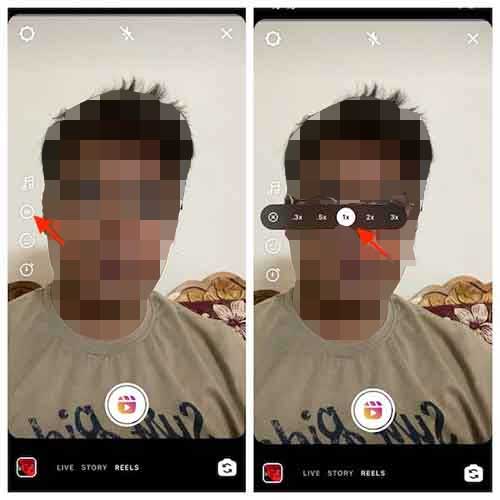 ---
Step 4: Add Cool Filters to Instagram Reels Videos
While you are preparing to record a Reels video, you can choose from plenty of cool effects to add to the clip. Tap on the smiley button on the left side. Now, you can swipe right on the big white circle to see all the available effects. Select the best-looking effect for your Reel.
---
Step 5: Set Timer for your Reels Videos
Instagram Reels also allows you to set a timer before the recording starts. So, you can get prepared for the shot and give your best. To start setting a timer, tap on the timer icon on the left. And then set the duration for your clip (limited from 0.1 to 15 seconds). After setting the clip duration, tap on Set Timer. The timer will appear on the screen when you start recording the clip.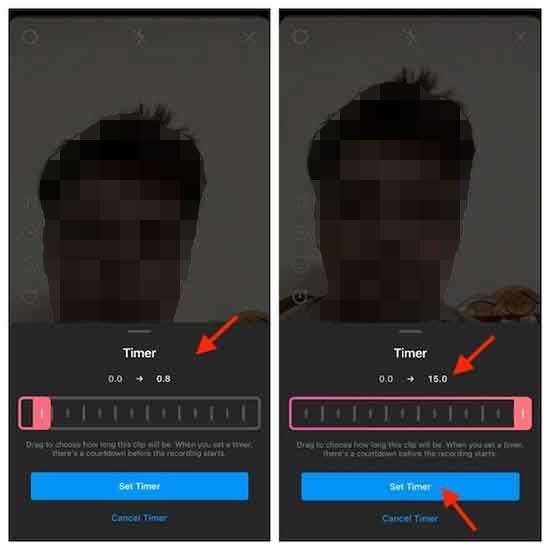 ---
Step 6: Align your Instagram Reels Perfectly
It is possible that your camera gets misaligned while recording the video. If your video looks a little messed up, you can align it perfectly. To do it, simply tap on the Align button. Align button is the first from the bottom in the left button panel.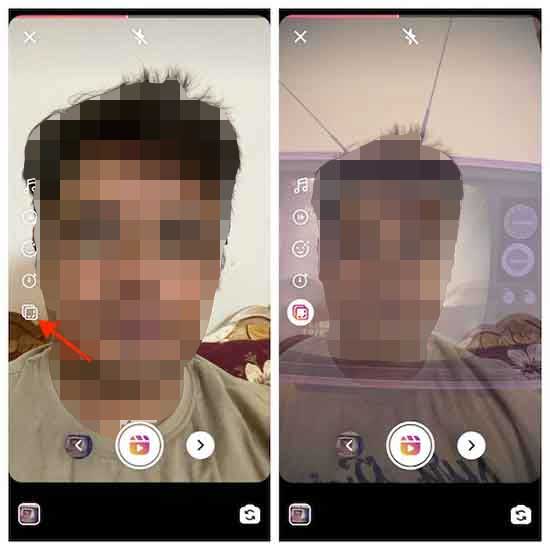 ---
Step 7: Replay your Reels after Recording
After you have recorded your Instagram Reel, it's time to check it. You can tap on the back arrow at the bottom to replay the video. Here you can verify your video. If your video is satisfactory, you can proceed with it.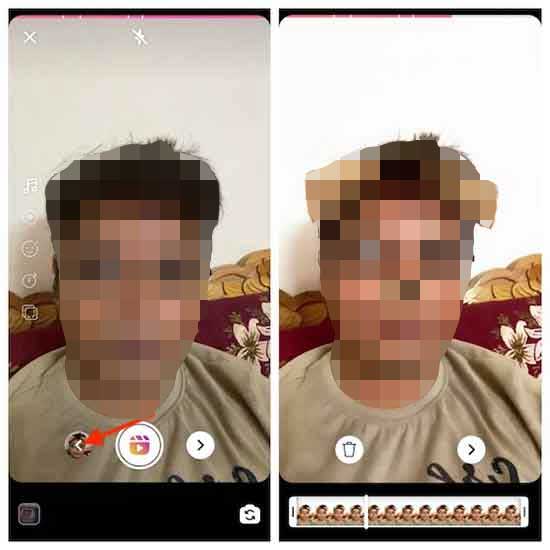 ---
Step 8: Save your Instagram Reels
Instagram also offers an option to save Reels on your device. If you wish to save your Instagram Reels on your device, tap on the forward arrow at the bottom. Now, tap on the Save button (down arrow button) at the top to save your clip to your phone.
---
Step 9: Add Text, Emojis, and Stickers to your Videos
To make your Instagram reel stand out, you can add great-looking and attractive text, emojis, and stickers. First, you need to record the clip. After recording the clip, tap on the forward arrow at the bottom. Then, tap on the emoji icon next to the save button at the top. Now, you can choose from a variety of stickers and emojis.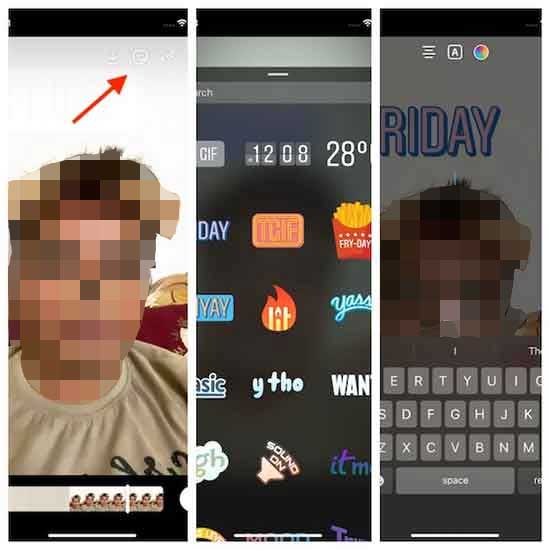 If you want to use scribble, tap on the scribble button at the top. Now use your creativity to add something unique to your video. You can also add text to your Instagram Reels. To add text, tap on the text button at the top right corner of the screen and then type suitable text to add.
---
Step 10: Share your Instagram Reels
Once you have edited your Instagram Reel and feel satisfied with it, you can share it with your friends and followers. To share it, tap on the forward arrow at the bottom right corner. Next, add a cool caption to your reel. And now, you can choose how you want to share it with others. You can choose to share your clip to your Instagram feed or stories. And finally, tap the Share button.
---
Step 11: Protect your Reels and your Original Audio
When you share your Instagram Reels, anyone can view and share them. Your Instagram Reels may appear on Explore and places like effect, hashtag, and even on audio pages. This way your Reel may get millions of views and get viral. And if that happened, you may become an Instagram star overnight.
Please note that anyone on Instagram can make a reel using your original audio if your account is public (which is the default setting). So, if you want to have privacy and protect your Instagram reels, you can set your account to private. After that only your approved followers can view and share your reels. Whenever someone shares your reel, only your followers will be able to view it. Moreover, no one will be able to create a reel using your original audio.
To set your account to Private, go to the Profile tab and tap on the Menu button(three horizontal lines). Now tap on Settings > Privacy > Account Privacy. Turn on the switch for Private Account. That's it!
---
Step 12: Check Likes and Comments on your Reels
You can keep the track of the likes and comments made on your videos. Go to your profile and tap on the Reels tab of your profile. On this tab, you can check the following things:
The people who liked and commented on your reel
The number of times your reel was played. Remember, this doesn't include replays.
Whether or not your reel has been selected to be featured on Reels
What are Featured Instagram Reels?
In an effort to motivate creators to create top-notch videos, Instagram features the videos that standout. Instagram selects reels based on several things like genre, style, and more significantly the entertaining part.
Remember, only the reels from public accounts will be featured. If your reel is selected, you will receive a notification from Instagram.
---
Step 13: How to Delete your Insta Reel Videos
If you want to delete any of your reels, you can do it right from your profile. Go to your Profile, and tap on the Reels icon. Next, tap on the reel you want to delete.
If you are using iPhone, tap on the three horizontal dots. And if you are using an Android device, tap on the three vertically placed dots at the bottom. Finally, tap on Delete. You will have to tap on Delete again to confirm the deletion.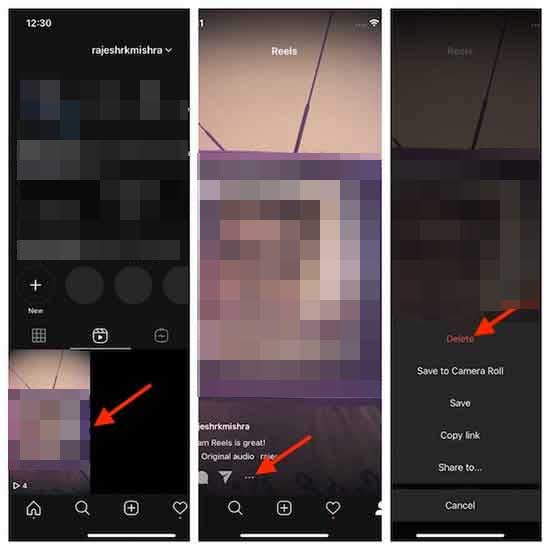 ---
SEE ALSO: How to bulk delete Facebook Posts on Android and iPhone?
Complete Guide on How to Use Instagram Reels on Your Android Device and iPhone
So, this was our complete guide on using Instagram Reels. Using these best tips and tricks, you can make the most out of this new feature. Though this feature is new in the market, it is fully capable of filling up the void. And it also offers exciting features to both the creators and users. So, probably this would be a good time to switch from TikTok to Instagram Reels.
Hope you liked our detailed guide. Feel free to share your thoughts and your ideas about this short-video sharing feature in the comments below. You can also follow us on Facebook.