How to Password Protect your MS Office Documents in 2023
Microsoft Office is used world wide to create various types of documents e. g. word documents, spreadsheets etc. Some documents may contain some classified information which should not be available for everyone for the sake of privacy. So, the best way to prevent unauthorized access is to encrypt and password protect your MS office documents.
There are a lot of third-party software available online to password protect your files. However, Microsoft itself provides an Encryption function in MS Office. It means, you can encrypt and password protect your MS office documents against unauthorized access. This feature is available even in older versions of MS Office, i.e. MS Office 2007.
SEE ALSO: How to Save MS Office Documents as PDF without any third-party Software?
Encrypt and Password Protect MS Office Documents i.e. Word, Excel
In this tutorial, we will see how to password protect Microsoft Office documents. The best part is that, we won't use any third party software because we are using MS Office Word in this tutorial.
Step 1: Open MS Office and Create a Document
First of all, open MS Word or MS Excel, depending upon your requirement. In this example we are taking example of MS Word document. So, after opening MS Word in your PC, create your document and type whatever you want to type.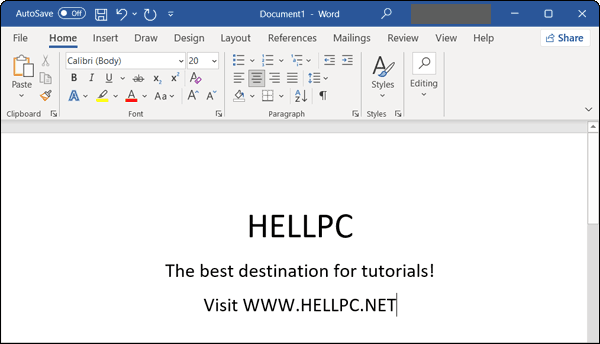 ---
Step 2: Encrypt the Document with Password
Now, after you are ready with your document, click File menu and select Info. After that click Protect Document and select Encrypt with Password option from drop-down menu.
NOTE: If you are using MS Office 2007, click on MS Office Button in the top-left corner and select Prepare > Encrypt Document.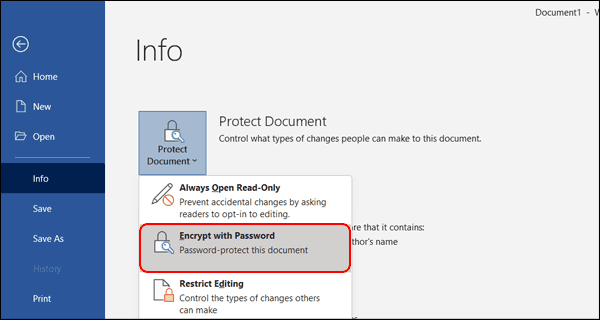 ---
Step 3: Type a Password to Protect your MS Office Document
Now, you will see a small pop-up window asking for the password. So, just enter the password that you want to set for that document and click OK.
After that, you will will see another pop-up asking to confirm your password. Re-enter the same password again and press OK. MS Office will use this password to encrypt and protect your documents.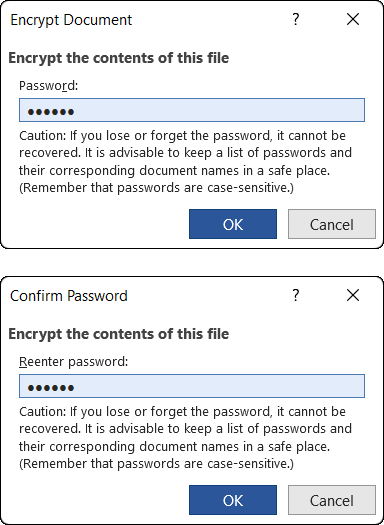 Now, your document has been encrypted with a password successfully. It's time to save it.
---
Step 4: Save your MS Office Document
Now, let's save the document you have just created. Press Ctrl + S or select Save from File menu. After that type a name, select destination and click Save button to save your document.
---
Step 5: Test your MS Office Document
Finally, it's time to check the document. Close and re-open the document that you have just created.
Now, you will see a password prompt every time you open this document. Enter the password to access the document. Anyone who doesn't have the password won't be able to access the document.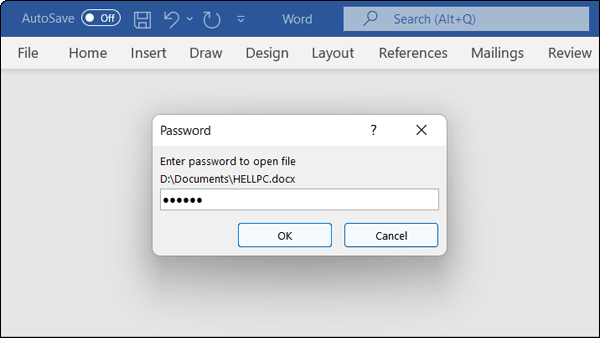 ---
SEE ALSO: All MS Word Shortcut Keys for Windows.
Encrypt MS Office Documents using Password to Avoid Unauthorized Access
Above tutorial explained, how you can encrypt or protect your Microsoft Office documents with a password to avoid unauthorized access. We have used example of MS word document but it will work for other formats also. Encryption feature is also available in older versions of Office.
Enjoy your document with enhanced security. Hope you liked this tutorial. Feel free to write in comments if you have any queries or suggestions.