How to Play PUBG Mobile on PC
PlayerUnknown's BattleGrounds aka PUBG is one of the most famous battle royale game for PC and Mobile. While PC players have the advantage of Mouse and Keyboard for better gameplay, mobile gamers have to struggle for such seamless controls. But you can enhance your PUBG Mobile experience using an Android emulator on your PC. It means you can play PUBG Mobile on your PC and use Keyboard & Mouse for better controls.
After the company announced end of the service for PUBG LITE, there is only one way to play PUBG on Windows PC – using Android emulators. Though there are several Android emulators like BlueStacks, Nox etc. but Gameloop emulator provides best PUBG experience. Best part about Gameloop emulator is that it is developed by Tencent itself (the company which developed PUBG Mobile). So, you can expect best compatibility and experience.
SEE ALSO: How to Play PUBG Mobile in Restricted Regions?
Play PUBG Mobile on PC using Gameloop Emulator
In this tutorial, we will show you how to install and configure Gameloop emulator for best PUBG Mobile experience on your PC.
Step 1: Install Gameloop Emulator
First of all, you need to download Gameloop Emulator from this link. After downloading, run the setup file. Click on Install button to start installation of Gameloop Android emulator. Installation process is quite simple. Just follow on-screen instructions.
After successful installation, click on Start button to launch Gameloop emulator.
---
SEE ALSO: How to install Apps and Games in BlueStacks Android Emulator?
Step 2: Insall PUBG Mobile on Gameloop Emulator
After successful installation of Gameloop emulator, simply click on PUBG Mobile to download and install the game. Game download may take some time depending upon your internet speed.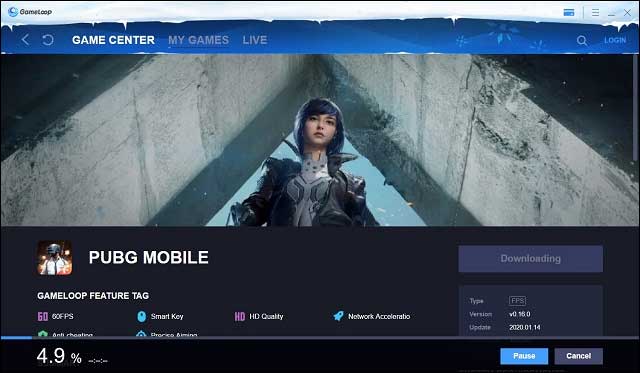 Well, in the meanwhile, let's adjust Gameloop emulator settings for best performance.
---
Step 3: Adjust Gameloop Emulator Settings for Best Performance
The default Gameloop emulator settings are not optimized for best performance. We will have to manually change the settings for best experience. So, click on the hamburger menu in the top right corner and select Settings option.
Now, we will adjust the settings for best performance.
First, select Basics tab from left pane. Here in General section, check the box for Run at Startup to improve Gameloop emulator's startup performance. The emulator will start with the Windows itself and will open quickly on launch.
Next move to Engine tab. Here, we will change few settings for better performance. First of all, if you have dedicated graphics card, turn on the Prioritize Dedicated GPU setting. This will greatly improve the emulator's graphics performance. If you don't have a dedicated graphics card, enabling this setting won't have any effect on the performance. Also change Memory and CPU settings to maximum available. Select the DPI settings to the smallest. This will also improve PUBG Mobile gameplay on your PC.
You will have to restart the emulator to make the settings effective.
SEE ALSO: How to Speed Up BlueStacks without Hanging your PC?
---
Step 4: Adjust PUBG Mobile Settings for Best Performance
After you have downloaded the PUBG Mobile game, launch it. On the first launch, you will see the game control panel on the right side. Here you will see all keyboard and mouse controls which you can use in the game. We suggest you to learn these shortcuts to boost your gameplay. You can also hide the panel when not in use.
If you already have connected your Twitter or Facebook account with PUBG, we suggest you login PUBG Mobile with the same account. This way all your PUBG account data will be synced on Gameloop Emulator including your GAME PASS etc. After logging in, you can customize PUBG settings for better performance.
You may also change the keyboard and mouse controls as per your liking. Go to Controls tab and click the Customize button in the bottom left corner in PUBG settings menu.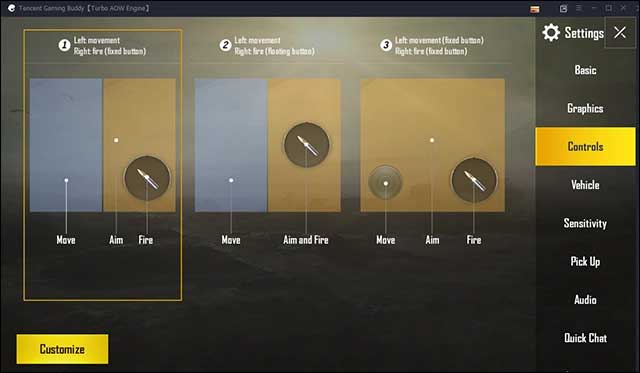 You can also change Graphics and Sensitivity settings for optimal PUBG Mobile performance on your PC.
SEE ALSO: List of All Windows Keyboard and Mouse Shortcuts?
---
NOTE: Even if you have high-end PC, you may still face some minor glitches while playing PUBG Mobile on PC.
Enjoy PUBG Mobile on PC and Grab the Chicken Dinner
Now, go ahead and enjoy PUBG Mobile on your PC. With Gameloop emulator, you can enjoy the benefits of seamless control with keyboard and mouse. Since Gameloop emulator is developed by Tencent (developer of PUBG Mobile game), it provides the best PUBG experience among other emulators. However, you can also try BlueStacks Android emulator for PUBG Mobile.
Hope you liked this tutorial. Feel free to drop your queries and suggestions in the comment section down below. Also share your PUBG Mobile experience on PC with us via comments. You may also like to subscribe to our newsletter to get latest tutorials directly into your inbox.