How to Convert or Save Documents as PDF in MS Office
PDF format has several benefits over normal MS Office document types. PDF format provides portability, security and avoids unauthorized changes. So, Microsoft has included the functionality to convert or save documents in PDF format in MS Office by default.
However, this functionality is not present in Microsoft Office version 2007 or earlier. But after that 'Save as PDF or XPS' add-in is included in MS Office by default. So, if you are using latest version of MS Office, you can easily convert your documents to PDF or XPS.
SEE ALSO: How to Save Webpages as PDF using Google Chrome?
Convert or Save your Microsoft Office Documents as PDF
This tutorial shows, how to save MS Office documents like MS Word, MS Excel etc. as PDF. However, if you are using Microsoft Office 2007 or earlier, you need to install "Save as PDF/XPS" add-in to get this functionality. You can download this add-in from the link provided at the end of the post.
Step 1: Create your Document in MS Office
First of all, launch MS Word or Excel to create your desired document. In this tutorial, we have used MS Word document. Type your document and get it ready. If you already have your document ready, simply open it in MS Office.
---
Step 2: Select Export as PDF to Convert Document to PDF file
After you are ready with the document, simply click File menu and select Export. Here, select Create PDF/XPS Document and click on Create PDF/XPS.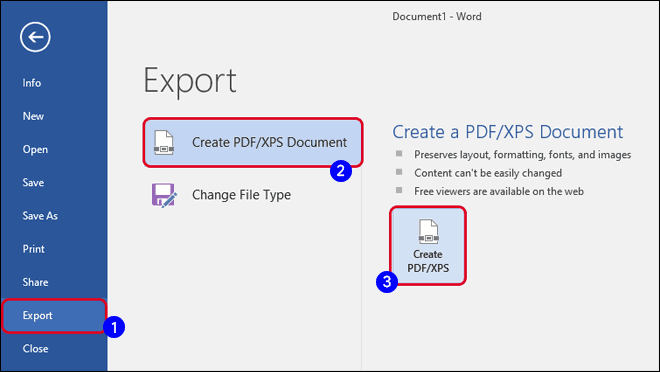 ---
SEE ALSO: How to Convert Docs to PDF on iPhone or iPad?
---
Step 3: Save PDF File on your Computer
Now, browse and select destination for converted PDF file. After that type a name for your file and click Publish button to save your document in PDF format. Make sure that "Save as type:" is selected as PDF (*.pdf) as shown below.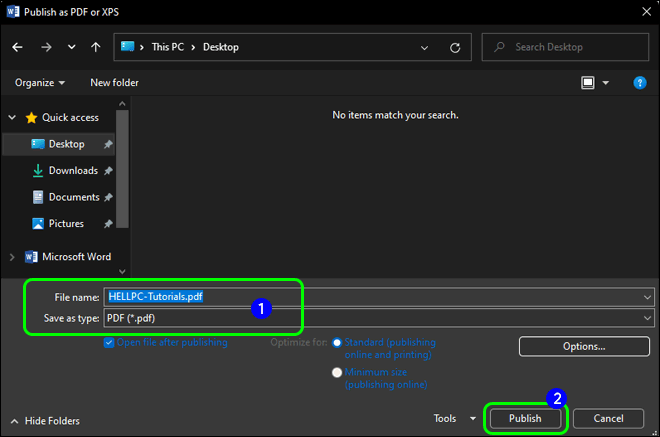 ---
Step 4: View Converted PDF File
After you click Publish, your MS Office document will be saved as PDF on selected destination. And converted PDF file will open automatically. If it doesn't, you can open it from the location you saved it.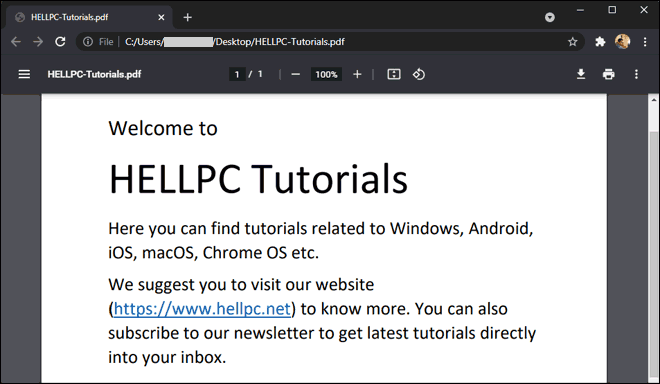 ---
Step 5: For MS Office 2007
If you are using MS Office 2007, you will have to install "Save as PDF" office add-in first. Only after that you will be able to save your documents as PDF.
So, first, download "Save as PDF" add-in from here and install it in your PC. After that you can see "PDF or XPS" option in Save as menu.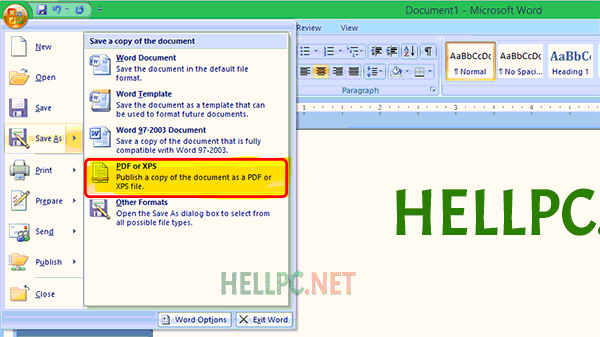 ---
SEE ALSO: How to Password Protect your Microsoft Office Documents?
---
Convert MS Office Documents to PDF without any Third-party Software
Above tutorial shows how to convert or save MS office documents as PDF. You can save all your MS Word or MS Excel documents as PDF files. Microsoft Office 2010 and newer versions have Save as PDF option available by default. So, you don't need to install any add-in for Saving Documents as PDF. Just click on File Menu and go to Save As… and you will find PDF option already available there.
Feel free to comment if you have any problems regarding this. You can also subscribe to our newsletter to get latest tutorials directly into your inbox via email.