How to Save Spotlight Wallpapers to Desktop in Windows 10 and 11
Windows Spotlight feature shows beautiful wallpapers on the Windows 10 and Windows 11 lock screen. You can easily enable this feature in Settings if it is not already enabled. After that, you will see awesome wallpapers on your lock screen. You can also save these spotlight wallpapers to your desktop if you wish to use them as the desktop background in Windows 10 and 11.
However, these Windows Spotlight wallpapers are well hidden in system folders inside your Windows 10 or Windows 11 installation directory. These wallpapers are saved in unrecognizable format, so, we need to put some effort before we can save them to the desktop. But the process is very simple and straightforward and you don't need to use any tool for doing this.
SEE ALSO: How to Change Login Screen Background in Windows 11 and Windows 10?
Find and Save Windows Spotlight Lock Screen Wallpapers to Desktop
Before we move on to the detailed steps, let's check this video tutorial for finding and saving Windows spotlight images in Windows 10 or Windows 11.
---
Let's see how to find Windows spotlight wallpapers in Windows 10 or 11. After that, we will save them to a folder on the Desktop or any other folder. Just follow these simple steps.
Step 1: Enable Windows Spotlight
First of all, make sure you have enabled Windows Spotlight already. But if you haven't enabled them yet, you can enable them in Settings > Personalization > Lock screen.
After enabling Windows Spotlight, you will see a new wallpaper on your lock screen every time you log on or lock your Windows 10 or Windows 11 PC. Here is an example of Spotlight wallpaper.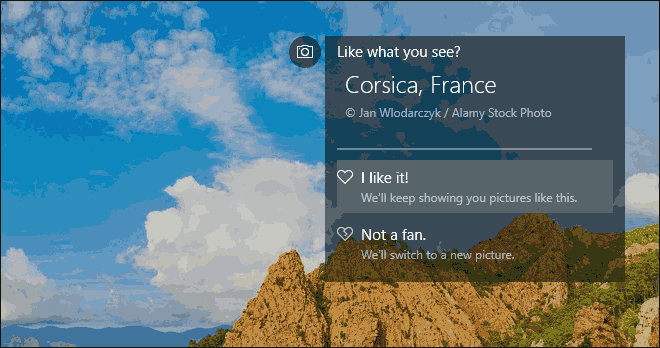 Let's start digging for these beautiful wallpapers.
---
Step 2: Go to the Location of Spotlight Wallpapers in Windows 10 or 11
The Windows spotlight wallpaper images are hidden deep down in the Windows drive. And the path is also not very easy to remember either. So, here is the full path of the spotlight folder in File Explorer. You can also simply copy and paste it into the address bar of File Explorer.
C:\Users\%USERNAME%\AppData\Local\Packages\Microsoft.Windows.ContentDeliveryManager_cw5n1h2txyewy\LocalState\Assets
If the path mentioned above doesn't work for you, make sure to replace %USERNAME% with your actual username.
Once you are in the Assets folder, you will see many randomly named files without any file extensions. We will now copy all of them and save them to a folder on the Desktop. So, select all of them and right-click on them. You might see a warning saying, "These files might be harmful to your computer", simply click OK to continue.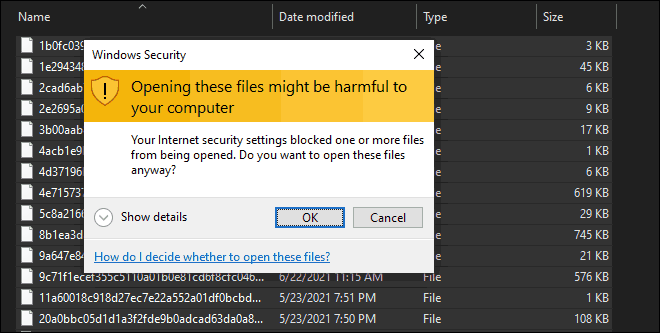 After that, you will see the right-click menu. Click Copy to copy the selected items.
---
Step 3: Copy Spotlight Images to the Desktop
You can minimize this folder after copying the files. After that, go to Desktop and create a new folder. To create a new folder on Desktop, right-click in the blank space and select New > Folder. You can give any name to this folder or you can leave it as it is. However, in this tutorial, we have named the folder as SpotlightWallpapers.
Now, paste all copied spotlight wallpapers into this folder.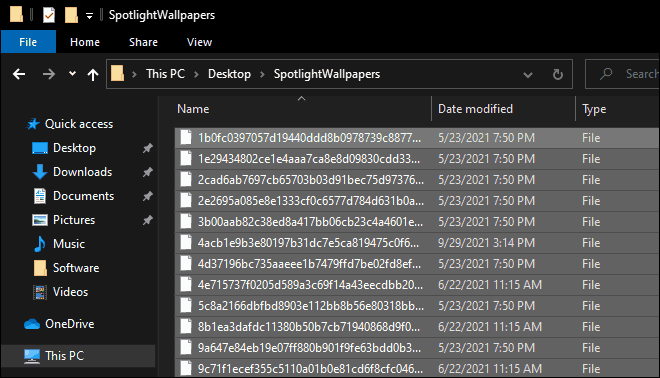 ---
Step 4: Delete Smaller Files
After pasting all the files into the new folder on Desktop, you will notice that some files have sizes smaller than 100KB, these files are icons and other smaller images used in Microsoft Store Apps. You can delete them without any issues. It will be easy to delete smaller files by sorting them by size.
So, sort all files by size and delete files smaller than 100 KB in size. After that, you will have only Windows Spotlight wallpapers that you can save to any folder on your desktop or somewhere else.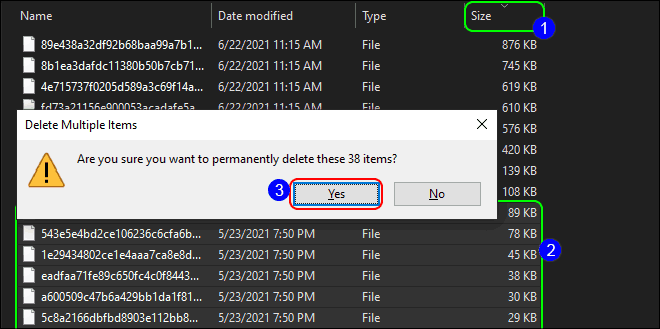 ---
Step 5: Rename File Extensions to JPG
After deleting smaller files, you will have Wallpaper files only. But all the files here are without any extensions. All these files are actually JPG files, you just have to add the .jpg extension to all of these files to view them. Without .JPG extension, these spotlight wallpapers will not be viewable on your Windows 10 or Windows 11 PC.
So, we are going to use a CMD command to add ".jpg" extensions to all files inside the folder. But first, you need to open the command prompt in this folder. After that, type the following command to change the extensions of all files in that folder.
ren *.* *.jpg
Explanation:
| | |
| --- | --- |
| ren | Rename the specified file or group of files |
| *.* | All files with any extension |
| *.jpg | Doesn't change the filename but changes the file extension to JPG |

---
Step 6: Save Windows Spotlight Wallpapers for Desktop and Mobile
You can now close the Command Prompt. Go back to the folder, you can see the thumbnails of all the files. If you don't see thumbnails, make sure to change the view to large tiles. Double-click on any of them to view it in larger size. You will notice that there are two types of images
Landscape Wallpapers for Desktop PC and
Portrait Wallpapers for your phone.
---
Step 7: Find and Save Windows Spotlight Images using Ubuntu Bash Shell
As you might know, you can also use Ubuntu in Windows 10 and 11 via Windows Subsystem for Linux. So, you can also use Ubuntu Shell to extract Windows Spotlight images or wallpapers and save them to your desktop. Use the following commands on Ubuntu Bash Shell. Make sure to replace the $USERNAME with your actual Ubuntu username.
$ cd /mnt/c/Users/$USERNAME
$ d=Desktop/Spotlight-Images
$ mkdir $d
$ cp AppData/Local/Packages/*Content*/LocalState/Assets/* $d
$ cd $d
$ for ff in *;do mv $ff $ff.jpg;done
---
SEE ALSO: Get MIUI12 Super Wallpapers on Any Android Phone.
Save Windows Spotlight Wallpapers to Desktop and Use them as Desktop Background in Windows 10 and Windows 11
Now, you have got a 2 in 1 package – Desktop and Mobile wallpapers. You can use these wallpapers as your Desktop background as well as your phone's background wallpaper.
Since Windows 10 will keep downloading new wallpapers regularly, you can check the Windows Spotlight folder and save new images to your Desktop. You can also download some cool Spotlight wallpapers from here.
Hope you liked this tutorial. Feel free to share your thoughts and suggestions in the comment section below. You may also subscribe to our newsletter to keep yourself updated with the latest tutorials.