How to Schedule Automatic Shutdown in Windows 10
It's very common for the people to forget to shutdown their PCs. And the computer keeps draining the battery for no good reason. In such cases automatic shutdown will be really helpful. But, Windows 10 doesn't provide any native options to schedule automatic shutdown.
So, we will use Windows built-in Task Scheduler tool to shutdown your computer at specified time. You can even use Task Scheduler to automatically shutdown your computer on any specific event from event log. And the process is also very simple and straightforward.
SEE ALSO: How to Automatically Turn On your PC on a Schedule?
Schedule Automatic Shutdown in Windows 10 using Task Scheduler
Task Scheduler can also be use to automate other tasks, programs, scripts etc. But in this tutorial, we are going to use Task Scheduler to automate Windows 10 shutdown at specific time. So, let's check the steps.
Step 1: Open Task Scheduler in Windows 10
Search for task scheduler on Start and open Task Scheduler from the search results.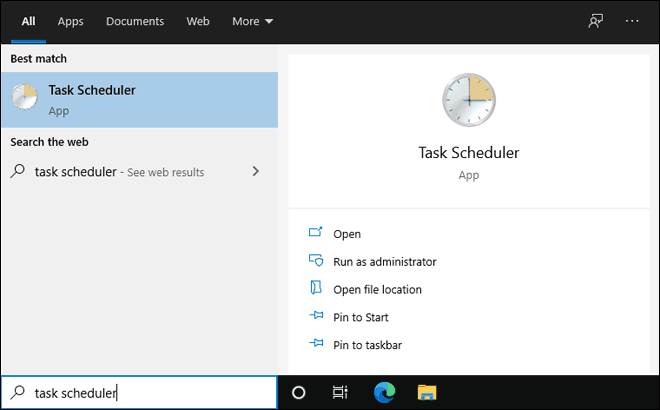 ---
Step 2: Click 'Create Basic Task'
After opening Task Scheduler, select Task Scheduler Library from left pane. Now, you will see the list of all the tasks already created in the middle pane.
Click Create Basic Task… on the right pane to create a new task which we will use to schedule automatic shutdown in windows 10.
---
SEE ALSO: How to Automatically Empty Recycle Bin in Windows 10?
Step 3: Name Your Task
Now, Create Basic Task wizard will start. And on the first page, you will need to provide a name for your task. We have named our task as Automatic Shutdown as we are going to schedule automatic shutdown. You can also provide optional description for your task.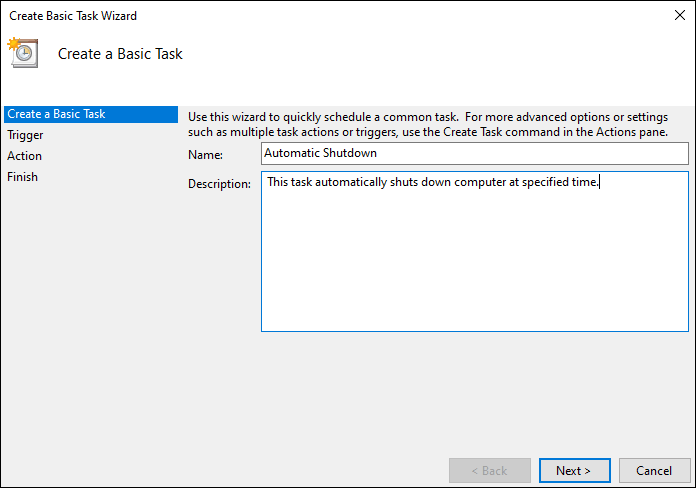 ---
Step 4: Select Schedule and Time for your Automatic Shutdown Task
After you click Next, wizard will move to Trigger tab. Here, select Daily and click Next.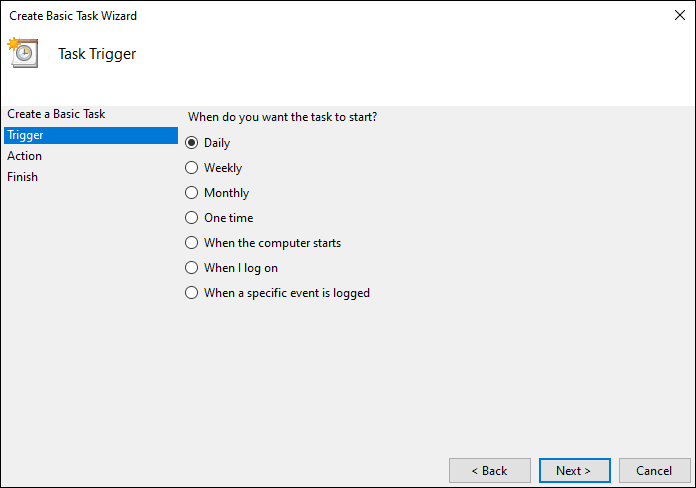 Now, you will see option to select Start date and time for your task. So, select the date and time when you wish to trigger automatic shutdown. You can also set the frequency of the task, which is set to Recur every 1 day for daily task.
In this tutorial, we have set the schedule for automatic shutdown at 11:00 PM every day.
---
SEE ALSO: How to Schedule Emails in Apple Mail with Automator on Mac?
Step 5: Set Shutdown Program to Run on Schedule
Now, you will be on Action tab. Select Start a program and click Next.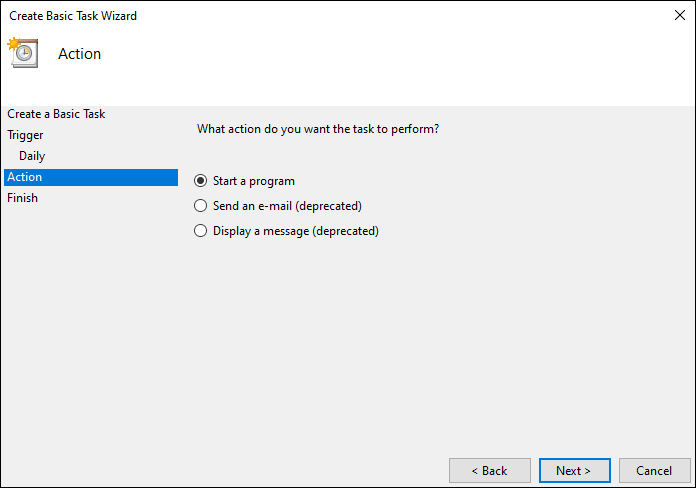 It's time to set actual program which will trigger automatic shutdown at scheduled time. We will use Windows native shutdown.exe command. So, type shutdown.exe in Program/script: field and type /s /f /t 60 in Add arguments (optional): field.
Explanation:
| | |
| --- | --- |
| /s | Shutdown the computer. You can use /r to reboot the computer. |
| /f | Force close all running programs. |
| /t 60 | Shutdown in 60 seconds. You can set time according to your requirements |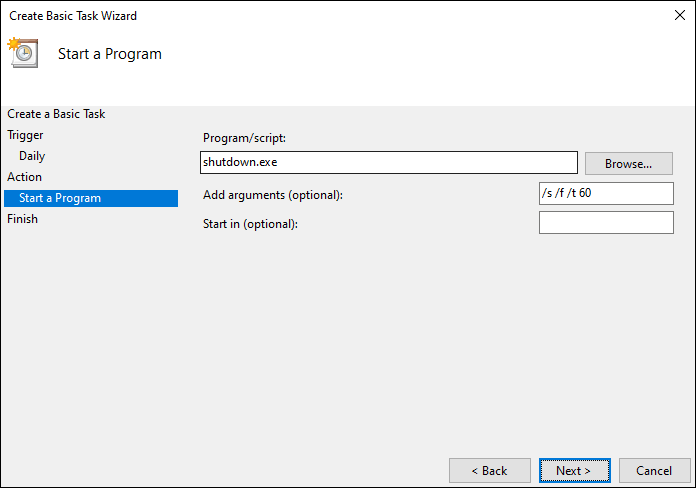 ---
Step 6: Click Finish to Create the Task
Finally, click Finish to close the wizard. Our task is now ready to perform automatic shutdown on the selected schedule.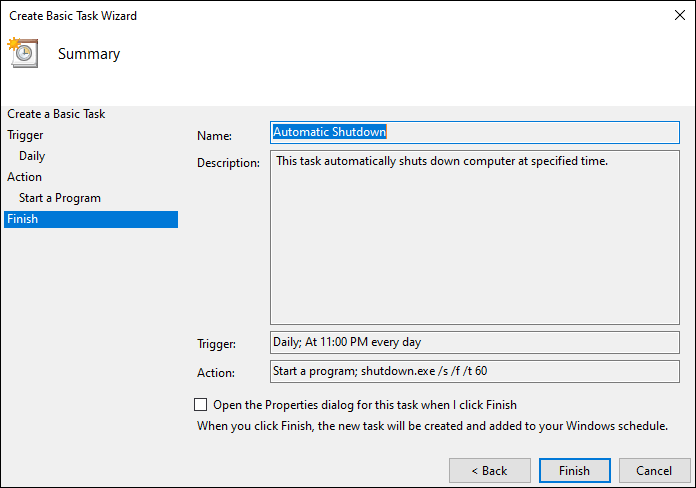 ---
Step 7: Test the Automatic Shutdown Task
You will see your newly created task in Task Scheduler library. It will run automatically on the time we have selected in the schedule. But you can also run it right now if you wish to test it. Make sure to close all your programs before testing it.
Simply, right-click on our Automatic Shutdown task and select Run to run it now.
---
Automating Shutdown in Windows 10 using Task Scheduler
Now, this Automatic Shutdown task will run every day on the scheduled time as we have selected. You can always change the task schedule or other settings from task properties. Simply, right-click on it and select Properties. Then, you can make necessary changes to it. Besides that, you can also Disable or Delete the task when no longer required.
Hope you won't have any troubles following this tutorial. However, if you face any issues or have any questions, you can write them down in the comments down below. You can also subscribe using your email ID and get latest tutorials directly into your inbox.