Top 7 New Features in MIUI 10
The new MIUI 10 update revamps the UI and brings a lot of new features in MIUI 10 including features from Android P. So, what are you waiting for? Let's check out what's new in MIUI10? We have been using the MIUI10 China ROM on Mi Mix 2.
So, let's check out some of the most exciting new features in the new MIUI 10. Also if you'd want to try out the new MIUI10 update on your Xiaomi device, you can check out our guide from the link at the end of the post. Let's get started.
SEE ALSO: How to Install MIUI 12 ROM on your Xiaomi Device?
Top 7 New Features in MIUI 10
Here are the top 7 MIUI 10 features that we liked the most. Let's have a look at them one by one.
1. Gestures
Gestures are the new thing in the smartphone world. So, it's not surprising that Xiaomi has put gestures front and center in MIUI 10. The Gestures here are the same ones that were introduced with MIUI 9.5 which by the way hasn't arrived in India and they're very iPhone X like. There's the 'swipe up to home' gesture which works nicely and there's the swipe up and hold to get to the Recents screen.
But the best thing here is the back gesture which again is very iOS-like but it's also something we wish every Android maker implemented. You can also slide from the right edge to go back but I kind of find that counterintuitive. These back gestures also let you multitask.
You can just hold and swipe from the left or the right edge to switch between apps. It's a bit slow to be honest but this is a beta so we can expect things to get better. Anyway apart from that, the gestures in MIUI 10 are pretty well done.
---
2. UI Changes
MIUI 10 also brings a number of changes on the UI front. Firstly, there's a new theme called Rhodium which has new wallpaper and new icons. It looks kind of old-school and we didn't like it very much.
The notification shade and the quick settings page have been revamped and now look very similar to their Android P counterpart. This is a good thing in my opinion. The volume slider also looks like the one from Android P, it changes media volume by default and there's a button to switch between ring and silent. There's also a button to change other volumes which is really very handy.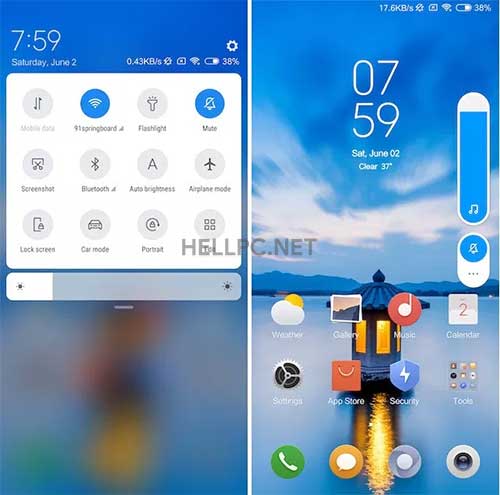 Lastly, there's the brand-new Recents screen which is now a vertical scrolling page in a mosaic tiled pattern. It looks good and it is different also. It is one of the best MIUI 10 features. This puts more apps right in front of you unlike the card layout in both stock Android and iOS.
This makes switching to other apps a lot easier. You can swipe away apps, press and hold on apps to lock them in the background into split-screen, and check out app info. Honestly, we are really impressed with the new Recents screen in MIUI10.
SEE ALSO: How to Install MIUI 12 Super Wallpapers on any Android Phone?
---
3. AI Features
MIUI 10 like most other things these days has AI deep in its core. There's AI preloaded which is basically MIUI learning the use patterns of preloaded apps so that it opens faster when the user opens it up. The apps loaded faster in MIUI9, so, it should definitely get faster in the new MIUI10. There's also a new AI portrait mode for devices that only have a single camera unit like the MI Mix 2. The MIUI 10 build we have does not have the AI portrait mode for the rear camera but surprisingly it's present in the front camera. And in our brief usage, it seemed to work fine.
Lastly, on the AI front a charm is the new voice assistant which right now only speaks Chinese and chances are it will only be available in China. Well, we don't have someone who speaks Chinese so we have no idea if it's good. But we liked the voice.
SEE ALSO: How to Disable Ads and Remove Bloatware from MIUI ROMs?
---
4. PIP Mode and Autofill
We were quite disappointed when MIUI9 did not bring our favorite features – the PIP mode and Autofill. Well, good news, they are finally here with MIUI10.
Yes in MIUI 10, you can finally see the Google Maps Navigation screen via PIP mode which is so handy and you don't have to type in your passwords manually in every single app while setting things up. Thanks to Autofill. It just makes things easier and we are glad these features are finally here in MIUI 10.
SEE ALSO: How to Check FaceTime Mobile Data Usage on iPhone?
---
5. Improved Screen Recording
MIUI has had a native screen recorder for a while now but MIUI 10 improves it. With MIUI 10, the screen recorder now has a System Sounds option in the sound source which basically lets you record audio from the phone. And that is something we have always wanted. If you want to record audio with the screen on other phones you need a rooted device.
We know there are apps that let you record audio from the mic but this records the audio internally. This makes it so handy especially for our games videos where we need to show off gameplay with the sounds in the game. So yeah it's pretty useful.
---
6. New Features in MIUI Lab
MIUI Labs in MIUI is a place where Xiaomi likes to try out experimental features. And like every other MIUI update, the MIUI 10 update brings a bunch of new experimental features. Firstly, there's Taplus which, we think lets you press hold on an image or a word to get more options.
Also, there is a new super-resolution feature that apparently uses AI to make images crisper in apps like WeChat. Lastly, there's a new Car Mode which is basically android auto but instead of Google assistant, this will use MIUI's voice assistant to help you navigate, read messages, play music, and accept calls in your car.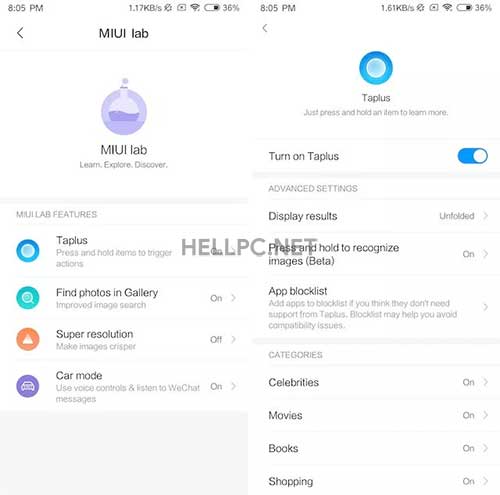 ---
7. Other Features
That's not everything; there are a lot of other features and changes in MIUI 10. For instance, the brand new Manage apps page now lets you batch uninstall apps and check out apps that have pending updates. There's a new System Fonts option in the display settings. There aren't many choices here, in fact, there are none but maybe we will see some new fonts here in the future.
Apart from that, there's a new Quick Pay shortcut in quick ball settings which lets you quickly pay for things. Right now, it only works with WeChat and AliPay. But maybe in India, it will work with the likes of Paytm and WhatsApp.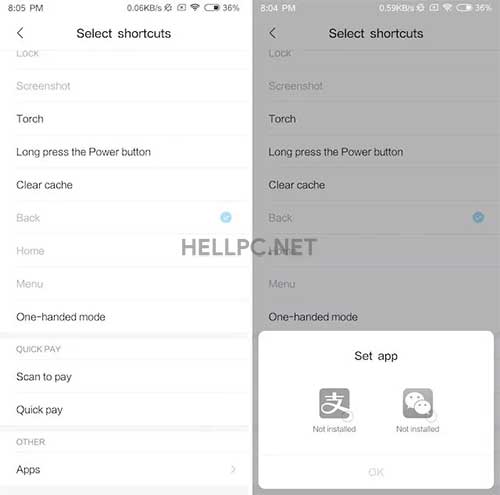 ---
SEE ALSO: Free Download Official Lenovo Vibe UI Stock ROMs?
Best 7 Features in MIUI 10 ROM
Well, those were some of the most exciting new features in the MIUI 10 update. We certainly like the update but do keep in mind that this is the China ROM we are talking about. So, not all of these features might make it to the global version which by the way is going to be unveiled in June 2018.
Anyways what do you think about the MIUI10 update? Do let us know your thoughts in the comment section down below. Also share it with your friends who have a Xiaomi device. Lastly, you can subscribe to our blog by entering your email ID in the subscription form down below and get amazing tech articles via email.