How to Use Skype Meet Now for Free Video Conferencing
Just like many other video conferencing platforms, Microsoft has also introduced free video calling feature on Skype. Skype Meet Now offers a lots of free services including unlimited group calling. And the best part is that you can use Skype Meet Now for free video conferencing without having Skype account.
You can immediately create a meeting from Skype's web page. But if you want to use additional features like background blur or real-time subtitles, you will have to use Skype app. For using Skype app, you need to have or create a Skype account. However, the participants don't need Skype account for joining calls.
SEE ALSO: How to Install and Use Skype on Chromebook?
Use Skype Meet Now for Free Video Conferencing
You can create free video conference or meeting in two ways – via web browser or Skype app. So, if you want to host a meeting urgently without creating or logging into your Skype account, you can use web browser method. And participants can also join meeting without creating Skype accounts. But as mentioned earlier, you can use Skype app with Skype account for accessing additional features.
Method 1: Use Skype Meet Now on Web Browser
For using Skype Meet Now without Skype account, open this page in web browser. After that, click on "Create a free video call" button.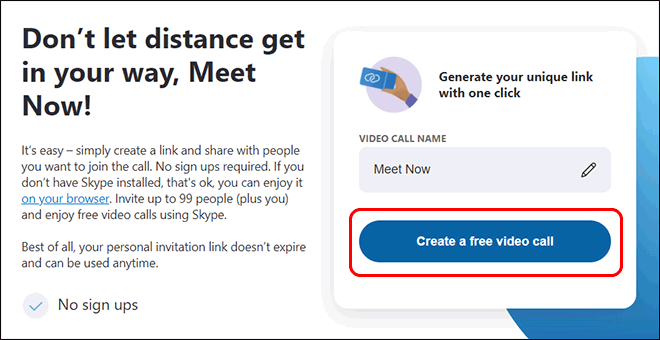 After that, Skype will create a meeting for you. You can share the link with participants. Click Start Call button to use Skype Meet Now to start free video conference with your friends. Participants can join using the link via web browser. However, on smartphones, users will have to install Skype app in order to join the meeting.
SEE ALSO:
1. How to Use Zoom for Video Conferencing Like a Pro?
2. How to Share your Screen on Zoom?
---
Method 2: Use Skype App for Free Video Conferencing
If you wish to use advanced features of Skype like background effects or real-time subtitles, you will have to use native Skype app. You can get latest version of Skype from official website or Microsoft Store.
Once you have installed the app successfully, sign-in or create a new Skype account. After successful sign-in, you will see Meet Now button on Skype dashboard. Click on Meet Now button and select Host a meeting.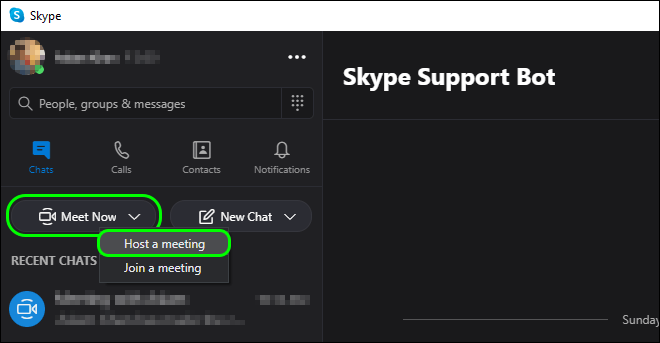 Next, you will see meeting link that you can share with your friends and colleagues. Type a suitable name for your meeting or leave it default. Now click Start Meeting button to start free video conference using Skype Meet Now.
---
SEE ALSO:
1. How to Fix Skype Installation Error Code 1638?
2. How to Change Background in Microsoft Teams?
Enjoy Free Video Calls on Skype
Above tutorial explained how to use free video calling feature of Skype. As Microsoft has set 60 mins limit on video calls on free version of Microsoft Teams, you can use this new feature of Skype as Teams' replacement. You can even use Skype as an alternative to Zoom.
Hope you found this article helpful. If you face any issues while using free video conferencing on Skype, feel free to comment below. Also subscribe to get latest tutorials directly into your inbox.