How to Use Zoom for Video Conferencing
Zoom has made a stand-out name in the field of video conferencing. But the main reason for its success is professional users like big companies. The general public doesn't have much idea about its working process. So, if you are also a new Zoom user and have little or no idea about how it works, then you are at the right place. This tutorial is a step-by-step guide on how to install and use Zoom for video conferencing like a Pro.
Here, we have also shared some basic tips and tricks for Zoom at the end of the post. In this tutorial, we will give you a good idea about how to create and join a meeting on Zoom. Let's proceed with the tutorial.
SEE ALSO: How to Share your Screen on Zoom Video Conferencing?
Use Video Conferencing on Zoom
You can use Zoom for video conferencing in two ways: through a web browser or a by installing the dedicated Zoom client on your PC. Usually, people use Zoom on a web browser because it's fast and lightweight. But the web version of Zoom provides limited features. So, if you want all the features of Zoom, you can also install Zoom Client on your PC.
Step 1: Install Zoom on your PC
Zoom client is available for most of the major operating systems. You can download Zoom from the official website. Alternatively, you can also click the links provided below to download Zoom for the operating system you are using:
---
Step 2: Open the Zoom App on your PC
In this tutorial, we will install Zoom on Windows PC. So, first of all, download the client from the links given above. After downloading, open the downloaded file. Then, click on the Install button. Next, click on the Sign In button.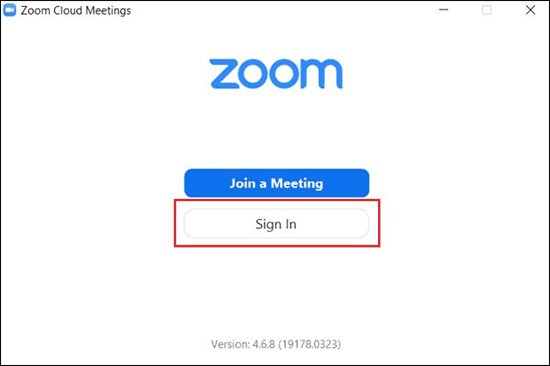 ---
Step 3: Sign in or Sign up for Zoom Account
Now, if you already have a Zoom account, simply log in with your credentials. Alternatively, you can also use your Google or Facebook accounts to sign in. And if you would like to create a new Zoom account, simply click on the Sign Up Free button. We recommend you create a Zoom account (if you already don't have one) for better privacy.
---
Step 4: Use Zoom for Video Conferencing
After you have created and signed in to your Zoom account, you will see your Zoom dashboard. Here, you will see various options. To start video conferencing on Zoom, simply click on the New Meeting.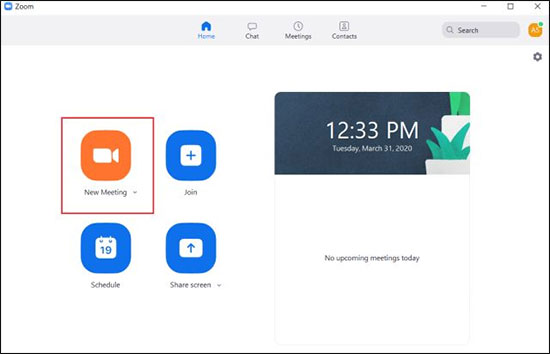 ---
Step 5: Invite People to Join Zoom Meeting
After you click on New Meeting, a new meeting will be created and you will go live. Now, you can invite other people to join your Zoom meeting by clicking on the Invite button.
Next, you will have options to copy the URL and share it with friends or colleagues who are already using Zoom. However, if you want to invite someone who is not on Zoom, simply "Copy Invitation" and share it via email.
The invitation URL will have the Meeting ID and a password embedded in it. So, the user can easily authenticate and join the Zoom conference through a web browser.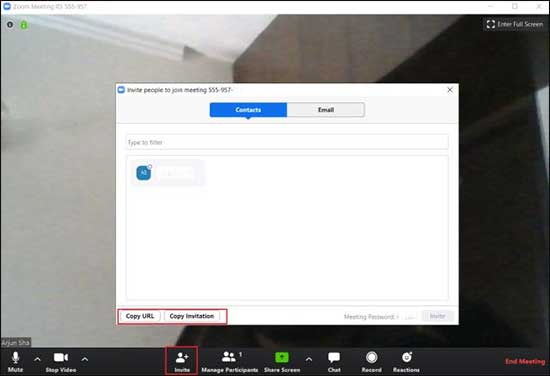 ---
Step 6: Join a Meeting or Video Conferencing on Zoom
You can also join a Zoom meeting by clicking on the Join button. After that, enter the Meeting ID and when prompted, enter Meeting Password shared by the host. If the host did not set a password for the meeting, then Zoom won't prompt for a password and you can join the meeting without a password.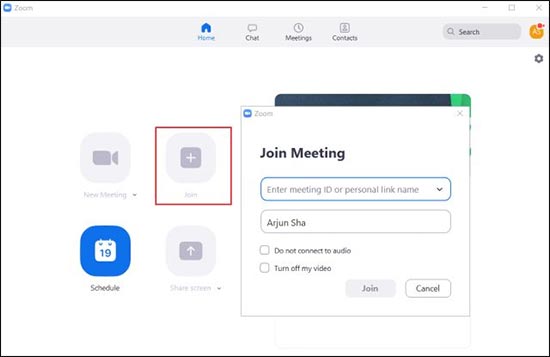 ---
SEE ALSO: How to use Skype Meet Now for Free Video Conferencing?
Tips and Tricks for Zoom
As mentioned earlier, here are some cool tips and tricks for enhancing your Zoom experience.
1. Use Virtual Background in Zoom Meeting
While you are working from home, you may get embarrassed by your messed-up background. Zoom offers a solution for this by allowing you to set a virtual background for video conferencing.
Click on the Settings icon in the top-right corner and click on the Virtual Background tab. Here, you can select a background from the available options. You can also add your own custom image or video as the background.
SEE ALSO: How to Change Background in Microsoft Teams Video Call?
---
2. Enable Third-Party Plugins in Zoom
Besides Virtual Backgrounds, you can also enable third-party plugins like Office 365, Google Calendar, Slack, and more.
Just go to the Chat menu and click on the [+] button next to the APPS menu. There, you can easily integrate your Notifications, Calendar schedules, Office documents, etc.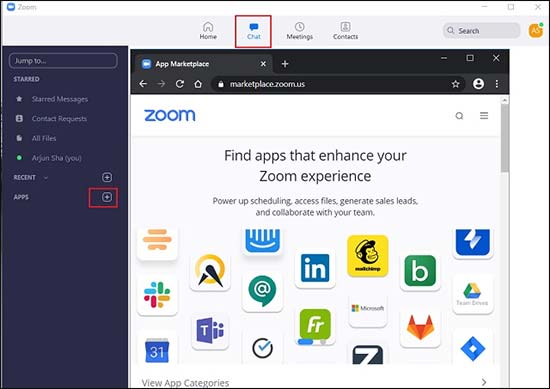 ---
3. Touch up your Appearance in Zoom Meeting
Zoom also has a cool feature to enhance your appearance in live video. Just go to Settings and click on the Video tab. Here, you just need to tick the check box to "Touch up my appearance". Zoom will now enhance your appearance and minimize the blemishes on your face.
You can also use your Android phone or iPhone as the webcam if your Laptop's camera quality is not up to the mark.
---
4. Keyboard Shortcuts for Zoom
Besides, the above cool features, learning keyboard shortcuts will greatly improve your Zoom video conferencing experience. Here are a few of the most common shortcuts, you can use.
| Keyboard Shortcut | What does it do? |
| --- | --- |
| Alt + A | Mute and Unmute your Audio during Zoom conferencing. |
| Alt + S | Start or Stop screen sharing on Zoom. |
| Alt + V | Turn Off/On your Video during the Zoom meeting. |
| Alt + Shift + T | Take a Screenshot during the Zoom meeting. |
Keyboard Shortcuts for Zoom Meeting
---
SEE ALSO: How to Delete your Zoom Account?
Install and Use Zoom Video Conferencing Like a Pro
The above tutorial explained how you can install and use Zoom for Video Conferencing on your Windows computer. In this tutorial, we have shown steps for Windows, but the steps are nearly identical for other platforms as well. Also, the keyboard shortcuts really help you quickly take action while on a Zoom call.
If you use Zoom very frequently, we suggest you install the Zoom client on your PC for better controls and features. If you are facing any problems while installing or using Zoom, please let us know in the comment section down below. Also, feel free to subscribe to our newsletter for getting the latest tutorials directly into your inbox.