Why Laptop Battery Gets Degraded in 2 Years and How to Improve Battery Life?
Battery life has always been a concern for laptop users. No matter how branded or costly a laptop you purchase, its battery gets degraded within 1 or 2 years of usage. You might be wondering how does it happen? What parameters decide that a battery is degraded and should be replaced and how can you improve the battery life? Well, it all depends on battery charge cycles.
The laptop battery manufacturers use a mechanism in batteries that counts how many times they have been discharged and recharged. One charge cycle of the battery is equal to the usage of 100% battery capacity. It may include multiple charging of the battery as explained here by Apple.
SEE ALSO: How to Remove Bloatware and Speed up your Laptop?
---
Who Decides When to Replace the Battery?
Manufacturers use a battery charge cycle count mechanism called the Battery Management System (BMS). Using this system, manufacturers can decide when a battery is ready for replacement. BMS is usually used by manufacturers to improve the battery life of laptops.
To understand it better, let's open up an old laptop battery. So, here is the picture of an old Lithium-ion battery of a laptop. It consists of 4 small rechargeable lithium-ion batteries. A small circuit controls the charging and discharging of these batteries.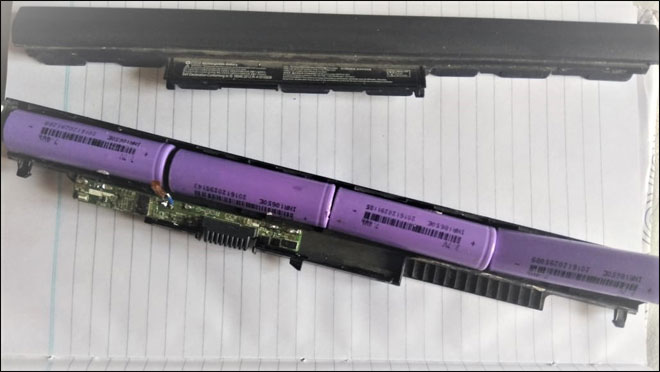 These small batteries usually have 500 to 700 charge-discharge cycles. It means, they work great until 500 cycles and provide good performance up to 700 cycles.
However, most laptop manufacturers set the charge cycle limit to 300 or so. So, when the laptop's battery has completed 300 cycles, the Battery Management System (BMS) stops charging the battery to its full capacity. Even though the small batteries are still capable of great battery backup, BMS won't allow it.
So, that's how manufacturers force you to purchase a new battery for your laptop. Considering the cost of the small lithium batteries, the total cost of the battery is quite high. So, you should change your laptop usage habits to improve the battery life.
NOTE: Not all laptop batteries consist of round AAA lithium-ion batteries. New models use different types of cells to keep the battery size compact.
---
SEE ALSO: The Common Tech Myths You Should Stop Believing in 2023
Can We Bypass the BMS and Extend the Battery Life?
The BMS or Battery Management System consists of a programmable chip called EEPROM. Manufacturers program this EEPROM to limit the number of battery charge cycles. So, even if you replace the old small lithium batteries with new ones, it won't work.

Some manufacturers lock this EEPROM using a secret code. That code is available with manufacturers only so, no one else can change the EEPROM code. Manufacturers do it intentionally to fetch some more money from the consumers in the name of battery replacement.
So, you can say that you may not bypass the BMS and improve or extend your battery life.
---
SEE ALSO: How to Speed up your Windows 10 or Windows 11 Laptop?
How to Improve the Battery Life of Your Laptop?
So, if you can't temper with the BMS system, how will you improve your battery life? Well, as you can't change or tweak the BMS, you have to do something with your laptop usage habits.
As mentioned earlier, the BMS allows full battery capacity up to a certain number of cycles. However, not all manufacturers set the limit at 300 cycles. Some even allow you to use the batteries to the full extent.
So, how can you improve or extend the battery life of your laptop? The answer is simple, keep the battery charge-discharge cycles low.
How can you keep the battery charge-discharge cycle count low? Well, you can keep the count low by not using the laptop on the battery. You read it right, the longer you use your laptop on battery, the more battery cycles you complete. This in turn reduces your battery life.
So, if you use your laptop while plugged in (at 100% capacity), it won't increase the battery cycles. We suggest you keep your laptop plugged in whenever you are using it.
---
SEE ALSO: MSI Modern 14 A10RB Review: Lightweight and Powerful Laptop?
Conclusion
So, if you use your laptop more on battery, your battery will get degraded within 1 or 2 years. And if you use your laptop more on AC power, the battery may last up to 4 or 5 years well. Besides that, you can also use old battery cells as a power bank. There are several videos on YouTube that you can check for creating a power bank from Li-ion cells.
Hope you liked this information about laptop batteries. In case you have further queries, feel free to write them in the comments down below. You may also subscribe to our newsletter to get the latest updates via email.