[Guide] Transfer Data from Old Phone to New (Android, iOS)
Smartphone manufacturers release new mobile phones every year. Generally, the latest smartphones attract many people with their more powerful chips, purer OSes, and stronger cameras. So, do you intend to purchase a new smartphone? Perhaps you have already bought one. In any case, if you want to keep your data on the new phone, it's time to transfer data from your old smartphone to the new one be it Android or iOS (iPhone).
It is not surprising that you have stored lots of data on your old mobile phone, such as your contacts, songs, documents, pictures, etc. And you might want to bring these files to your new smartphone. If so, you will need the data migration.
SEE ALSO: How to Quickly transfer Files between Devices using Snapdrop?
Move Data from Old Phone to New One (Android, iOS)
Hate this time-consuming process, right? Fortunately, you can make it faster than before. Multiple methods can help you move your data to the new phone without much efforts, including Android and iOS devices. More conveniently, you can now follow this guide to start the transfer step by step.
Points to Remember Before the Transfer
Lost your important files or failed to transfer data from an old cellphone to the new one? Maybe you did something wrong before the transfer. So, here are few things you should pay attention to.
To prevent accidents during the transfer, you can back up your data from your old smartphone to your computer or cloud storage.
Please do not perform the factory reset on the old handset until you ensure all the useful data is on the new phone.
Charge both your smartphones.
Please do not disconnect your mobile phones until the transfer is over on both of them.
Now, let's see the data transfer process between Android and iOS devices (iPhone). We have considered all 4 cases in this guide –
Transfer data from old Android phone to new Android phone
Copy data from iOS (iPhone) to Android phone
Transfer data from Android to iOS device
Transfer data from old iPhone to new iPhone
Let's start with the Android to Android data transfer first.
A) Transfer Data from Old Android Phone to New Android Phone
Want to directly copy or transfer data from your old Android smartphone to the new one? You can use MobiKin Transfer for Mobile, a one-stop program. It can transfer almost all files from Android to Android, including videos, user apps, contacts, SMS, music, photos, etc.
What's more, this software supports Android phones and tablets running Android 4.0 and upper. Thus, most Android devices are well compatible with this software.
Follow these steps:
Install MobiKin Transfer for Mobile on your computer, and connect both your new phone and old phone to the computer via USB.
Allow USB debugging on Android. Then the program will immediately recognize your mobile devices.
Confirm your new phone is at the Destination position. If not, click the Flip icon. Then select the desired files by category, and click the Start Copy button to transfer the selected data to the new phone.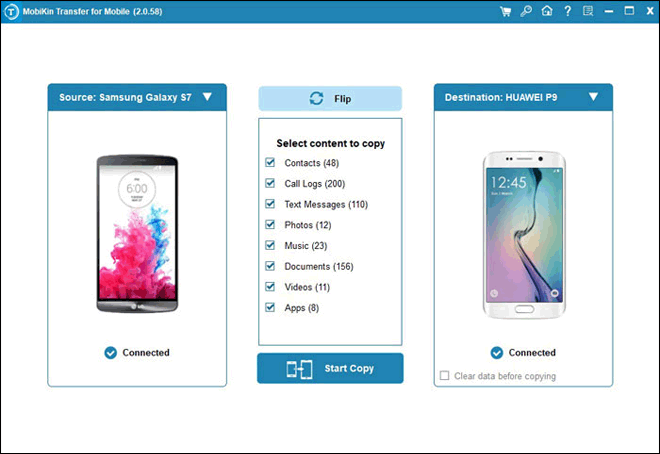 ---
SEE ALSO: How to Transfer Google Play Music Content to YouTube Music?
B) Transfer your Data or Files from iOS to Android
You can add your Gmail account to your iPhone or iPad, and sync your contacts, emails, calendars, and notes from iOS to Android. Then how to cope with photos, videos, books, and other data? Don't fret. You can utilize the Google Drive app, and move your data from iOS to Android without a hitch.
Follow the guide below:
Download and install Google Drive on both devices, and log in with your Google account.
Tap the Add icon to select and upload the files from your device to Google Drive.
Open Google Drive on your Android device, and refresh the app. Then you will see your iOS data on the screen. Now, you can download it to the Android phone or tablet.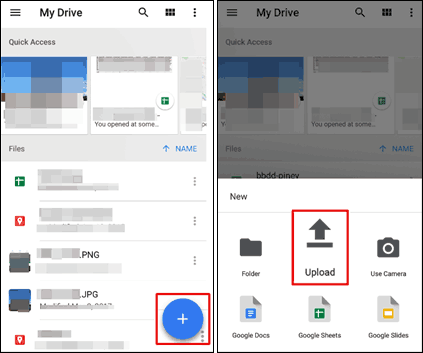 SEE ALSO: How to Transfer Photos from iPhone to Chromebook?
---
C) Move Data from Android to iOS (iPhone)
How can you easily move or transfer data from an old Android smartphone to a new iPhone? Move to iOS can give you a hand. This app can wirelessly copy messages, bookmarks, media files, and more from one phone to an iPhone or iPad.
Follow the guide below:
Turn on the new iOS device, and begin to set it up. When you get to the Apps & Data screen, please choose Move Data from Android > Continue. Then you will get a digit code.
Install and open Move to iOS on your Android phone. Next, get to the Enter Code screen, and enter the code you got on new iPhone.
Now, select the content you want to move to the Android phone, and tap the Next icon. Then the transfer will start.
---
D) Copy Data from iOS to iOS (from Old iPhone to New iPhone)
If you ask regular users of iOS how to copy data from an old iPhone to a new one, they will probably recommend you to use iCloud. Undeniably, iCloud is a reliable option to back up and restore data without a cable. Furthermore, it is a built-in feature and associated with users' Apple ID, so that you can complete the data transfer on the Settings app.
Follow the guide below:
Open Settings on the old iPhone, tap your name, and then tap on iCloud. After that, enable iCloud Backup.
Power on your new iPhone, and choose the Restore from iCloud Backup option on the Apps & Data screen.
Sign in with your Apple ID, and select the backup file you want. Once done, you can complete the setup for your new iPhone.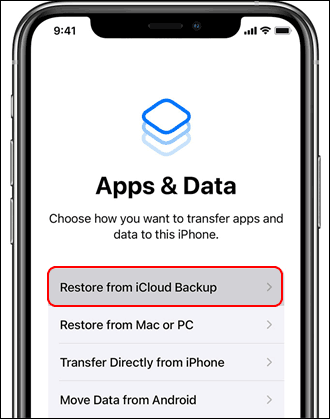 SEE ALSO: The Complete AirDrop Troubleshooting Guide for iOS and macOS.
---
Transfer Data from Old to New Android and iOS Devices with Ease
It is easy to transfer data from an old smartphone to a new one, and the above methods have proven this. Moreover, you can efficiently complete your data transmission, whether you switch to a new Android phone or iPhone. Now, enjoy using your brand-new smartphone.
Hope you liked our complete guide on transferring data from your old smartphone to new smartphone. We have covered both Android and iOS devices. Feel free to drop your queries and suggestions in the comment section down below.